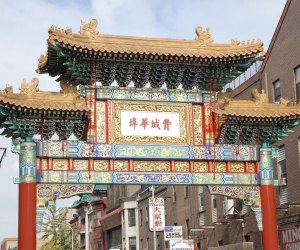 10 Things to do in Chinatown with Philly Kids
One of the most bustling neighborhoods in Philadelphia is Chinatown, with so many shops, restaurants, and sightseeing spots. Chinatown is an historic area of Philadelphia filled with culture, fun, and good food. With the Chinese New Year upon us, now is also a great opportunity to educate little ones about the diverse melting pot of cultures in Philly. It's a great place to spend a day walking around and having a great time with the kids. We've rounded up some really fun things to do with kids in Chinatown.
1. Friendship Gate
10th and Arch Streets
Philadelphia, PA 19107
This 40-foot architectural marvel offers a symbolic welcome to Chinatown and a great backdrop for some family photos to document your trip. Kids will love the array of bright colors and shapes, which pay tribute to Chinese culture.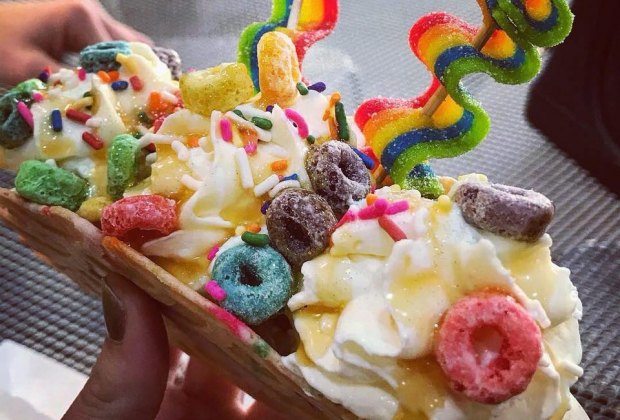 Photo courtesy of Chinatown Square
2. Chinatown Square
1016 Arch St.
Philadelphia, PA 19107
The newest addition to Chinatown is a perfect spot for picky little eaters. With nine different eateries, which offer authentic Chinese flavors, families can find something to suit each individual taste.
3. Franklin Square
200 N. Sixth St.
Philadelphia, PA 19106
On the eastern edge of Chinatown, the historic square is a kids' paradise. The park offers a carousel and mini golf, which are open seasonally beginning in March, but little ones can still race and run throughout the huge playground, while parents take in the historic monuments and beautiful city views.
4. Bubblefish
909 Arch St.
Philadelphia, PA 19107
Who says you can't have fun with your food? The colorful, quirky décor inside Bubblefish will grab your kids' attention, and the creative presentation—not to mention tastiness—of the dishes will as well. Bubblefish is known for its bubble tea, fruit smoothies and milkshakes, all made with the healthier option of black sugar, so let the kids indulge!
5. Reading Terminal Market
51 N. 12th St.
Philadelphia, PA 19107
While Chinatown has a dizzying number of restaurants, a trip to the neighborhood isn't complete without a stroll through Philly food giant Reading Terminal Market, now celebrating its 125th birthday. The massive food court is home to dozens of eateries and shops, including lots of sweet spots that youngsters will love!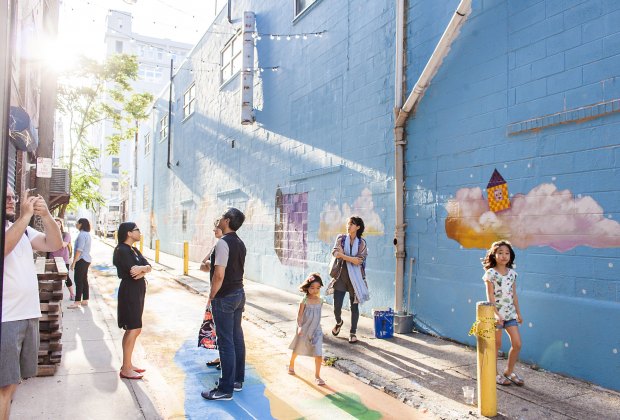 Photo of Asian Arts Initiative's recent mural installation, courtesy of Asian Arts Initiative.
6. Asian Arts Initiative
1219 Vine St.
Philadelphia, PA 19107
This arts and cultural center features a number of exhibits and interactive galleries where families can learn about Chinese heritage. The venue hosts after-school programming for youth with opportunities to participate in art projects and field trips.
7. Asia Crafts
124 N. 10th St.
Philadelphia, PA 19107
If the kids are begging for a treat, Asia Crafts is a great option. The gift store sells a wide array of toys, including official Hello Kitty merchandise, as well as snacks that will keep your kids fueled up for a long day of walking and exploring.
8. AIA Bookstore
1218 Arch St.
Philadelphia, PA 19107
Right in the heart of Chinatown, AIA Bookstore is a must-stop for budding bookworms. The shop has a large collection of children's books, including many about Philadelphia. And, as an architecture-focused store, it also carries a range of creative kids' gifts to spark little ones' imaginations.
9. Ice Land
224 N. 10th St.
Philadelphia, PA 19107
If you're looking for a spot to satisfy your kids' (or your own!) sweet tooth, Ice Land is your best bet. The shop specializes in rolled ice cream, which is much more than just a dessert, but rather a whole experience. Customers select their flavors and toppings and watch as staffers make the creations from hand, freezing and rolling up the fresh ingredients right before their eyes.
10. Shoe Museum
148 N. Eighth St.
Philadelphia, PA 19107
Temple University's Shoe Museum offers a unique blend of history and fashion. Walk back in time at this free museum for a look at some of the world's most unusual trends in footwear. As it's located right in Chinatown, the venue fittingly includes examples of Chinese shoes through the years.