6 Places to Try Thai Rolled Ice Cream in Philly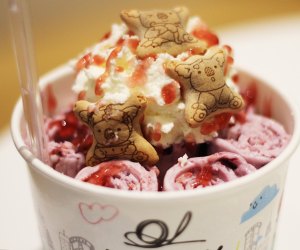 Whether you've heard about it or not, there's no denying it sounds intriguing: Thai rolled ice cream (also known as smash ice cream). The name itself describes it pretty well, but the process is just as fun to watch as the ice cream is to eat. Just watching videos of it is pretty mesmerizing. Liquid ice cream is poured onto a cold metal sheet and then expertly shaped and formed into a perfect rolled cylinder about the size of a roll of quarters. It resembles something like a Swedish roll, but it's made entirely of delicious, sweet ice cream. You can make it even more unique and yummy by adding mix-ins and toppings. We've rounded up some great places in the city to try this delectable new phenomenon! It's the perfect way to celebrate or to finish out a fun day of adventures.
Most places charge a flat fee of $7, which includes 3 toppings (some let you get all the toppings you want!). So, go ahead and treat yourself to a sweet treat at one of these great places in Philly.
I CE NY Philly
I CE NY claims to serve the "original" Thai ice cream roll. They have locations in Thailand, Cambodia, Laos, Indonesia, and more, but their flagship United States store is in... yup, NYC! The menu includes treats like Cookie Spree, Go Green Tea, Strawberry Cheesecake, Supreme Berry, and more. Can you say yum?
Sweet Charlie's
For a more Americanized version of this sweet treat, check out Sweet Charlie's. Flavors include S'more Please, Monkey See Monkey Do (with banana and Nutella), and Off Duty Officer (with coffee grounds and a donut hole). Sweet Charlie's also offers vegan options and you can even get your favorite ice cream roll sandwiched on a fresh-baked glazed donut. Not to mention, for $7, you can choose all the toppings you want! Perfect for indecisive little ones.

Iceland Philly
Iceland Philly boasts fresh ingredients. Choose from flavors like Matcha Kingdom, Key Lime Pie, and Oreo the Hero. Or, create your own delicious concoction by adding on as many toppings as you please!
Teassert Bar
Teassert Bar serves all-natural ice cream rolls, bubble tea, non-dairy sorbet, and more. Teassert Bar has an extensive topping and mix-in list, or you can pick from flavors like Snickers, Ferrero Rocher, Jasmine, and more. The best part is, you won't find any fructose, preservatives, or artificial syrups and powders here.
Ice Max
Try Mango Tango (mango and yogurt), The Hulk (matcha and strawberry), Decaffeinator (coffee and condensed milk), or one of the other many flavor combinations on Ice Max's menu. Then add 3 toppings and a yummy drizzle to top it all off.
Frozen Ice Cream
You won't find Anna or Elsa here, but you will find creamy rolled goodness. Try flavors like Chunky Monkey, Snickerdoodle, Avocuddle, Fresh Mint, and more. Finish it off with up to 3 toppings- the list includes graham cracker, oreo, caramel, Nutella, marshmallow, and that's just to name a few.
Photo courtesy of I CE NY Philly.