Team up with FCS Athletics
Middle & Upper School Campus

Online Robotics Camp
Young Gates - Kids Online Personalized Classes

Artificial Intelligence with Scratch Online Camp
Young Gates - Kids Online Personalized Classes
Sign up for our free newsletters.
Birthday Freebies: Where Philly Kids Eat Free and Get Free Stuff on their Birthdays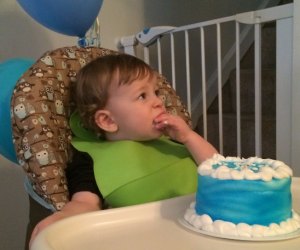 1/20/17
- By
Cait Sumner
Birthdays are the best time of year for kids, and nothing makes a special day sweeter like free stuff! There's something extra exciting about being treated to something free on your big day. We've got a list of tons of great birthday freebies for kids. From meals to ice cream, to clothes and books, you can find just about anything for free on your birthday. Take note, these freebies require you to sign up for emails ahead of time, so even if your child's birthday isn't coming up, you might want to get started.
Toys 'R' Us Geoffrey's Birthday Club
Kids 10 and under get a (prerecorded) call from the store's mascot, Geoffrey the Giraffe, and a birthday card with a coupon good for your next in-store purchase. When you come in to use that coupon, the birthday child gets a crown and a balloon. Toys 'R' Us has also started hosting special in-store monthly events for birthdays.
Kmart Birthday Club
A similar deal is available at Kmart, where members of the Birthday Club get a surprise Fun Pack and $5 in Birthday Bucks.
Chuck E. Cheese's
If you sign up for Chuck E. Cheese's list, you'll receive an email on your child's birthday and half-birthday with coupons for free tokens, plus other special offers throughout the year.
Baskin-Robbins Birthday Club
The ubiquitous ice-cream chain also has a Birthday Club. Sign up online and you'll receive an email five days before your child's birthday for a free cone, plus a cake discount.

Friendly's
Kids ages 12 and under will get a free sundae on their birthday when you join Friendly's BFF Club.
California Pizza Kitchen Kid's Birthday Club
Give your kids a free taste of the West Coast at California Pizza Kitchen with a free kids meal valid throughout their birthday month.
Denny's Kid's Birthday Club
Register your kid for the Denny's Kid's Birthday Club and they'll get a free kid's meal and sundae!
Rita's Birthday Club
Sign yourself and your kid up for this birthday club and you'll both get a free sweet treat.
Cold Stone Creamery
Cold Stone doesn't have a kid-specific birthday club, but if you sign up with your email (and their birth date), you'll get a buy one get one free creation and $3 off an ice cream cake. You'll also get a BOGO coupon just for signing up.
The Children's Place Birthday Club
If you're not a fan of fast food, how about new clothes? Children's Place lets parents add their own birth date, as well as their kids. Around each birthday you'll get coupons that can be used online or in the chain's many stores.
Old Navy Birthday Club
Old Navy also has a Birthday Club for parents and kids, but the chain's vaguer about its goodies, only promising an exclusive treat.
Barnes & Noble Kids' Club
Children can enjoy birthday gifts from B&N, where Club Members can pick up a cupcake at the bookstore's cafe.
Photo courtesy of the author.