Great Stroller Walks and Stroller Hikes near Philly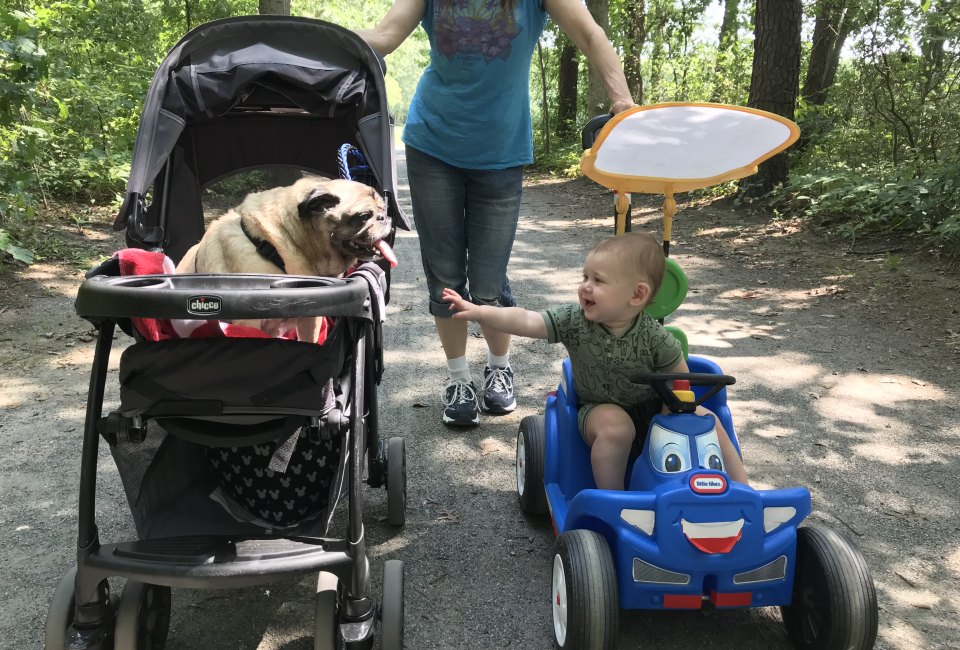 4/22/22
- By
Liz Baill
There's a time in parenthood when the stroller becomes your ride or die. Baby only nap on the move? Strap 'em in and walk. Need to workout with a tiny human in tow? Make that stroller push your strength workout. Maybe you need a walk-and-talk mom date or a self-care solo stroll outside. Whatever your strolling needs, we've rounded up the best stroller hikes near Philly to give parents and tots some much-needed fresh air.
These stroller walks near Philadelphia feature paved hiking trails for the excursion-inclined, wide-open gallery spaces to engage your tired yet creative mind, and simple but scenic jaunts that will add some Vitamin D to your caffeine high. For more great ideas to get out and about with little ones, don't miss our guide to Playgrounds and Parks in Philadelphia.
Stroller Hikes in Philadelphia
Nothing screams Philly parent more than a stroll by the Schuylkill. Of the trail's 75 completed miles, 30 miles run right through Philly, with tons of access points. You can often find a Stroller Strides workout on this route with the awesome Philly Fit4Mom crew to really get your stroller up to high speed.
Constructed over two centuries ago, Forbidden Drive offers you a hike through PA history. Don't be deceived by its forboding nickname--forbidden refers to cars and traffic, making this the perfect pedestrian haven. This five-mile trail located in the massive Wissahickon Valley Park is a Philly favorite.
Make like a college kid and head up to Penn for a walk through the beautiful West Philly campus, where the pretty brick paths will lull your baby right to sleep. At certain times of day "The Walk" is teeming with co-eds, so be prepared for someone to hand you a flyer inviting you to their club or frat party.
Head to northwest Philly to reach this sanctuary of more than 240 acres of forests, fields, and ponds. In addition to getting your nature fill, there are also amazing environmental art installations along the different trails.
With phase one of the ambitious Rail Park project completed a few years ago, Philly added another amazing stroller-friendly path to the scene. Access the park on Nobel Street and take in the creativity that went into re-imagining a now-defunct railway into a space for connecting communities.
Stroll along the Delaware River Waterfront and grab a snack at one of Spruce Street Harbor's many food vendors, or take a load off in one of the park's colorful hammocks.
RELATED: The Ultimate Guide to Philly Area Playgrounds for Toddlers
Families love strolling and biking along the scenic Kelly Drive. Photo courtesy of R. Kennedy for Visit Philadelphia.
Stroll along Kelly Drive while watching the rowers on the Schuylkill and taking in the views of the iconic Philly boathouses lining the river.
After you've hit Kelly Drive, stroll right on into the Philadelphia Museum of Art. With thousands of square feet of open gallery spaces, long corridors, beautiful period rooms, and artwork to inspire your inner Van Gogh, the PMA is one of the most under-rated stroller-friendly (not to mention indoors) spots in the city.
You'll need admission to the magical gardens at Morris Arboretum, but that ticket will transport you into a Victorian landscape straight out of a fairytale. Toddlers will love the garden railway trains and treehouse, or pack a picnic to enjoy on one of the giant lawns or under a tree near the rose garden.
The John Heinz National Wildlife Refuge preserves the freshwater Tinicum Marsh, and is the perfect outing for both nature lovers and the nature-deprived city-dweller alike.
RELATED: Best PA State Parks with Kid-Friendly Hikes and Attractions
The Cynwyd trail is perfect for a family stroll. Photo courtesy of Liz Baill
Stroller Walks in the Suburbs
Between Bala Cynwyd and Manayunk you'll find Cynwyd Trail, where lush wide, paved nature paths give way to incredible industrial views as you head towards the walking path over the Manayunk bridge.
This 2-mile trail follows the perimeter of Haverford College and is the perfect loop for a nature walk, complete with a duck pond that the littles will love.
This free public garden in Villanova includes a mile-long paved walking path that is a favorite among new parents looking to get out for a tranquil walk between--or during--naps.
With two miles of wide, paved, flat paths, Radnor Trail is a favorite meet-up spot for Main Line moms, dads, and caregivers out for a stroll.
Stroll along the three-mile trail following Penny Pack Creek, winding through miles of meadows and forests. The trail includes both paved and unpaved paths.
The five-mile trail at Ridley Creek State Park is an ideal strolling destination, boasting small waterfalls and lots of wildlife.
There are 2.9 million square feet of retail space at the east coast's largest mall right in KOP.... plenty of room for a stroll and lots of incentive to shop while you're at it.
RELATED: The Ultimate Guide to Philly Area Playgrounds for Toddlers
The Brandywine Museum is a beautiful stroll inside and outside. Photo courtesy of the museum
A beautiful indoor space so stroller-friendly they even offer Stroller Tours of the collections for grown-ups with babies in tow.
Sign up for the Mommy Poppins Newsletter today!
i