Best PA State Parks with Kid-Friendly Hikes and Attractions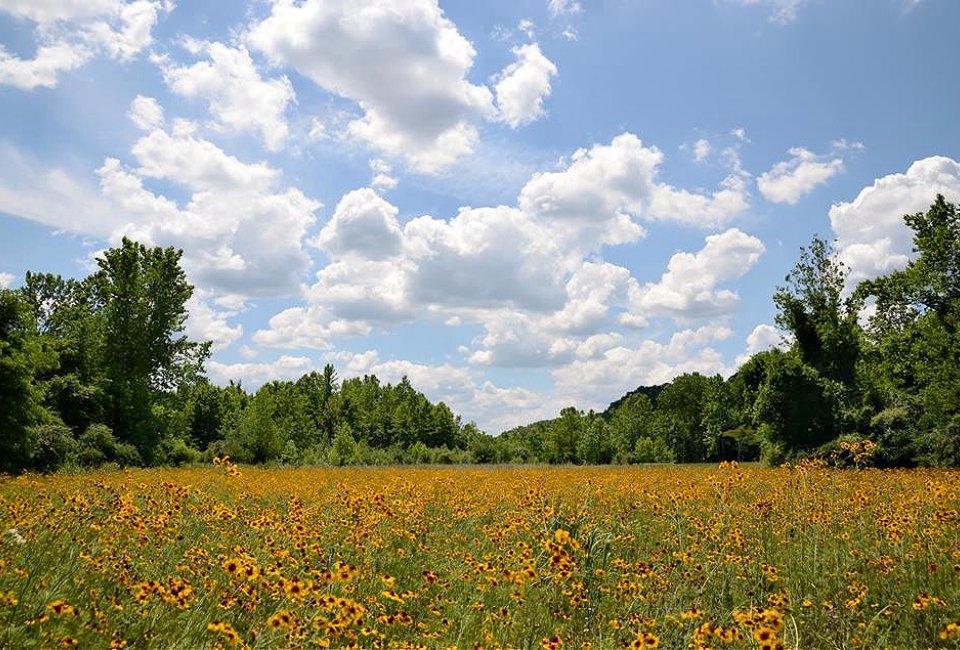 8/28/20
- By
Kristen Sullivan
Pennsylvania is filled with amazing state parks to explore. In fact, there are over 300,000 acres of land managed by Pennsylvania's Department of Conservation and Nature Resources that offer everything from horseback riding and fishing to biking and overnight camping. By far, the most popular activity is hiking. Some hikes consist of short loops that are less than a mile while other trails are extensive and challenging.
If your family is looking for a PA state park to hike, check out our top 10 list below. Whether you want to see beautiful scenery, search for wildlife, or get some exercise, the list does not disappoint. Included in the descriptions are additional activities available at each park.
Looking for even more outdoor activities? Browse through our Parks & Playgrounds Guide, nearby camping, and tubing and water rafting options for additional fun things to do with Philly kids.
Before you go, be sure to plan out what park you want to visit and which trail you'd like to try. Pay careful attention to the length of each trail if traveling with young children. Dress for the weather, wear sunscreen, and pack other supplies such as plenty of water, snacks, first aid kit, bug spray, map, and maybe even a compass. In the COVID-19 era, some state parks are reporting overcrowding so consider having a backup plan for a fun place to visit nearby if the parking lot is full.
Nestled in the city, this is the only state park located within Philadelphia city limits and connected to the Fairmont Park system. Visitors can escape urban life for a moment and get into nature by wandering along the gravel paths and watching the surrounding wildlife. This spot is unique in that there is a community garden as well as a place to fly remote control airplanes. Fur babies are allowed, too!
Running from Easton to Bristol, there are 60 miles of the Delaware and Lehigh National Heritage Corridor contained within this state park. Families can walk, jog, run, or bike along the trails. Visitors can also expect picnicking, boating, archery, and fishing. Due to the shallow waterways, guests can get the chance to see an extensive amount of wildlife at this PA state park, including birds such as bald eagles and ospreys.
Located in Montgomery County, this state park near Philadelphia has miles of trails that are easy with certain parts containing more difficult sections. Tent camping, a picnic area, fishing, hunting, horseback riding, and mountain biking are available here as well. A nearby golf course rounds out the offerings.
RELATED: Fall Hikes for Philly Kids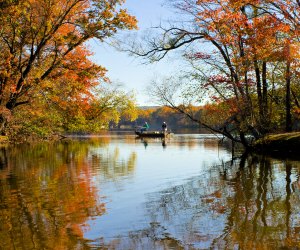 Fishing and boating are a fun option in French Creek State Park. Photo courtesy of PA DCNR
Every season brings something fun to this state park. In the summer, families can enjoy hiking with different levels of difficulty, boating on Hopewell Lake and Scotts Run Lake, swimming at the pool, and fishing. Winter activities include sledding, cross-country skiing, and ice skating. Other ways to spend time at French Creek State Park include horseback riding, disc golfing, orienteering, and camping.
Hike through the forest, fields, and wetlands at Marsh Creek State Park in Pennsylvania. Visitors can expect nearly 20 miles to explore while searching for feathered friends such as wrens, bluebirds, mockingbirds, and red-winged blackbirds. Lucky visitors might spot an orchard oriole or bobolink. Kids can also try biking, horseback riding, swimming, and sledding at Marsh Creek State Park.
This park is perfect for beginners. With seven different trails all under one mile long, young children can feel confident in their ability to complete these hikes. There are five picnic walks in addition to Logan Walk which is ADA accessible. After hiking, cool off at the swimming pool or spray pool which are open from Memorial Day to Labor Day. Boating and fishing are also available.
Located in eastern Bucks County, this state park is right on the border with New Jersey. It is open every day of the year from dawn to dusk. It offers an easy hiking trail that follows along the Tohickon Creek and a historic bridge. Many visitors love the vistas at the High Rocks area. For adventuresome families, whitewater rafting and rock climbing are available. The nearby Tohickon Valley Park has tent and cabin camping, as well as a playground for kids.
RELATED: Top Philly Playgrounds with Shade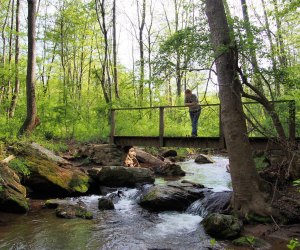 Ridley Creek State Park is close enough to Philly for a day trip. Photo by Mike/CC BY 2.0
Another pretty PA state park just outside of Philadelphia is Ridley Creek State Park. With 13 miles of hiking trails, it's the perfect weekend day trip for families. In addition, families can watch for wildlife in the forest, fields, meadows, and wetlands. Guests can also horseback ride at Hidden Valley Farm, which is located within the park. In the winter, kids can sled on the large hill located near the park office or try out cross-country skiing on the trails. Fishing, overnight camping, and archery are also permitted.
Plenty of scenic and historic hikes await at Tyler State Park. Try the trails by hiking, horseback, and biking. Many visitors see a variety of birds as well as other critters such as turtles, eels, frogs, and water snakes. For more advanced hikers, there is a 'hike-only' trail that is only one mile but offers more of a challenge. Wintertime activities include sledding, ice skating, and cross-country skiing.
A 5-mile portion of the Delaware and Lehigh National Heritage Corridor resides at Washington Crossing Historic State Park, and it's the perfect hike for young children. Of course, there is a lot of history here, too, as it is known as the spot where General Washington led his troops across the Delaware on Christmas Day during the American Revolution. Educational programs and reenactments are held throughout the year. Biking, kayaking, fishing, and cross-country skiing are popular activities as well.
We love exploring Pennsylvania, from its charming small towns to its popular getaway retreats, such as the Poconos. Find even more family getaways in our Day Trips and Travel Guide.
Sign up for the Mommy Poppins Newsletter today!