15 Great Fall Hikes with Kids Near Philadelphia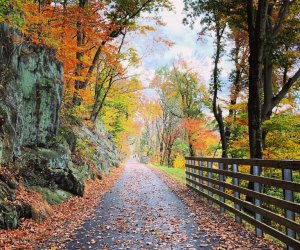 10/1/21
- By
Maureen Rayburn
Crisp air and crunchy leaves signal the arrival of fall in Philadelphia, and a family hiking trip is one great way to get a load of both. Philly's vibrant, bustling city life is surrounded by serene parks, trails and nature preserves that make the perfect destinations for a kid-friendly fall hike.
There are plenty of hiking trails near Philly to accommodate family members of all ages. Babies can take in the sights from a stroller or strapped to your body, while you encourage little walkers to play fall leaf bingo as they trot along. Some of the more challenging hiking trails are great fits for tweens and teens.
So read on for some of the best fall hikes for families in Philly and the suburbs. For more great treks across the state, check out our roundup of the best Pennsylvania state parks. And to really make the most of autumn, don't miss 50 Fun Fall Activities to Do with Kids, loaded with festivals, corn mazes, pumpkin patches, and more.

Top Hiking Trails Near Philadelphia for Kids
OK, most of us probably don't think marshland when we think of fall hikes. But let's face it: most of us don't think of marshland in and around Philly at all. Believe it or not, John Heinz National Wildlife Refuge spans Delaware and Philadelphia counties, making this nature respite super convenient for families living in the city. It's a perfect place to spot some animals, check out the season's changes, and do it all without driving far into the suburbs. Although the Visitor Center is currently closed, come on out for a refuge walk or bike ride.
Philly families can find a variety of trails here winding along the banks of the Schuylkill River. Center City Trail has 11-12-foot wide paths, great for strollers, bikes, walking, or running. The Boardwalk is another spot to enjoy the views of the city, with a "down the shore" feel. The trails at Grays Ferry Crescent provide space for walkers, runners, and cyclists. Other trails, such as Schuylkill Crossing, are under construction and slated to open in 2022.
This place is amazing, period. Particularly good for families is Forbidden Drive, a wide, level path that follows Wissahickon Creek for about 5 1/2 miles. It's an easy hike that's suitable for strollers and even kids on bikes. Families will enjoy lovely views, particularly of the Wissahickon ravine. More advanced hikers can explore the rougher terrain of the Orange, Yellow, Lavender, and White trails. Bird-watching is another perfect fall activity at this spot.
RELATED: 10 Free Places to Enjoy Fall Foliage in the Philly Area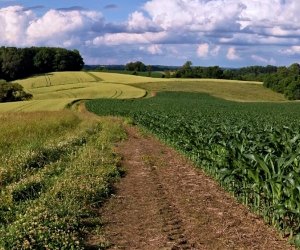 Enjoy a stroll through the farmland at ChesLen Preserve.
The ChesLen Preserve is a private nature preserve with more than nine miles of unpaved trails for families to enjoy. Some of these trails are densely wooded, making them prime spots for autumn tree viewing. There are varying levels of difficulty, appropriate for preschoolers and older. Younger children are bound to beg for a stop at Ollie Owl's Playground, a unique nature-based play area where they can hunt for bugs, build stick tee-pees, explore small streams, and just generally enjoy the dirt. Weekends in October host the Great Pumpkin Quest – a pumpkin-themed scavenger hunt.
Rail trails are trails that have been converted from old railway tracks. The Chester Creek Trail is one of several in the state, located in Delaware County. The paved middle section, which leads from Middletown to Aston, is about three miles and perfect for bikes and strollers. Hikers can expect unbelievable views of fall foliage in this neck of the woods.
From King of Prussia to Exton, this paved rail trail spans just shy of 15 miles, and is ideal for walkers with strollers, or cyclists. Not all hikers appreciate the trail's proximity to local highways, but there are enough trees and farmland to provide a beautiful backdrop. We actually like that this one isn't too far off the beaten path.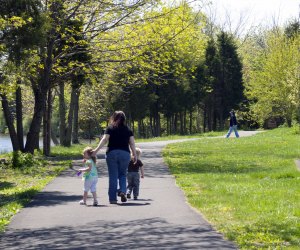 There's a trail for kids of every age at Nockamixon State Park. Photo courtesy of PA DCNR
Best known for its excellent fishing, Nockamixon State Park also offers fantastic family hiking opportunities. The Sterner Mill hiking trail is reserved for foot traffic with simple loops that go down to the lake and back, making it great for smaller kids. Other trails in the park are more rugged and rocky, so older youth might enjoy that challenge. Either way, families can't go wrong here, especially if they're looking for fall colors.
The Perkiomen Trail is a must-see for families in Montgomery County. The 20-mile trail follows the route of the Perkiomen Creek from Oaks to Green Lane Borough, so families can choose which sections are the most convenient. Plus, it connects to the Schuylkill River Trail and the Audubon Loop. Kids of all ages will enjoy the scenery.
Right in the heart of Delaware County, Ridley Creek State Park is a popular option for families itching to get outdoors. Miles of trails are set across this park's 2600 acres, where kids can also find playgrounds, encounter wildlife, and climb rocks. Ridley Creek runs lots of kid-friendly educational programming to help little ones learn more about their natural surroundings. Aside from the hiking, this park is beloved by history buffs for its cluster of historic properties. Through November, make a stop at the Colonial Pennsylvania Plantation – a living history site complete with period re-enactors who explain what life was like for farm workers in the 1700's.
RELATED: Our Guide to Playgrounds and Parks in Philly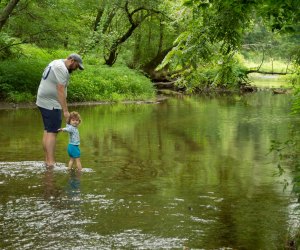 Dip your toes in the water while hiking through Stroud Preserve. Photo by Mae Axelrod
Responsible for providing drinking water to the Philly region, the watershed at Stroud Preserve is a habitat for wildlife and a great place for families to hike. Among some 571 acres and beautiful rolling hills, there are miles of trails to explore from sunrise to sunset. Stroud is also an educational site that conducts scientific research.
Struble Trail in Chester County follows the east branch of Brandywine Creek. The trail is largely flat and paved, making it ideal to hike or bike with young children. Much of the trail is rich with mature trees, so leaf-spotting is a favorite pastime. Rest stops and picnic areas dot the landscape when it's time for a bite, or just a break. Along the way, be sure to stop at the Born Learning Trail—created for young children through a United Way initiative—and the Free Little Library station to grab a book.
A popular destination in Chester County, Laurels Run is a more moderate hiking trail near Philly that affords visitors the opportunity to see wildlife, including a wide variety of bird species. There are over 500 acres of picturesque hardwood forest, so consider bringing the good camera for a family photo. You must be a member of the Brandywine Conservancy & Museum of Art to enter, but a $100 membership offers several worthwhile perks.
Adjoining Struble Trail, Lions' Trail is a short, paved half-mile path perfect for families with little ones. The route takes visitors through Kardon Park – aptly named The Ponds – for its ten acres of ponds among 40 acres of land. Visitors also can fish, bird-watch, bike, and inline skate here.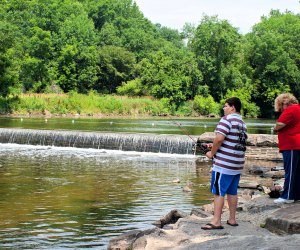 You can stop to drop a line while hiking through Tyler State Park. Photo courtesy of PA DCNR
From sunup to sundown, visit Tyler State Park for the gorgeous trails that guide families through some really beautiful countryside. The Neshaminy Creek winds through the area, with 4 miles of gravel hiking and 10 miles of paved trails for walking or biking (may be a bit hilly for tiny adventurers). Come back to this park in the winter for sledding, ice skating, and cross country skiing. Educational programs are offered September through May.
Philadelphia is the birthplace of America, and what better way to take in its rich history than with an adventure in Valley Forge, where George Washington's army once camped. Older kids and grown-ups will love the historical information and structures, and everyone will love the joyful autumn colors that bring the park to life. Paved trails make travel easy for everyone in the family, and it's conveniently situated for city dwellers as well as folks in the 'burbs. This location also has bike and horseback riding trails.
Writer Corrie Stango contributed to an update of this article in 2021.