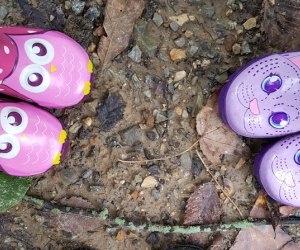 9 Kid-Friendly Fall Hikes in the Philly Area
It's fall! Time to get outside without sweating profusely or jumping into the water. This is the time to take a deep breath, listen to the leaves crunching beneath your feet, and enjoy the outdoors before snow and holiday planning set in.
Taking the kids hiking on trails in autumn is a great way to get a fresh look at the world. Baby-wear the littlest members of the family, and make it fun for the little ones by playing fall-leaf bingo or I-spy with fall colors. If your teens and tweens are in tow, they'll probably enjoy some of the more challenging trails with their earbuds drowning out the sounds of nature. It's okay; at least they're outside. Read on for some of the best fall hikes for families in Philly and the suburbs.
Perkiomen Trail
The Perkiomen Trail is a must-see for families in Montgomery County. The 20-mile trail follows the route of the Perkiomen Creek from Oaks to Green Lane Borough, so families can choose which sections are the most convenient. Plus, it connects to the Schuylkill River Trail and the Audubon Loop. Kids of all ages enjoy the scenery!
Valley Forge National Historical Park
The Philadelphia area is known for its rich history, and what better way to take it in than with an adventure in Valley Forge? Older kids and grown-ups will love the historical information and structures within the park, and everyone will enjoy the beautiful autumn colors that are sure to burst throughout the whole area. Paved trails make for easy travel for everyone in the family, and it's convenient for families in the city and the 'burbs.
Tyler State Park
Tyler State Park boasts trails that take families through some really beautiful countryside. The Neshaminy Creek winds through the area, and four miles of gravel hiking provides a great spot for short-but-sweet hikes. There are bike trails as well, but they can be a little too hilly for the tiny adventurers.
Struble Trail
The Struble Trail, located in Chester County, follows the East Branch of the Brandywine Creek. The trail is largely flat and paved, making it a great spot to take smaller kids for easy hiking or bike riding. Much of the trail is rich with mature trees, so leaf-spotting is a perfect pastime on this path.
Wissahickon Valley Park
This place is amazing. Period. Particularly good for families is Forbidden Drive—a wide, level path that follows Wissahickon Creek for about five and a half miles. It's an easy hike that's suitable for strollers and even kids on bikes. Families will enjoy lots of lovely views, particularly of the Wissahickon ravine.
Nockamixon State Park
Best known for its excellent fishing, Nockamixon State Park also offers excellent family hiking opportunities. The Sterner Mill hiking trail is reserved for foot traffic (no bikes!), and it has simple loop trails that go down to the lake and back, making it great for school-aged kids. Other trails in the park in the Old Mill area are more rugged and rocky, so older kids may enjoy that challenge a little more. Either way, families can't go wrong here, especially if they're looking for fall colors.
ChesLen Preserve
The ChesLen Preserve is a private nature preserve offering over 13 miles of unpaved trails for families to enjoy. Some of these trails are very densely wooded, making them prime spots for autumn tree viewing. The trails have varying levels of difficulty, making them appropriate for little ones in preschool or older. Younger children are bound to beg for a stop at Ollie Owl's Playground, a unique, nature-based play area.
John Heinz National Wildlife Refuge at Tinicum
Okay, so most of us probably don't think "marshland" when we think of fall hikes, but let's face it, most of us probably don't think of marshland existing in and around Philly at all! Believe it or not, John Heinz National Wildlife Refuge spans Delco and Philadelphia Counties, making this nature respite super convenient to families living in the city. It's a perfect place to spot some animals, check out the season's changes, and do it all without driving too far into the suburbs. Plus, keep an eye out for some of the refuge's organized nature walks and activities for families.
Ridley Creek State Park
Right in the heart of Delaware County sits Ridley Creek State Park, a popular spot for families who are looking to get outside. With 13 miles of trails (most of them paved), there is definitely something for everyone. Many of the paths are cool and shady, which means kids have no trouble finding leaves of every color when the season changes.
Photo provided by the author.