Spectacular Neighborhood Holiday Lights and Christmas Lights in Boston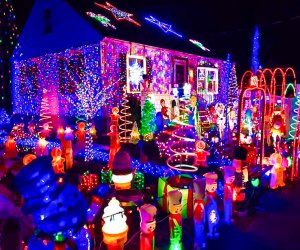 12/9/22
- By
Kelley Heyworth
Some families in the Boston area neighbors create spectacular neighborhood holiday light displays, with amazing Christmas lights on houses. For some of us, it's a struggle to put Christmas lights on a single tree without losing a bulb–or our tempers! Next time you have a free evening, pack some hot chocolate in a thermos, buckle up the kids, and visit these joyful dwellings from the safety of your own cars. Between the beautiful lights and the charities that many of these families support with their efforts, It's sure to inspire holiday spirit (and maybe some ideas for your own house).
For more Christmas lights around Boston and the 'burbs, see our guide to the Best Holiday Lights Drive-Thrus and Christmas Light Shows. For more ideas for making merry, see our Boston Holiday Fun Guide.
Spectacular Neighborhood Holiday Lights in Greater Boston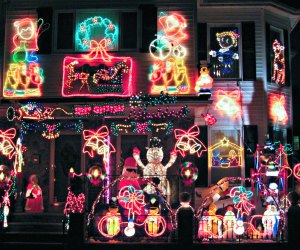 Somerville decorates to the nines. Photo by Andrew Malone/CC BY 2.0
Robinson Street – Somerville
The annual Illuminations Tour along Robinson Road and connecting streets is back in full swing this year! On December 9, the Somerville Arts Council will release its map of the houses that shine the brightest, so pack up the car and take a tour yourself. Join in the festivities by participating in city-wide caroling or taking part in the community lantern project.
The Canale family moved, but brought their holiday lights with them! The house shines with flashing Christmas lights, and the yard is bedecked with lit-up trees and characters (including Mickey). This year, the kick-off for the holiday season will be December 4 at 5pm.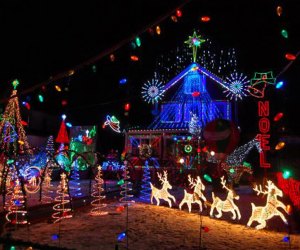 Adams Street sparkles with more than 20,000 lights. Photo courtesy of Greg Cook
Adams Street – Dorchester
On Adams Street near Victory Road, the Nguyen family's annual show includes neon lighting, more than 20,000 lights, and a handcrafted manger.
Spectacular Neighborhood Holiday Lights North of Boston

The Stickney House lights up the neighborhood with over 100,000 lights! Photo courtesy of the Stickney House/Facebook
The Stickney House hosts an annual Christmas Light Extravaganza, special for the lights strung up the dozens of trees on the forested, hillside property. There's twinkly reindeer, illuminated snowmen and Santas, and more.
Linebrook Road – Ipswich
Down the road from Marini Farm, the Galicki family has been lighting up their property for years with glittery snowmen, giant ornaments, and more "cozy winter"-themed decor. There's candy cane-lined driveway, the Grinch, nutcrackers, and more.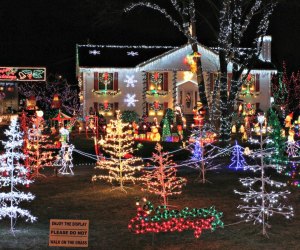 Many houses in the Lynn Fells Parkway area are decked out in lights. Photo by Anthony92931 via Wikimedia Commons/CC BY-SA 3.0
Lynn Fells Parkway – Saugus
Residents along Lynn Fells Parkway have been lighting up their lawns for the past half-century, and the illuminated extravaganza seems to shine brighter every year. Many Boston families, especially north of town, make an annual drive on the Parkway between Melrose to Route 1 to see the show. There are reindeers, candy canes, rooftop displays, and more to see.

Yes, holiday lights around Boston make things merry and bright! Photo courtesy of North Shore Holidays Lights, Facebook
The Dunne Light Show offers red and green lights flashing in time to favorite Christmas tunes, from The Nutcracker to the Griswold's Christmas Vacation theme song. Tune into 87.9 and bring donations for the Lawrence YMCA Food Pantry.
Railroad Avenue – Beverly
Look for projected Christmas scenes, Mickey and Minnie, and an illuminated fence, among other twinkling details, at Railroad and Hardy Street. Beverly shines brightly in other spots too; look at McKay Street and Cornell Road.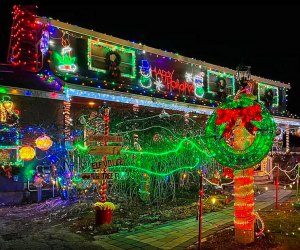 The Lossmans in Billerica host a truly spectacular lights show. Photo courtesy of the Lossmans/Facebook
The lights at Lossman House stretch widely across the street-front property. The display includes charming details, like a miniature Christmas tree village. Check out their Facebook page for updates on Santa visits.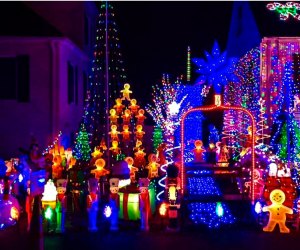 The light display on Arthur Street benefits Boston Children's Hospital. Photo courtesy of the Danvers Lights Facebook Page
The annual spectacle along Arthur Street is free, but families welcome donations (virtual, this year) for Boston Children's Hospital. Distinct for its rooftop designs, the scene illuminates promptly at 4:30pm every day through New Year's Eve.
Bainbridge Street – Malden
​The same family that has been spooking locals out with scary Halloween decor in recent years is perhaps even better known for their holiday light displays. Look for a lot of lights in traditional white, red, and green, as well as illuminated wreaths, snowmen, and Santa.
Spectacular Neighborhood Holiday Lights South of Boston
No silent night here. Animatronic penguins named Rollie and Dan "lip sync" holiday tunes at the Schmidt home, and it's not rare to see a child dancing along outside. There's also Santa, white lights mimicking snow, and other wonders at the property, which is decked out early and often each day through the holiday season.
Lilah Lane – Pembroke
Tune your radio for music to go along with a drive to see several inflated figurines and layered strands of twinkly lights in this spacious suburban yard. Owners collect donations for local organizations each year.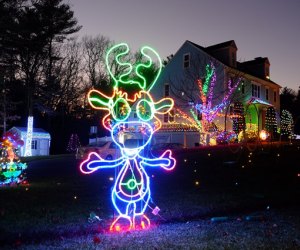 The Crazy Tech Christmas display usually lights up Bridal Path, Lakeville. Photo courtesy of crazytechchristmas.com
Some homes shine with old-fashioned glitz, but others, like this gem in Lakeville, take holiday lighting into the 21st century. Owners of the Crazy Tech Christmas display have special software to create a light show that stretches across the family's large lawn, with strobe effects and music transmitted to 87.9 FM station. They have even set up a webpage for visitors to let you know if the lights are fully on and functioning.
Spectacular Neighborhood Holiday Lights West of Boston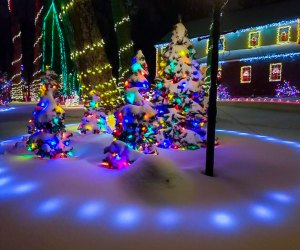 The Bonvini Christmas Lights put on a magical 10-minute show. Photo courtesy of Bonvini House/Facebook
This lovely suburban house lined with sparkly lights features rows and rows of towering, red- and green-lit trees, too. Tune in to 88.1 to listen to holiday music that accompanies the computer-controlled light show.
With Santa making an appearance on most evenings, this one is worth a drive west. The more than 50,000 lights display at 25 Waite Street is sure to impress. This is a walk-through display with over 200 inflatables, enough for the whole family to enjoy.

There's dueling decor on the 400 block of Pleasant Street in Belmont. Photo by Kelley Heyworth
Pleasant Street – Belmont
For years, neighboring families living at the intersection of Pleasant and Munroe in Belmont have had a friendly competition of Christmas displays. It's fun to take the kids and have them decide which they like best. The 400 block of Pleasant Street is where you can take in the bright lights. In the past, Number 441 shined in the evergreen tree department; number 429 had the most fun figurines.