Homes with Awesome Holiday Lights and Decor Around Boston
For some of us, it's a struggle to string our own little Christmas trees without losing a bulb (or our tempers). Others—including some of our Boston neighbors—are veritable pros at decking out their homes for the holidays. All over Boston and the 'burbs, there are spectacular public holiday light displays, but also families who've made a tradition of creating special sparkle on their own properties. So next time you have a free evening, pack some hot chocolate in a thermos, buckle up the kids, and take a road trip to see some of these joyful dwellings. It's sure to inspire holiday spirit (and maybe some ideas for your own abode). For more ideas for making merry, see our Boston Holiday Fun Guide.
Lynn Fells Parkway—Saugus
Residents along Lynn Fells Parkway have been lighting up their lawns for the past half-century, and the illuminated extravaganza seems to shine brighter every year. Many Boston families, especially north of town, make an annual drive on the Parkway between Melrose to Route 1 to see the show. There are reindeers, candy canes, rooftop displays, and more to see.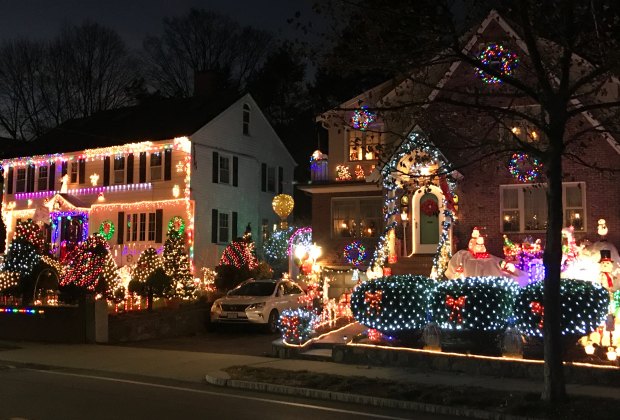 Dueling decor on Pleasant Street in Belmont; photo by Kelley Heyworth
Pleasant Street—Belmont
For years, neighboring families living at the intersection of Pleasant and Munroe in Belmont have had a friendly competition of Christmas displays. It's fun to take the kids and have them decide which they like best. Number 441 shines in the evergreen tree department; number 429 has the most fun figurines.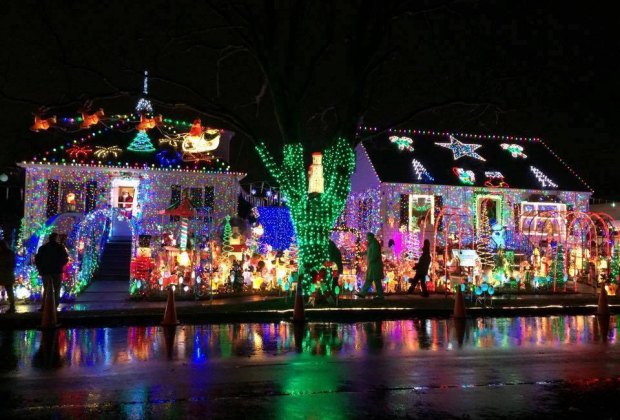 The Arthur Street display is so popular that Danvers puts out traffic alerts related to it over the holiday season. Photo courtesy of Danvers Lights Facebook page
Arthur Street—Danvers
Another pair of jolly neighbors put on a side-by-side show through the Christmas season. The spectacle at numbers 3 and 5 Arthur is free, but the families welcome donations for Boston Children's Hospital. Distinct for its rooftop designs, the scene illuminates promptly at 4:30 every day through New Year's Day.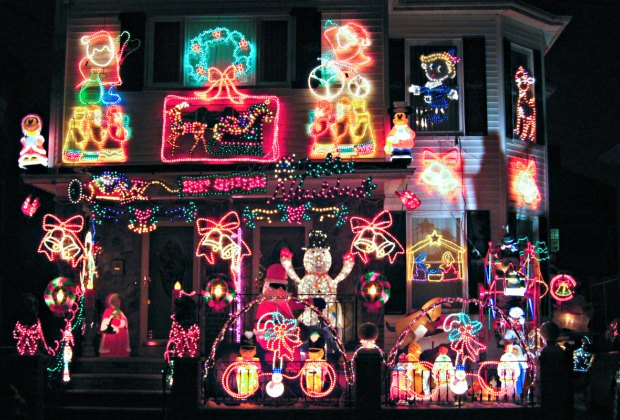 Somerville decorates to the nines. Photo by Andrew Malone/CC BY 2.0
Robinson Street—Somerville
So storied is the tradition of bedecking homes in Somerville that there's actually a trolley ride you can take from City Hall to check out the flashiest homes in the 'hood. If you want to do the self-guided tour, check out Robinson Road, Preston Road, Central (near Medford and Forster), Springfield Street, and Otis Street.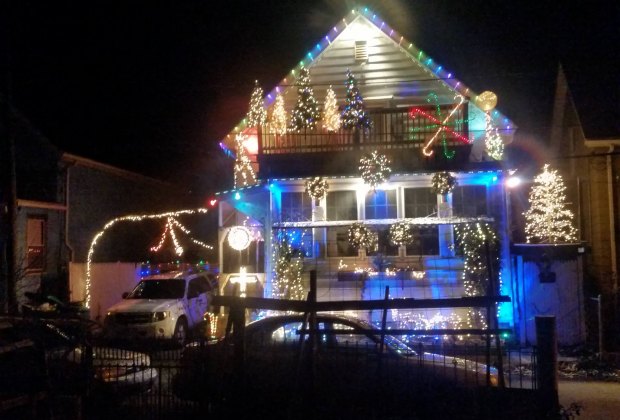 There's a light show at Light Street Court this year. Photo courtesy of Gary O'Donnell
Light Street Court—Lynn
When Gary O'Donnell moved to the neighborhood in 2010, he was dismayed by its lack of Christmas spirit. He started decorating his home that year, and neighbors were inspired to follow suit. In recent years, O'Donnell has upped the ante with candy cane pinwheel lights, illuminated trees in his balcony and backyard, and a light show, which kicks off on Dec. 2 this year.
Buckingham Road—Milton
No silent night here. Animatronic penguins "lip sync" holiday tunes at the Schmidt home, and it's not rare to see a child dancing along outside. There's also Santa, white lights mimicking snow, and other wonders at the property, which is decked out early and often each day through the holiday season.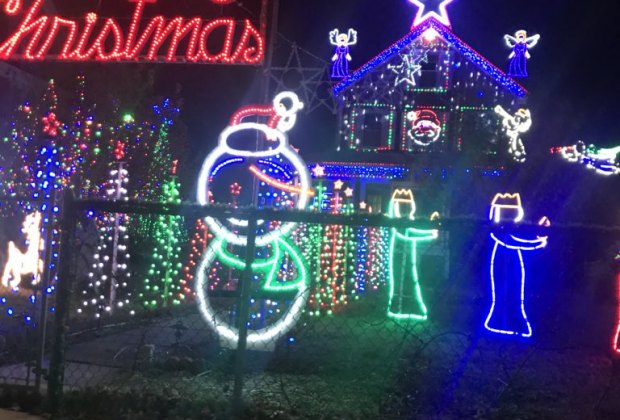 Adams Street sparkles with more than 20,000 lights. Photo courtesy of Lauren (LauMalo83) via Twitter
Adams Street—Dorchester
On Adams Street near Victory Road, the Nguyen family's annual show includes neon lighting, than 20,000 lights, and a handcrafted manger.
Railroad Avenue—Beverly
Look for projected Christmas scenes, Mickey and Minnie, and an illuminated fence, among other twinkling details, at Railroad and Hardy Street.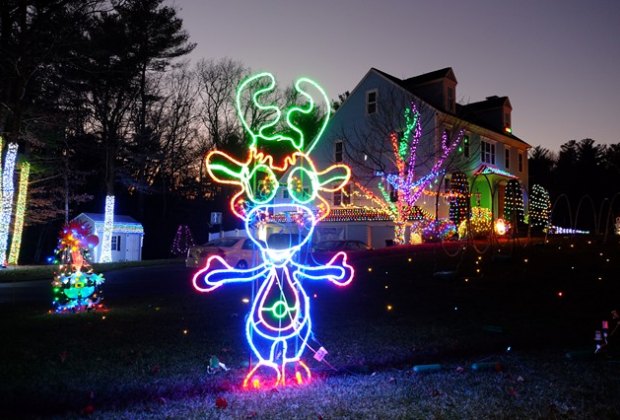 The Crazy Tech Christmas display usually lights up Bridal Path, Lakeville. Photo courtesy of crazytechchristmas.com
Furlong Circle—Lakeville
Some homes shine with old-fashioned glitz; others, like this gem in Lakeville, take holiday lighting into the 21st century. Owners have special software to create a light show that stretches across the family's large lawn, with strobe effects and music transmitted to an FM station. They have even set up a webpage for visitors to let you know if the lights are fully on and functioning.
Bainbridge Street—Malden
​The same family that has been spooking locals out with scary Halloween decor in recent years are perhaps even better known for their holiday light displays. Look for a lot of lights in traditional white, red, and green, as well as illuminated wreaths, snowmen, and Santa.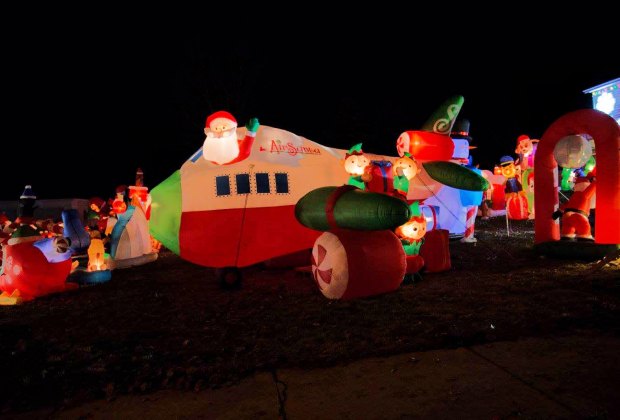 Inflatables are the big draw at Tolman Avenue in Leominster. Photo courtesy of Holiday Magic by Tyler
Tolman Avenue—North Leominster
If your little elves are into huge blow up decorations (and lets be honest, who isn't?), then you're going to want to make the drive out to "Holiday Magic by Tyler" at 83 Tolman Ave. Stop by any time after 5pm to walk through this holiday display filled with over 100 inflatable holiday characters and lights. You can even get your kids into the giving spirit of the season and bring a toy to donate to Toys for Tots.
Rockvale Road—Tewksbury
The Dascoli house began their over-the-top decorating 20 years ago, and since, many neighbors on the street have joined in the fun, making the entire street a festive destination. With over 100,000 lights on the Dascoli house alone, you can expect the street to shine bright with lights, inflatables, and other holiday fun. The street will also be collecting can goods to donate to the local food pantry.
South Martin Road—Amesbury
The Amesbury Holiday House took over for another locally legendary house that retired its bulbs and decor a few years ago. They even bought decorations from them! Drive over to 19 South Martin Road to enjoy a 45-minute spectacular Christmas light show synchronized to music. The shows start daily at 7pm. In partnership with the Marines, they will be accepting donations of unwrapped toys for the Toys for Tots program.
Top photo by Anthony92931 via Wikimedia Commons/CC BY-SA 3.0