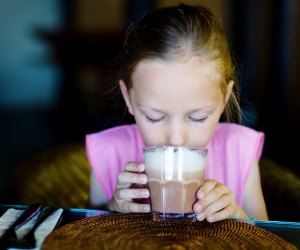 6 Places for Boston Families to Indulge in the Perfect Cup of Hot Chocolate
Whether you're looking to warm up after swooshing down the local sledding hill or just hoping to satisfy your seasonal sweet tooth, nothing takes the chill off a winter afternoon like a really good cup of hot chocolate.
A steaming cup of cocoa not only helps you face winter's frosty air, but wrapping your hands around a warm cup of melted chocolate, steam rising before your eyes, can also bring you back to you own childhood memories of snowmen, Santa and rosy cheeks.
So, gather the family, pull off those mittens and sip on some sweetness at one of these places -- from Boston to the North Shore -- serving up the season's most delectable drink.
1. Paris Creperie—Brookline
We don't think there's an adult or kid around (with the exception of one of mine) who doesn't love Nutella, that obsession-worthy Italian chocolate/hazelnut spread. Well, Nutella enthusiasts: rejoice! Paris Creperie has found a way to take the beloved spread and turn it into a delicious warm winter drink. Try your basic Nutella Hot Chocolate, the shop's own blend of steamed milk and Nutella, or try it with mint or raspberry flavoring for a little something extra. Enjoy breakfast, lunch, dinner -- or all three -- by choosing one of Paris Creperie's sweet or savory crepes.
2. L.A. Burdick—Boston
L.A. Burdick is the place for serious chocolate lovers to get a cup of indulgent drinking chocolate. Choose a chocolate blend or one of a variety of single-source cups. Either way, the rich, dense chocolate flavor, made from real chocolate, will not disappoint. A word of caution: sip slowly or share your drinking chocolate with a friend; more than one customer has reported chocolate overload after drinking a full cup. ​Enjoy Burdick hot chocolate anytime day or night when you purchase a bag of drinking chocolate to take home.
3. Paul—Somerville and Natick
Paul started out as a small family bakery in Northern France in 1889. Today, with nine U.S. locations, Paul is still dedicated to the time-honored traditions passed down for five generations. Located in the Natick Mall as well as Assembly Row, this authentic French boulangerie is the perfect place to treat your tots to a "fancy" treat and a rich and creamy hot chocolate after a morning of shopping or visiting the Lego Store or LEGOLAND Discovery Center. People who have visited Paul's European locations flock here to experience the fresh breads, pastries, sandwiches and salads.
4. Coffee Time Bake Shop—Salem
The secret to Coffee Time Bake Shop's Hot Chocolate Milk -- a twist on the traditional hot chocolate -- is Dunajski Dairy, a century-old, family-run dairy farm in Peabody. Thick and creamy chocolate milk is warmed and mixed with cherry syrup for the Chocolate Covered Cherries drink. Or, try the Peppermint Patty: hot chocolate milk mixed with frosted mint syrup. Whipped cream is optional, but oh so necessary!​
Be sure to pick up one of Coffee Time's real cream Bismarks, a puffed pastry stuffed with a layer or thick, rich cream.
5. Ghirardelli Ice Cream and Chocolate Shop—Boston
People watch while you sip cocoa or indulge in other sweets at this San Francisco confectioner's Boston outpost. Our favorite: hot cocoa paired with caramel sea salt chocolate squares. Be sure to ask for some chocolate samples—they often are giving out free squares!
6. Ovedia Artisan Chocolates—Amesbury
Known locally as the place to go for a wide variety of decadent chocolates, Ovedia also features a super friendly staff, amazing coffee, baked goods and yes, warm, liquid chocolate. One recent show-stopper, the OMG Turtle Hot Chocolate, combines white hot chocolate, caramel and dark chocolate topped with whipped cream and chopped pecans. OMG is right. Regulars rave about the iced coffee cubes, which Ovedia uses in place of regular old iced cubes so your coffee doesn't get too watery,
​Photo courtesy of Bigstock
---