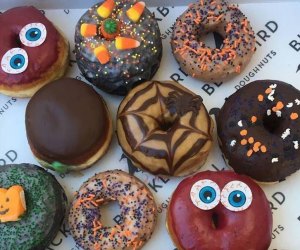 12 Boston-Area Doughnut Shops We Love to Visit with Kids
New Englanders big and small love their doughnuts. And while we've got nothing against Dunkin', we really enjoy visiting local shops, which serve up everything from classic apple cider doughnuts to maple-bacon-flavored beignets. We can hardly think of a more kid-friendly food—especially when sprinkles and frosting are involved—so bring the whole family when you go sample of some of the tastiest treats in the city at a dozen of our favorite doughnut shops.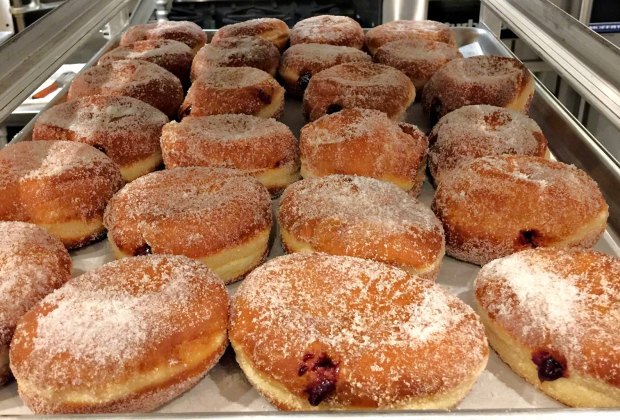 Blackbird's wild berry flavor packs a sweet-tart punch. Photo courtesy of Blackbird Doughnuts
1. Blackbird Doughnuts — Cambridge, Fenway, South End Boston
Blackbird took Boston by storm with its delectable gourmet treats in flavors like Lemon Coconut Raised and Chocolate Old Fashioned. They even have doughnut ice cream sandwiches. The Harvard location opened just in time for fall and a new spot in Brighton is in the works for the end of 2018.
2. Red Apple Farm — Boston Public Market
One of the first things you'll probably notice when you enter Boston Public Market is the heavenly smell. It's wafting from the Red Apple Farm stand, which churns out fresh cider doughnuts all year long so you don't have to wait until fall to get your fix.
3. Donut King — Quincy
The giant, fresh doughnuts churned out by Donut King are sure to satisfy any sweet tooth. They're big enough to share, but once you get a taste, you'll want it all to yourself.
4. Donuts With a Difference — Medford
This mom and pop shop focuses on delivering fresh, classic doughnuts to its customers. The line at Donuts With a Difference moves quickly and these doughnuts are well worth the wait.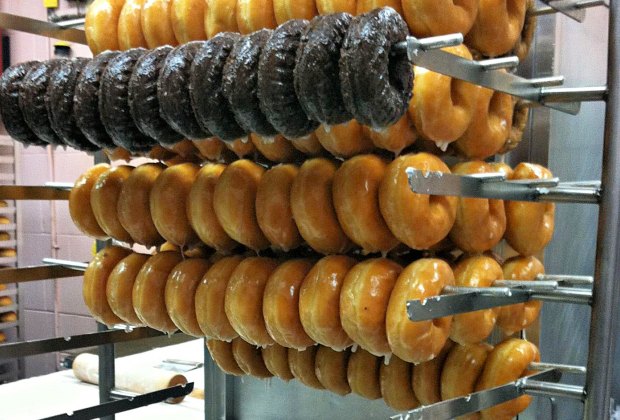 Photo courtesy of Doughboy Donuts & Deli
5. Doughboy Donuts & Deli — Dorchester
If you're craving a doughnut late at night or early in the morning, head to Doughboy Donuts & Deli. This old-fashioned shop is open 24/7, so you can head there as soon as your kids wake up (even if its 5 a.m.)!
6. Gail Ann's Coffee Shop — Arlington
Be prepared to stay a while when you visit Gail Ann's Coffee Shop for a doughnut (or giant cinnamon bun). The cozy, welcoming shop even has a few outdoor tables.
7. Kane's Donuts — Financial District Boston, Saugus
A beloved local favorite since the 1950s, Kane's offers a mix of classic and modern doughnut flavors. Using only the best ingredients, these doughnuts are made fresh daily. Don't miss seasonal flavors like Apple Cider and Sam Adams Pumpkin Ale this fall.
8. Linda's Donuts — Belmont
This small shop is popular with locals in the know. The doughnuts and fresh-made breakfast sandwiches are a huge draw at Linda's, where the few tables fill up fast on weekends.
9. Mike's Donuts — Jamaica Plain, Roxbury
Mike's Donuts has been cranking out some of the finest doughnuts in the city for nearly 40 years. And while the shop now sells sandwiches, smoothies and soups, the doughnuts are as fresh—and beloved—as ever.
10. ​Demet's Donuts — Medford
A local favorite for more than three decades, Demet's Donuts serves up classic and unique flavors of fresh-baked doughnuts in a no-frills setting. Pair your sweet with a cup of Demet's special blend of hot or iced coffee.
11. Twin Donuts — Allston
Make sure you come hungry when you visit Twin Donuts. The freshly made doughnuts are a huge draw as are the shop's big breakfast plates—and everything here is super affordable, so a trip won't break the bank.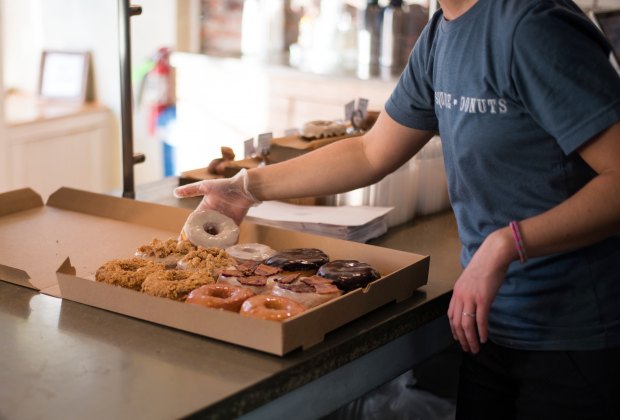 We wouldn't know how to choose among these dozen Union Square Donuts. Photo by Dave B/Argos Photo
12. Union Square Donuts — Boston Public Market, Brookline, Somerville
While Union Square Donuts got its start in Somerville, it's now a doughnut empire that spans the city. So you can pick up a Maple Bacon or Brown Butter Hazelnut Crunch pretty much anywhere in and around Boston.