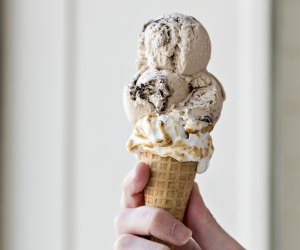 7 Mind-Blowing Ice Cream Treats to Try with Kids in Boston: Fluff Cones, Snowdaes, and More
Sometimes you go to an ice cream parlor because it's the neighborhood fave; or maybe you heard it's one of the best in Boston. But on an empty summer's day, it's extra special to go to an ice cream store simply because it has one fantabulous, unique treat that will knock everyone's Crocs off. These are the seven treats we're drooling over this summer.
1. Fluff Cone at Gracie's Ice Cream (Somerville)
Feel like sugar cones are little more than a cardboard-tasting scafford for the good stuff? Gracie's kicks the cone game up a notch by slathering it with marshmallow fluff, toasting it to golden-brown 'smores-ness, and smushing ice cream on top of that.
Have you gotten your hads on a doughnut ice cream sandwich from Blackbird, yet?
2. Doughnut Ice Cream Sandwiches at Blackbird Doughnuts (Boston)
How come this isn't more of a thing? Sweet ice cream sandwiched between some of the best doughnuts in Boston is a winning combo, especially when coated with sprinkles.
3. Snowdaes at C Fruit Life (Allston)
A mountain of creamy shaved ice, in flavors ranging from peanut butter to mango to match, is surrounded by fresh fruits in this Hong Kong specialty. Think of it as a refreshing and healthier alternative to the gloppy American sundae.
4. Ice Cream Tacos at Honeycomb Creamery (Cambridge)
It's (ice cream) taco Tuesday once weekly at Honeycomb, where gourmet flavors like sweet corn are available alongside kid-faves like milk chocolate inside a crispy, homemade choco taco like you've never tasted at any snack bar.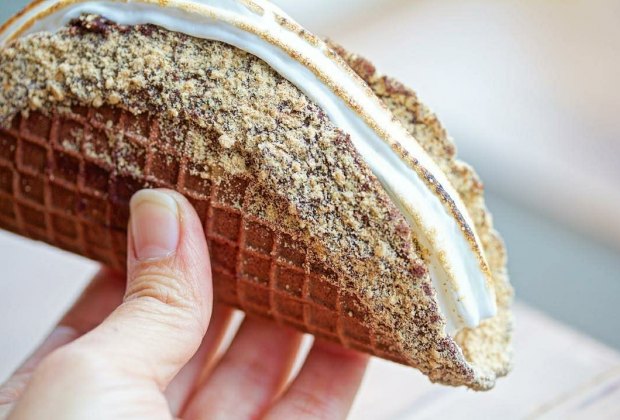 Don't expect an ordinary Choco Taco at Honeycomb Creamery.
5. Japanese Style Soft Serve at Jaho Coffee and Tea (Boston and Salem)
Boardwalk-style soft serve has nothing on the Japanese take, which is even more dense and creamy than what we're familiar with. The vanilla milk flavor is classic, but different locations have rotating flavors, which we recommend served in a salty pretzel cone.
6. Cube Toast at Double Chin (Boston)
Crunchy, fluffy waffle toast is the foundation for ice cream and candy toppings at Double Chin, another Hong Kong transplant. Cube Toast specials have whimsical names, like "It's Mah Birthday" (toast, ice cream, fruit, mochi, cereal, condensed milk, macarons, and, if you can believe it, more).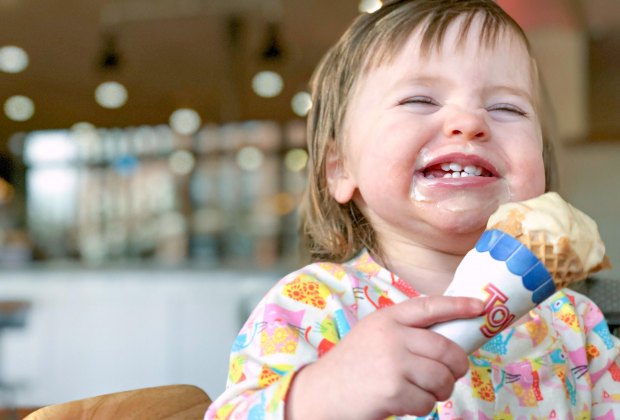 Claire Rose enjoying her first ice cream cone at New City Microcreamery. Photo by Lindsay Tierney
7. Liquid Nitrogen Ice Cream at New City Microcreamery (Hudson)
The homemade ice cream at this high-tech parlor west of Boston looks like standard deliciousness, but the way its made—flash-freezing with liquid nitrogen—produces a smooth and creamy product that has zero ice crystals. A branch is headed to Boston soon.
All photos courtesy of each vendor