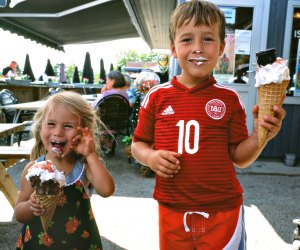 11 New Ice Cream Shops in or Near Boston
There are few things more quintessentially summer than eating an ice cream cone or sipping a frappe on a hot day. And we can't think of a better time to expand your treat horizons beyond your neighborhood shop than on National Ice Cream Day, a mid-July annual tradition. So we're bringing you a rundown of some of Boston's most drive-worthy destination ice cream shops, from old-fashioned soft serve purveyors to trendy rolled ice cream makers.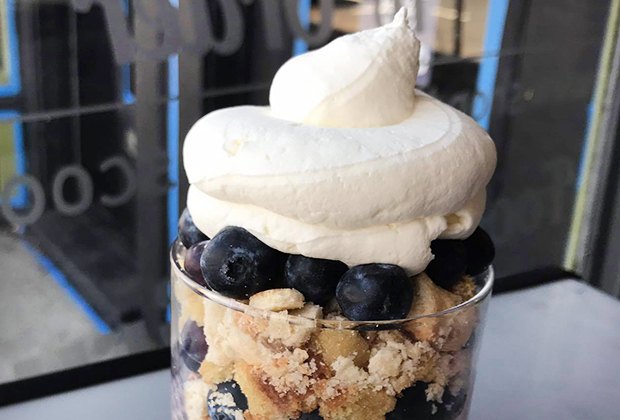 Stuck at home but have an ice cream jones? Just connect to Scoop n Scootery, who delivers.
1. Scoop n Scootery—Arlington
The Scoop n Scootery started as a food truck and took up permanent residence in Arlington in 2016. While the Scootery may have gone brick-and-mortar, you can still order one of its frozen yogurt or ice cream sundaes right to your door. That's right, the Scootery is pioneering ice cream delivery in Boston, making it super easy to get a scoop without ever leaving home.
2. FoMu—South End, Back Bay, Jamaica Plain, Allston
If you and your kids love ice cream, but can't eat dairy then head to FoMu (faux moo, get it?). The local, plant-based frozen treat shop has four locations where you can get your fix without worrying about feeling sick: South End, Back Bay, Allston and Jamaica Plain.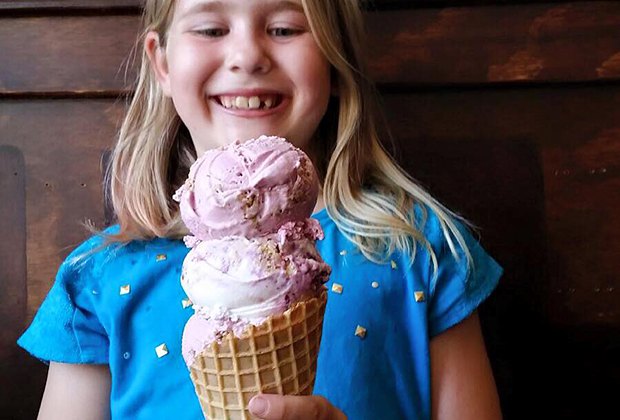 FoMu has dairy-free treats that taste just as delectable as ice cream.
3. Tipping Cow—Somerville
Tipping Cow first popped up at local farmers markets, and while you'll still find them there, you can also snag a scoop at the new Somerville shop. Tipping Cow makes it own ice cream using pure, natural ingredients, so individual flavors (like dark chocolate sea salt) really stand out.
4. Italian Café Gelato—Quincy
A visit to the new Italian Café Gelato feels like taking a trip to Europe without ever leaving the Boston area. The shop sells traditional gelato in a variety of flavors that you can get in a cup, cone or milkshake. Or, if you're feeling really adventurous, sample the creamy treat sandwiched in brioche-style bread or a brownie.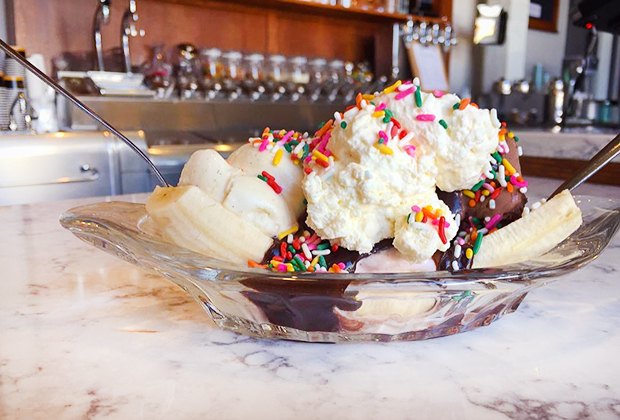 It's hard to beat a classic: the banana split at Forge Ice Cream Bar.

5. Forge Ice Cream Bar—Somerville
Not long ago, the folks behind Somerville staples Diesel Cafe, Bloc, and Forge Baking Company opened Forge Ice Cream Bar. The old-fashioned feel is reminiscent of retro soda shops and invites you to stay awhile. Plus, the house made ice cream is delicious, whether you go for a classic like vanilla or something more adventurous like Forge's avocado ice cream.
6. Melt—Salem
If you find yourself north of town, don't miss a stop at Melt, which calls the former Salem Screamery ice cream parlor home. Opened last year, Melt has a big focus on sourcing local ingredients for its homemade ice cream (think Taza Chocolate from Somerville and candies from Sweet Lydia's in Lowell), and even makes it own waffle cones.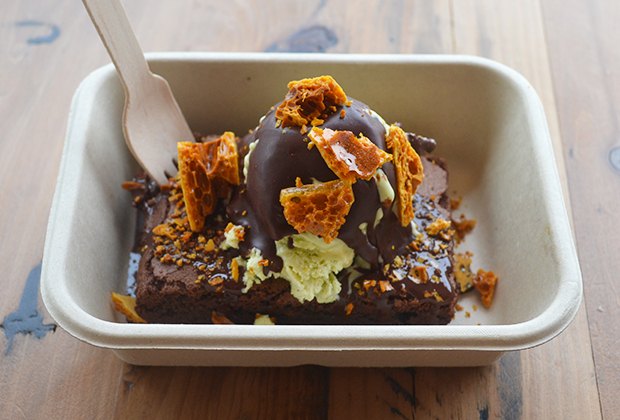 Honeycomb Creamery's sundaes have loads of interesting toppings, from crumbled homemade waffle cones to—you guessed it—honeycomb candy.
7. Honeycomb Creamery—Cambridge
Honeycomb Creamery took Boston by storm when it burst onto the ice cream scene with its rich, small-batch-made flavors. The shop sells regular and vegan ice cream, so those who love dairy and those who don't can both indulge. And if your kids just can't get enough ice cream, you can order one of Honeycomb's delectable ice cream cakes for their next birthday.
Thai-Style Rolled Ice Cream Spots
8. Frollz—Saugus and Braintree
There's a new type of ice cream in town, and Frollz is one popular purveyor. Instead of scoops, Frollz serves Thai-style rolled ice cream, and was the first shop in the state to do so. These treats have taken over social media feeds because they're so pretty—luckily, they're also pretty tasty. Find them at the Square One Mall and South Shore Plaza.

9. Hi B3ar Ice Cream Roll—Allston
The Thai-style ice cream roll craze continues with the opening of Hi B3ar in Allston. A stop at this shop is as entertaining as it is delicious. When you come in, you can watch Hi B3ar's ice cream chefs shape thin layers of ice cream into rolls and top them with everything from Oreos to coconut.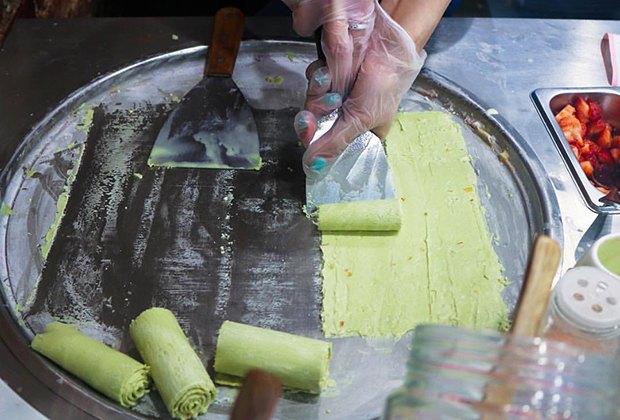 New York-transplant Juicy Spot has a wide selection of ice cream roll flavors to choose from.
10. Juicy Spot Cafe—Chinatown
One of the first places in the U.S. to make Thai-style rolled ice cream, Juicy Spot Cafe debuted in New York City in 2015 and came to Boston last year. Juicy Spot has a huge menu of preset ice cream rolls to choose from or you can build your own from their seemingly endless selection of flavors, toppings, and drizzles.
​11. NextDoor Cafe—Allston
Last, but certainly not least, on our list of new Thai-style rolled ice cream shops is NextDoor Cafe, which opened earlier this year. Visit the shop in Allston for one of its 30 combinations of ice cream flavors and toppings, which gives you lots of options for trying this trendy treat. Or snack on one of its shaved snow ice concoctions to cool down on a hot day.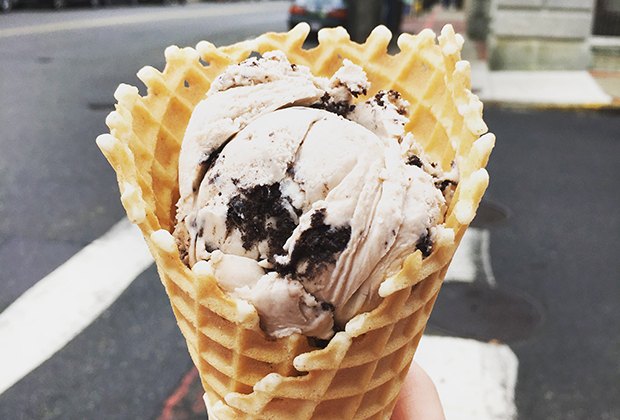 Homemade waffle cones—and super-size scoops—are a big draw at Melt in Salem. Photo by Christiana Kroondyk
Top photo: Photo by Lars Plougmann/CC BY 2.0. Photos courtesy of the respective shops unless otherwise noted