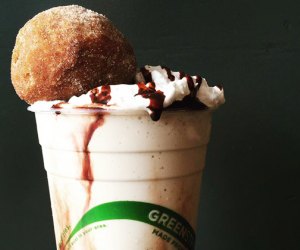 15 Spots in Boston to Get an Amazingly Delicious Frappe
It may be below freezing for long chunks of the year in Boston, but that doesn't stop our city from absolutely loving ice cream. And to show just how serious they are about cool treats, northern New Englanders have developed their own term for a thick, creamy ice-cream-based drink—a frappe. Basically, a frappe is just a fancy term for what the rest of the country calls a milkshake (and what Rhode Islanders, no joke, call a cabinet—because, duh, that's where the blender is kept.) Whatever term your household uses, these frozen drinks are huge hit with kids, especially when temperatures rise. The next time a special treat is in order, hit one of these amazing frappe joints, which range from a 19th-century dairy farm to a lactose-free creamery. We can hear the happy slurping already.
Bedford Farms—Bedford, Burlington, and Concord
Bedford Farms has stood the test of time. It started as a dairy in 1880 and has been churning out delicious ice cream since the 1940s. People flock to Bedford's three locations to sample its 60 flavors and to sip their favorites as super-thick frappes.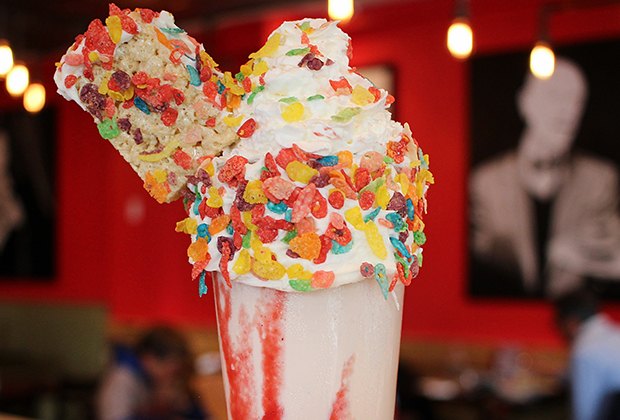 Indulge in the over-the-top Cereal Killer Frappe at Burger Company.
Boston Burger Company—Boston, Cambridge, and Somerville
Yes, the burgers, fries, and made-from-scratch sauces are great. But what excites kids most about an outing to Boston Burger Company is clearly an over-the-top frappe. One of the first local restaurants to jump on the "freak frappe" craze that's sweeping New York City to Australia, BBC serves up enormous, over-the-top frappes with a glorious array of toppings. This month's special (at the top) could not have more kid appeal: The "Cereal Killer" is a vanilla-and-strawberry frappe topped with Fruity Pebbles, a Rice Krispie treat, vanilla frosting, and whipped cream.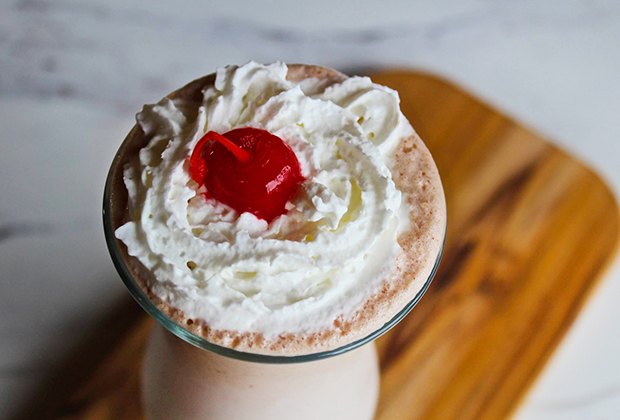 A frappe from Chill on Park is the perfect antidote to a hot summer day.
Chill on Park—Dorchester
This Dorchester shop sources a lot of its products locally: the ice cream is from Puritan Ice Cream in Roslindale, the coffee is roasted at Karma in Sudbury and the baked goods are from Haley House in Roxbury. Try one of Chill on Park's signature frappes, like the Black & White (chocolate and vanilla ice cream, chocolate and vanilla syrup, milk), or create a concoction of your own.
Christina's Ice Cream—Inman Square
The smell heavenly wafting from Christina's Ice Cream is the first indication that this place is special. The shop's homemade flavors are both classic (chocolate chip, coffee) and inventive (ginger molasses, herbal chai). Christina's has won Boston Magazine's Best Frappe Award, so you know you've come to the right place for a seriously sippable treat.
Crescent Ridge Farm—Sharon
Named one of the 10 Best Ice Creams in the World by National Geographic, Crescent Ridge Farm in Sharon is not to be missed. The dairy bar serves 40 flavors of ice cream year-round, so you can always get your fix. And when you order one of their tasty frappes, make sure to get it "extra thick" for the true Crescent Ridge experience.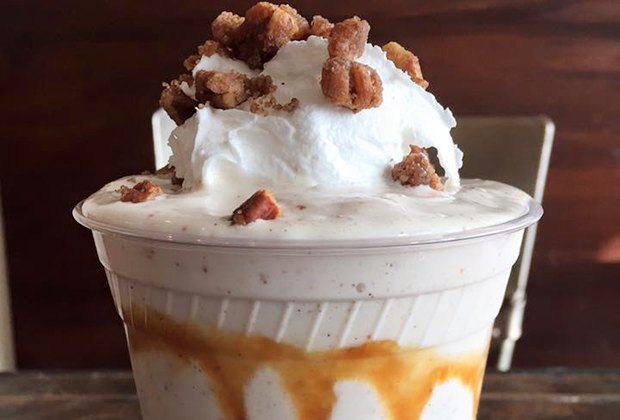 FoMu's frappes are made with coconut milk.
FoMu—Allston, Jamaica Plain and South End
If anyone in your family can't do dairy, FoMu (pronounced faux moo, get it?) is the place to go. With three locations in the area, you're never far from a coconut milk-based frozen treat. Try one of their homemade flavors blended into a thick, tasty frappe that won't give you or your kids a tummy ache.
Grass Fed—Jamaica Plain
Lots of burger chains do milkshakes, but we wanted to highlight a local option where you can feel good about the food. Grass Fed in Jamaica Plain serves locally sourced burgers plus hot dogs and fries, so it's a great place to take kids. Top off your meal with one of their signature creamy milkshakes—they even sell boozy versions for adults.
J.P. Licks—13 locations in and around Boston
A staple of the Boston ice cream scene, J.P. Licks has the most locations of any shop on our list. Since you'll never be too far from getting your ice cream fix, you'll have plenty of opportunities to try all of their homemade flavors blended into frappes, which can be made extra thick for a little extra dough.
Kimball Farm—Westford, Lancaster and Carlisle
Kimball Farm has three locations serving its rich homemade ice cream, but the Westford one is the one to visit if you want more than a scoop shop. You can get one of Kimball's thick, creamy frappes at all three, but only Westford has mini-golf, bumper boats, animal adventures, pony rides, and much more in the way of family fun.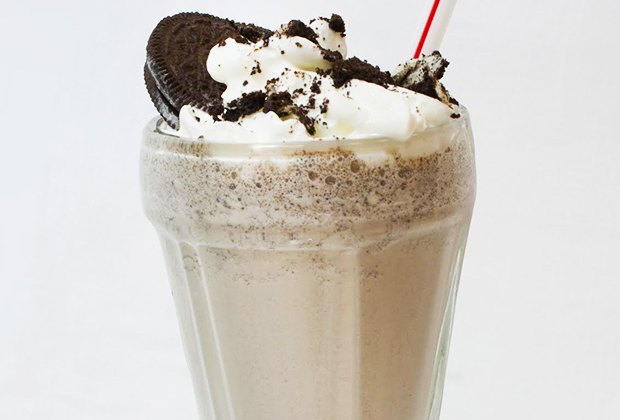 Lizzy's serves up an Oreo Frappe.
Lizzy's—Harvard Square and Waltham
Visit Lizzy's in Cambridge or Waltham to find out why Boston Magazine named the shop the Best Frappe in the city a few years ago. There are lots of frappe flavors to choose from, all of which benefit from having the perfect milk-to-ice-cream ratio.
Louie's Ice Cream—Somerville
This local establishment is a staple of Somerville summers. If you love Richardson's Ice Cream, but don't want to drive to Middleton, come to Louie's Ice Cream, which serves the oh-so-creamy flavors much closer to the city. Try them in a frappe—see the board for suggestions or create your own custom combo.
Molly Moo's—South Boston
There's a big emphasis on fresh ingredients at Molly Moo's, which means you'll see actual strawberries in the strawberry ice cream. In addition to frappes made with any of their 36 flavors of ice cream, Molly Moo's makes a mean ice cream sandwich and will even stuff a cannoli with ice cream for something completely different.
Richardson's Ice Cream—Middleton
Well worth the field trip from the city, Richardson's Ice Cream is a great place to spend a summer afternoon. Beyond the incredible homemade ice cream, which blends into creamy, thick frappes, Richardson's has farm animals on site, plus mini-golf and batting cages.
Sullivan's—Castle Island
A trip to Sullivan's at Castle Island is a must-do for any Boston kids. The lines can get pretty long on nice days, but the wait is worth it to experience a true Boston tradition. Pair your lunch with a thick vanilla, chocolate, strawberry or coffee shake. Then take it all down to the beach to enjoy your meal as a picnic.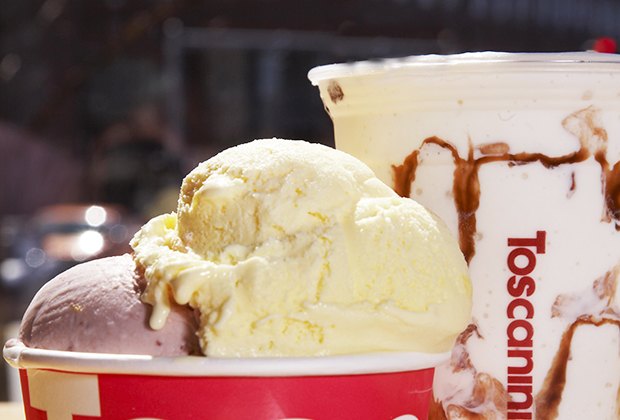 Get your ice cream with a side of Frappe at Toscanini's.
Toscanini's—Central Square
Toscanini's in Cambridge calls itself the "best ice cream in Boston" and it's easy to see why. With a seemingly endless selection of fresh flavors, you can't go wrong at this scoop shop. The thick, creamy frappes have been named one of the best in the city by Boston Magazine. Head there yourself to find out why.
---
Top photo: FoMu's coffee and donut frappe. All photos courtesy of the shops/restaurants.