10 Favorite Ice Cream and Frozen Yogurt Spots Around Boston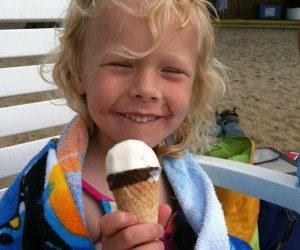 We thought we'd take advantage of some free time this summer and make our own ice cream. After all, how tough could it be? But by the time we had Googled a recipe (found plenty that did not require a machine) and made a list of ingredients we needed, the enthusiasm had waned, and we decided it would probably be best if we left the ice cream making to our favorite ice cream shop and enjoy the fruits of their labor!
From good quality ice cream chains founded right here in New England to one-of-a-kind specialty shops, there are plenty of places for Boston families to satisfy that need for something cold and sweet to beat the heat. Read on to find some of our favorite ice cream spots in Boston and the nearby suburbs.
10 Favorite Ice Cream and Frozen Yogurt Spots Around Boston
1. Bedford Farms
18 North Road, Bedford and 68 Thoreau Street, Concord
Bedford Farms has been making ice cream since the late 1800s, and now serves a wide variety of premium ice cream flavors, gourmet frozen yogurt selections, and soft serve ice cream in Bedford (picnic tables available) and Concord (indoor seating available).
2. Christina's Ice Cream
1255 Cambridge St, Cambridge
Daily, 11:30am-10:30pm
Unusual and inventive flavors - typically over 50! - make each visit to Christina's an adventure.
3. Crescent Ridge Dairy Bar
407 Bay Road, Sharon
You can enjoy 44 flavors of delicious, super premium ice cream that starts with the 40-year-old Parrish family recipe and is carefully churned and hand packed. (We know they start with great milk - delivered to our door for years!) Visit the cows at the Sharon location; play mini golf in Holbrook.
4. J.P. Licks
Locations include: Jamaica Plain, Boston, Cambridge, Brookline, Newton, West Roxbury, Dedham, and Wellesley
J.P. Licks features special Ice cream flavors use fresh, seasonal ingredients (try one of the peach-based flavors this month!), hard frozen yogurt, and regular flavors throughout the year. They also roast their own coffee, and have hand-made ice cream cakes that can be picked up in the stores or customized (with 48 hours notice). The first shop opened in 1981 in Jamaica Plain ("J.P.").
5. Kimball Farm
Three locations in MA: 400 Littleton Road/Rte. 110, Westford; 1543 Lunenberg Road (Rt. 70), Lancaster; 343 Bedford Rd. (Rt. 225), Carlisle
Kimball's is famous for its huge portions and delicious homemade flavors (be prepared to wait in line!). The Westford location is a "destination" spot - you can play mini golf, ride the bumper boats, or try the nine-hole pitch-n-putt and a driving range while you're there.
6. Rancatore's
Three locations: 36 Leonard Street, Belmont; 1752 Massachusetts Ave, Lexington; 333 Walnut Street, Newtonville
Open daily 10am-11pm
Rancatore's makes its ice cream in a small batch freezer at a factory behind its Lexington store. Try multiple flavors (you can have two flavors in the small, three in the medium, and up to four in the large) to find your favorite!
7. Toscanini's
899 Main Street, & 159 First Street Cambridge
Daily 8am-11pm
A Cambridge favorite since 1981, Toscanini's serves up some of the most unique and best-tasting flavors around often taking inspiration from what's in season.
8. White Farms Ice Cream
326 High Street, Ipswich. (978) 356-2633
Open daily (Mar-Oct) 11:30am-10pm
A long-time favorite of beach-goers and others, White Farms has been making its own ice cream since the early 1950s. and serves up huge portions of old time favorites like chocolate chip and strawberry and more creative flavors like Caramel Cow and Outrageous, plus soft serve flavors, ice cream sundaes, and frappes. Picnic tables are available (no indoor facilities).
Of course, we also love Ben & Jerry's and Emack & Bolio's (locations throughout the area) and can always count on them for a tasty ice cream outing.
Originally published July 2012