10 Fun Mini Golf Courses Near Boston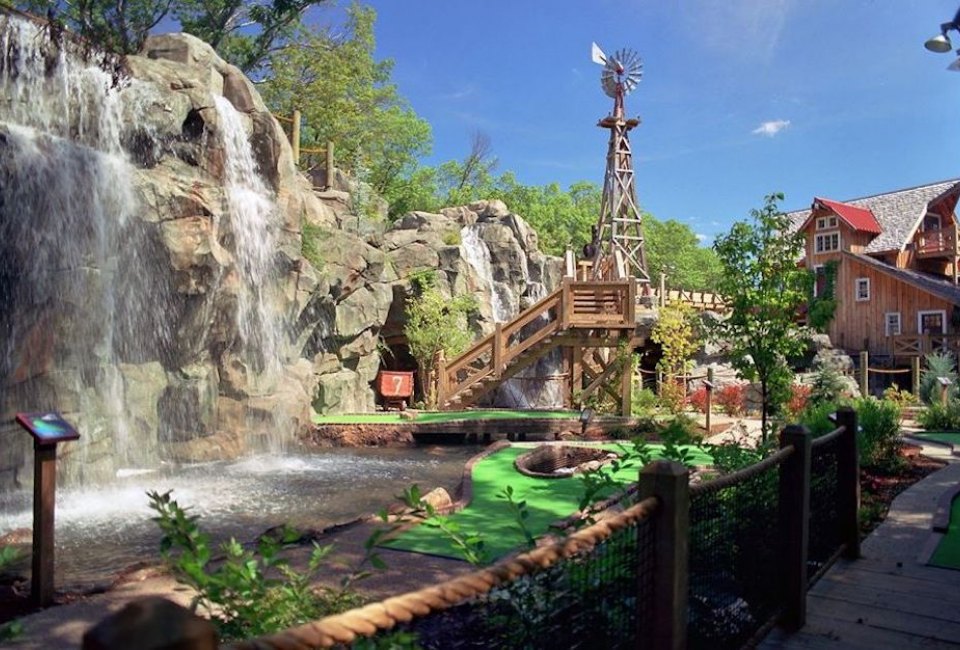 7/24/21
- By
Audrey Trieschman
Eagle, birdie, bogey, par…you don't need to worry about what those terms mean to excel in miniature golf (a.k.a, putt-putt). Miniature golf is a great summer outing for families because it's entertaining for a variety of ages and a chance to spend time outdoors. We have rounded up several special mini golf spots not far from Boston where you and the kids can perfect your putts, dodge elaborate obstacles, and grab a treat.
See other family attractions that are open near Boston and Summer Day Trips for Boston Families for more ideas for getting out and about with kids this summer.
Kimball's has been a family favorite for years, and summer wouldn't be complete without at least one family outing to the farm for a round of mini-golf. The "adventure course" has cascading waterfalls, rope bridges, caverns, and beautiful landscaping. Kimball's also has its own ice cream, a country store, driving range, pitch & putt, batting cages, an outdoor grill and seafood shack, and bumper boats.
The 18-hole miniature golf course is well landscaped, with waterfalls, water fountains, a cave, a castle, and bridges. The course is fully lit at night. Families can also enjoy Richardson's ice cream, fill up at the snack bar, ride the go-karts, hit a bucket of balls on the driving range, and play in the arcade.
Each hole of the 18-hole course is named for a woodland animal—our kids had fun choosing their favorite as they played through. And older kids will enjoy Moonlight Madness Golf-in-the-Dark, when the course lights go off, the glow-in-the-dark golf balls come out, and madness ensues! Glowing tee-box markers and glowing holes let you know just where to aim your glowing ball.
Hago's features a course that is bright, clean, and fun—a classic mini-golf experience. The course includes great local references, including the Bruins and Fenway Park holes. You can enjoy Richardson's ice cream at the snack bar after playing.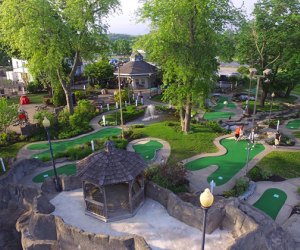 There are sand traps to grown-up golf courses at Crystal Caves. Photo courtesy of Crystal Caves
Auburn's mini-golf course is made for all ages, with bonus features like water hazards and sand traps. The course is handicap accessible with the exception of one hole. Visitors to Crystal Caves can buy the Fun Pass, which includes mini-golf, four batting cage tokens, basketball or bungee trampoline, and a pool table.
Open year round, McGolf features 18 holes that offer a mix of variety and challenge in a beautifully landscaped course, plus a practice putting green for warm-up. Also on the premises are a driving range with year-round covered hitting bays (with heating available), golf instruction and camps, and the McGolf Cafe and Creamery with select breakfast items, lunch and dinner, soft-serve and hard ice cream, and frozen yogurt.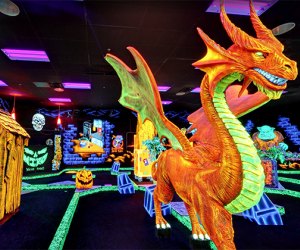 Feast your eyes as you perfect your strokes in Norwood. Photo courtesy of Monster Mini Golf
Perfect for a hot or rainy day, Monster Mini Golf is an indoor course with a twist. The course is 18 holes in the dark, full of glow-in-the-dark animated monsters that move through the course. Not for the faint of heart (or anyone with sensory issues), the course's black lights, moving monsters, and music make for a memorable golfing experience.
This course features a tropical theme complete with a koi pond, mini river, and even a parrot. Along with mini golf, Paradise Family Golf also has a driving range, offers golf lessons, and serves ice cream.
Both locations offer 18 holes of mini golf (the Middleton location has TWO courses to choose from), a driving range, batting cages, and proudly scoops Richardson's Ice Cream. Middleton's courses have a down on the farm feel with silos and tractors, while the Easton location will take you aboard a pirate ship—arr!
The perfect pit stop after a day at the beach, this course has a beachy, pirate feel with waterfalls, whales, and abandoned ships. While the course is 18 holes, this place offers the option to just play the back nine if you're worried your little golfers don't have the attention span for all 18 holes. Captain's Corner also has an arcade, batting cages, go-karts, and ice cream.