Free Museums: When It's Free to Visit Boston Museums, Zoos, and Gardens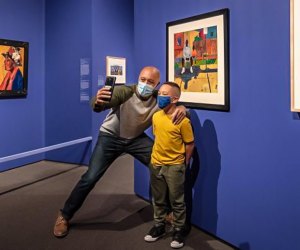 Boston boasts some of the best museums, zoos, and theme parks in America, but those cool experiences can come at a steep cost. But here's a secret: Many museums and attractions in Massachusetts are free for little kids, and in some cases, all kids. Mommy Poppins has set out to uncover these freebies—51 of them, in fact! Start your free museum adventures, and check off the list as you go.
If you're working your way through our Boston Kids' 100 Things to Do bucket list, you may want to coordinate with the cut-off ages below; some of the museums you can catch on their free admission days, but several other attractions really drive home the bittersweet point that you're only young once. Don't miss our Boston Free Fun Guide for even more ideas for creating special experiences for kids without breaking the bank.

The Great Monkey Project by James Grashow is a whimsical example of contemporary craft-based media exhibitions available at the Fuller Craft Museum in Brockton. Photo courtesy of the museum, Facebook
Always Free Boston Museums, Zoos, and Gardens

Kids can take part in amazing activities while babies get into sign language circle time at a museum designed for kids of all ages. Photo courtesy of the Boston Children's Museum
Boston Museums Free for Kids Under 1 (Babies)

Visit Taco the baby sloth at the Stone Zoo, where kids under 2 are admitted for free. Photo courtesy of the Zoo
Boston, Museums, Zoos, and Nature Centers Free for Kids Under 2
Boston Museums and Theaters Free for Kids Under 3
Boston Museums and Gardens Free for Kids Under 5

Learn the story behind Boston's stance on "No Taxation Without Representation" retold in Colonial period costume. Photo courtesy of the Boston Tea Party Ships and Museum
Boston Museums Free for Kids Under 6
Boston Museums Free for Kids Under 7
Boston Museums Free for Kids Under 12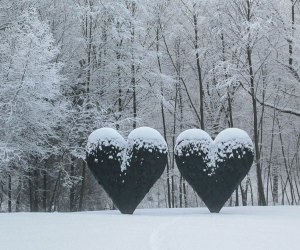 Walk through a garden of sculptures including Jim Dine's Two Bog Black Hearts any season. Photo courtesy of the DeCordova Sculpture Park and Museum
Boston Museums Free for Kids Under 13
Boston Museums Free for Kids Under 17
Boston Museums Free for Kids Under 18

Look at the world from the inside out as it was in 1935. Photo Courtesy the Mapparium at the Mary Baker Eddy Library
Boston Art Museums Free for Kids Under 19
Originally published 2015
Updated January 2022