Visiting the Isabella Stewart Gardner Museum in Boston With Kids: What You Need to Know Before You Go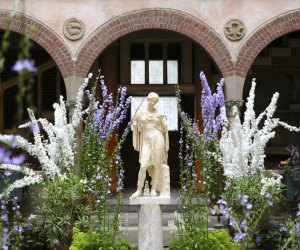 The architecture at the Isabella Stewart Gardner Museum in Boston is part of the experience.
Entering the Palace of the Isabella Stewart Gardner Museum is like stepping into a Venetian palazzo with its terra cotta roof, expansive courtyard filled with the heady scent of the latest blooms, lush wall panels filled with Old World art and treasures, secluded cloisters, wide sweeping staircases, and even a stained-glass chapel. All it's missing are the canals and the singing of the gondoliers as they pass by on their gondolas. Thankfully, visiting the Isabella Stewart Gardner Museum in Boston with kids doesn't require airfare.
Located between the lush parks along Boston's Fens and the collegiate energy of Huntington Avenue, the Gardner Museum is one of two destinations for art lovers in this neighborhood. Once you know your way around, you can return for a Museum of Fine Arts Day Trip and explore the MFA with kids. The Gardner and the MFA are just a couple of Boston Museums for kids that make an trip into the city a memorable one for families.
Visiting the Isabella Stewart Gardner Museum
The lighting inside the Gardner Museum can be soft or dark, unlike the bright lights that you normally see in modern museums. That is because its founder, Isabella Stewart Gardner, wanted to invoke a feeling of warmth.
Most art works are not labeled because Isabella Stewart Gardner wanted viewers to have their own interpretation of the objects - to see, feel, and make their own judgment on their connection to the piece.
Isabella Stewart Gardner in her lifetime traveled the world to collect these fine works of art and wanted to make them available for everyone to enjoy. She made Boston her home and was a well-known patron of the arts in her time. She used her own funds to build what is now known as the Palace, which housed her collection of paintings, sculptures, tapestries, furniture, manuscripts, rare books, and decorative arts.
The modern wing of the museum was completed in 2012 and included the studio, café, gift store, Living Room, and Calderwood Hall (performance venue).
Beyond the dramatic, Mediterranean-inspired courtyard, the Gardner Museum is famous for its collection of European, Asian, and American art. It's great for your little budding artist to see original works of art from world-renowned artists such as:
John Singer Sargent
James McNeill Whistler
Henri Matisse
Edouard Manet
Anthony van Dyck
Peter Paul Rubens
Titian
Botticelli
Giotto
Velazquez
Raphael
Rembrandt van Rijn
Helpful Notes for Families:
No admission charge for kids under 18.
Single strollers are allowed in the galleries. If you have a double stroller, you can park them for free in the coat check room.
Tandem strollers are available if you need them on a first come, first serve basis.
There are bathrooms on more than one level.
Complimentary coat check, storage bins, and lockers
Phone charging station in the Living Room
Why the Isabella Stewart Garner Museum is Great for Families
Before you go, tell your child a little bit about the museum and what they are going to see. Grab a complimentary map or two as soon as you enter the museum. Give your child a map and let them lead the way. You can ask them to find a certain room or item on their map. I love how certain rooms are named by colors and how the artwork compliments the colors in each room. For instance, there is the Yellow Room, dominated by a painting of a woman in a yellow dress.
Visiting the Isabella Stewart Gardner Museum with kids offers the chance for some creativity!
Create as a Family at the Gardner Museum
You can pick up sketching materials for your kids free of charge outside the Macknight Room near the courtyard. Some highlights of sketching materials include:
Drawing from Memory – Have your child study something in the museum for 3 – 5 minutes. Then have them look away and try to sketch it. Did they get it right or almost? If not, use one of the cards and then try sketching it while looking at it this time.
Portrait Gallery – Like most museums, you will encounter many portraits hung along the walls. Portraits can be a painting, a photograph, a drawing, or even a sculpture. Ask your child who would they like to see? They can use the Portrait Gallery sketch paper to create a portrait gallery of their favorite people or even their family. Pets can be included!
Zoom In – Ask your child to sketch something they saw that they like. Then have them ask a sibling, a friend, or you to find that painting or artwork in the museum.
Take a Line for a Walk – Have your child pick an object they like and study it closely for a bit. Have them try sketching it without looking down at their pencil and paper until they are done or almost done. Do the lines match?
The stimulating layout of the Gardner Museum engages kids and adults alike.
Play Eye Spy with the Kids
A classic game to play with the little ones that never seem to be outdated is Eye Spy. There are various eyes throughout the Gardner Museum. Can you pick out the ones that are listed in the brochure and check them off? Hints are included. You can pick up this game card at the information area in the Living Room. Once completed, let them pick out a prize at the gift shop at the end of the day.
See Some Weird and Wonderful Things
Pick out a gallery or room. Have the kids describe what they see, hear, and smell. Have them find something weird and wonderful and compare notes during lunch break. They can also pick an artifact that they like and memorize one interesting tidbit about it to discuss over lunch.
Decide what to Save in a Fire
Ask them if they can pick out one item to save in each room if there's a fire, which one will they save and why.
Jump Into a Scene
Another fun discussion to stimulate their imagination is to ask if they can jump into any painting, which one would it be.
The exciting tale of the Gardner Heist will enthrall your kids.
Investigate the 1990 Museum Theft
Discuss the art heist with them. Explain its mystery and see if they can come up with their own theories as to what happened to the missing art works.
There are 13 stolen art works. Their empty frames are still on display where they should be hanging. See if your child can locate all 13 missing pieces throughout the Museum.
Drop in for Art at the Bertucci Education Studio
Kids can get creative in the Saturday Drop-in Art Activities inside the Bertucci Education Studio. There are large tables with supplies readily available anytime for kids to sit down and draw or doodle as well.
The Isabella Stewart Gardner Museum lets families explore wonderful spaces.
Must Do at the Isabella Stewart Gardner Museum: Nasturtium Excursion
Once a year, the nasturtiums are in full bloom at the museum.
It's a tradition at the museum that heralds spring. The fairy-tale display normally comes alive the week before Easter. The intensely bright flowers are grown in the museum's offsite greenhouses all year and then brought out in April. They are then draped from the balconies and alcoves of the museum's courtyard. The vines can grow up to 20 feet. It's a work of art as it takes about a team of 10 to create the cascading arrangements.
Did you know that nasturtiums can be used in cooking? You can visit the Isabella Stewart Garner Museum's store and find cookbooks dedicated to cooking with flowers. Imagine hosting a fairy tale theme tea party for your child using nasturtium petals in salads, on cupcake frosting, and in pink lemonade drinks. How whimsical would that be?
My daughter and I visited the museum on a rainy spring day. When I mentioned museum, my daughter was not thrilled as she was not a fan of museums and "old musty relics". However, her eyes lit up when she saw the Courtyard. For her, it was Instagram-worthy. She loved taking pics on the balcony, which looks straight from Shakespeare's "Romeo and Juliet".
Boston's Isabella Stewart Gardner Museum provides outdoor and indoor dining for families.
Know Before You Go: Isabella Stewart Gardner Museum in Boston
All the art appreciation can work up an appetite, so break up your museum visit with some lunch.
Dining Options:
On nice weather days, you can bring your own food and have a picnic on the lawn across from the museum or dine outside on the patio at Café G, the museum's restaurant. Café G offers snacks, lunch, and drinks. It has floor-to-ceiling windows on most sides so the natural light makes it a soothing place to unwind. There are some inventive items on the menu on my last visit such as the Orange Nasturtium Sparkler (cava and blood orange). After all, the museum is famous for its nasturtiums.
There's no kids menu when I last visited but they do offer chicken tenders with house made chips and smaller portions of pasta with red or butter sauce upon request. Depending on availability, the staff said they will work with you on modifying the menu if needed.
Parking and Public Transportation:
There are side-street meter parking but I find it convenient to park at the nearby Simmons University Garage on Avenue Louis Pasteur. If you plan on using public transportation (MBTA), then take the Green Line E train to the Museum of Fine Arts stop or the Orange Line train to the Ruggles stop.
All photos are courtesy of the Museum's Facebook account.