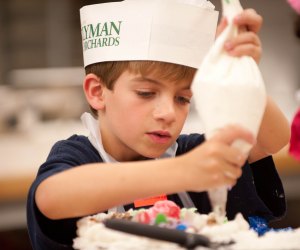 Mother's Day Weekend Fun in Connecticut: May 11-12
Decorate a cake, take a walk in a garden, paddle a canoe, run a 5K, or count the butterflies...moms come in all different shapes, sizes, and styles, so it should be no surprise that there are so many ways to celebrate mom this weekend. Many attractions around the state including Beardsley Zoo and Quassy Amusement Park are offering free admission with the purchase of a child's ticket. If a special meal out (and maybe a mimosa) is what you're after, sure you check out our picks for Mother's Day breakfasts and brunches for Connecticut families.
Our spring fun guide is a super resource for more ideas to make the most of this gorgeous season. We update our Events Calendar frequently so be sure to check back for even more great suggestions. To keep up with the latest family-friendly events and activities, sign up for our newsletters, and follow us on Facebook, and Instagram. Have a fantastic weekend!