Top Connecticut Playgrounds That Families Will Love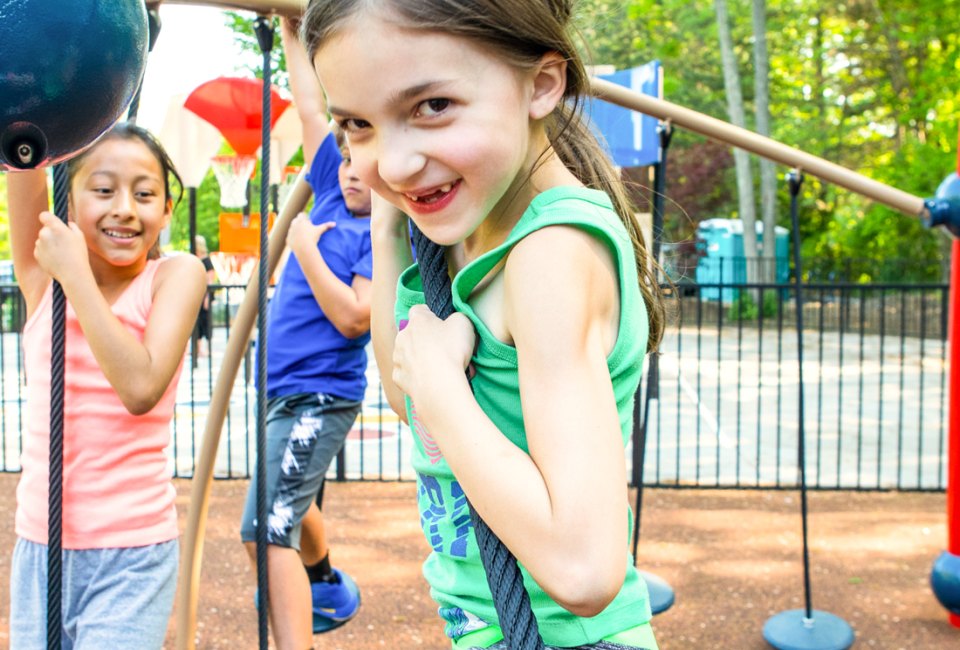 4/16/23
- By
Jennifer Coe
The top Connecticut playgrounds provide outdoor fun, from Fairfield to Hartford and from new Haven to Stonington. With Spring's arrival, the fresh air, sunshine and reawakening natural world is becoming more and more enticing to Connecticut kids. There are plenty of modern and well-maintained playgrounds to play on for families. There are ones with unique, one-of-a-kind features, tube slides, sandpits, zip lines and all kinds of climbing apparatus'. Many of them have spots to sit down and eat a fun picnic lunch too.
If you're looking for more local fun, check out our favorite neighborhood playgrounds in the Hartford and New London areas. Be sure to sign up for our newsletters to get posts like this delivered to your inbox.
Top Playgrounds Near Hartford

Connecticut playgrounds are packed with fun slides and more! Adams Adventure playground photo by Kenny Kaplan
There's something for everyone at Adam's Adventure in Tolland, which includes play structures for kids with mobility and cognitive impairments. Kids love zooming up the long ramp that runs through the main play structure and has lots of slides and ladders to peel off along the way. Smaller, colorful structures abound for climbing under or over. Parents are grateful for the large and a covered pavilion with restrooms, perfect for breaks.
A personal favorite, this cozy, neighborhood playground is a wonderful destination for all ages. Our favorite place to go at Mikey's in Weathersfield is the monster-sized sandpit with huge scoopers. But there are also long ramps, towers, a zip line, climbers, a seesaw, and other unique play areas. Benches are available on-site for parents to rest while supervising.

Zoom safely through the air at Bloomfield's unique playground. Jonathan's Dream playground photo courtesy of O'Brien & Sons
Newly re-opened and completely redesigned, Jonathon's Dream has state-of-the-art features for children of all abilities. Children will enjoy a Jeep to play in, two zip-lines, swings, and plenty of places to climb. There is also a central gazebo for having a snack or nursing a smaller child.
Located just north of Bradley International Airport, Salmon Brook services the town of East Granby and many others with its two well-maintained playgrounds: one little and appropriate for toddlers, and the other large and full of creative pit-stops for big kids. There are two ride-on, spring-loaded animals, several swings (including a handicap-accessible model), tunnels, slides, and platforms to run on. There are also two tables with large umbrellas so mom or dad can sit in the shade.
This park has something for kids of all ages. Toddler-age children will love the small-sized sandy playscapes. Older kids will love the sunken playground with swings, climbing structures, and slides. Bigger kids may like to try the skateboard ramps. There is a large-size pavilion to plant your lunch bag and get some shade. For adults, there is a nice walking trail; it's paved so the strollers can come too!
Top Playgrounds Near Fairfield

Find some unique fun at the top playgrounds in Connecticut. Photo courtesy of the Aspetuck Land Trust Blog
If you would like to try something different with children ages 3 to 7, check out the natural playground on the property of the Leonard Schine Preserve. Built in 2010, the 10,000 sq. ft. playground includes all-natural wood play areas with ramps, tables, and chairs. It has areas for tea parties, fort building, and digging. There is even an Elvin village and an artificial bear cave to play in as well.
This is a playground with maritime flair! Come play at Devon's and see the huge lighthouse, the whale in the sand, and the boat. A very natural environment also includes a tire swing. Before you leave, walk the cool labyrinth path!
This is an "all-abilities" playground located at the Ridgefield Recreation Center with fun ramps, tubes, and climbing ropes. Children with special needs can enjoy high-backed swings, low monkey bars, and other accessible structures.
This new playground is brand-new (opened in 2020) and honors a little boy named Emmet who wanted to become a rollercoaster designer. Emmet lost his life to a rare blood disorder, but his memory continues at this fun park built at Temple Beth El in Stamford. The playground is small, fenced and included a twist slide, tower, saucer swing, zip line and pavilion for sitting.
Top Playgrounds Near New Haven
Butternut Hollow is a great place to bring kids, from toddlers up to age 8. With soft, foam-rubber flooring and many features for adventure, the park is shaded and brightly colored. It has a super-tall tower with a descending tube slide and great playground climb-on's for new walkers, too. There's also a pond nearby to explore.
A smaller playscape in Eisenhower Park, Bodie's Place has ample parking and a huge picnic gazebo. The playground has slides for little ones up to elementary-age children. The play area includes a spiderweb climber, ramps, and towers.
The super sunny Bartlem Park in Cheshire is home to Kids in Motion. There is a large play area with multiple locations for families to plant themselves for an hour or two. Some of the features include climbers, swings, ramps, tunnels, towers, ladders, and rock-climbing walls. Wear your sunblock; you'll be here for a while!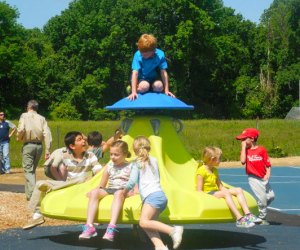 Kids make friends while going for a spin in Woodbridge. Photo courtesy of Fans of Pease Place
The brainchild of two local moms, this accessible playground has a lot of exciting features. Most notably, Pease Place has a space-age looking climbing tower that connects to a tall tube slide which delights park-goers. There are two separate areas, one designed for toddlers and preschoolers and another for kids ages 5 to 12. It's fairly new park at less than 10 years old.
Located at East Shore Park, Hannah's Dream is an all-ability accessible playground. At 300,000 square feet, there is plenty of space in this wide-open play area. Kids delight in playing on its swings, towers, ramps, tunnels, seesaws, and tire swing; parents appreciate the fact this spot was renovated in 2017.
Josh's Jungle is designed around a rainforest theme with pretend life-sized animals. Kids love running along the platforms under the shaded areas. Parents enjoy knowing there is a fence around the entire structure. Perfect for toddlers up to preschoolers, Josh's Jungle is next door to the Miller Memorial Library and the town's community gardens, making it a perfect day-trip destination.
Top Playgrounds in Eastern Connecticut
A mixture of nature and synthetic materials make up the play equipment in this sunny, open, and new park. The park is fenced and sits right near the ocean (kids will love the boats parked nearby). Kids will also love the little kid sailing boat and spider-web climber.
Updated 4-2023
Sign up for the Mommy Poppins Newsletter today!