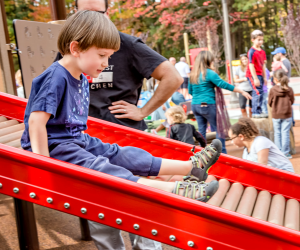 12 Amazing Playgrounds Worth Driving to Across Connecticut
Now that we have had a few 60 degree days on the books, it's time to pull out the water bottles and pile the kids in the car to hit some of the best playgrounds in Connecticut. All of these playgrounds are unique, fun, and are less than a 45-minute drive away from anywhere in the state. Also, don't forget to check out some of our favorite neighborhood playgrounds in the Hartford and Fairfield areas.
1. Salmon Brook State Park - East Granby
Located just north of the Bradley International Airport, Salmon Brook services the town of East Granby and many others with their two well-maintained playgrounds: one little and appropriate for toddlers, and the other large and full of creative pit-stops for kids. There are two ride-on spring loaded animals, several swings (including a handicap-accessible model), tunnels, slides and platforms to run on. There are also two tables with large umbrellas so mom or dad can sit in the shade.
2. Josh's Jungle - Hamden
Josh's Jungle is designed around a rainforest theme with pretend life-sized animals. Kids will love running along the platforms under the shaded areas, and parents will enjoy knowing there is a fence around the entire structure. Perfect for toddlers up to preschoolers. Situated next door to the Miller Memorial Library and the town's community gardens, the playground could be part of a day trip to Hamden.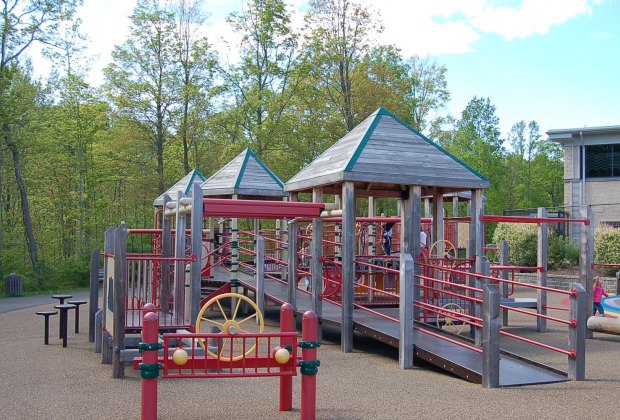 There are plenty of fun ramps and accessories to stoke the imagination at Sky's the Limit. Photo courtesy of Ridgefield Parks and Rec
3. Sky's the Limit - Ridgefield
This is an "all-abilities" playground located at the Ridgefield Recreation Center, with fun ramps, tubes, and climbing ropes. Children with special needs can enjoy high-backed swings, low monkey bars, and other accessible structures on which everyone can play together.
4. Butternut Hollow Park - Middletown
Butternut Hollow is a great place to bring kids from toddlers up to age 8. With soft, foam rubber flooring and many features for adventure, the park is shaded and and brightly colored. It has a super-tall tower with a descending tube slide, a nearby pond and great playground climb-ons for new walkers, too.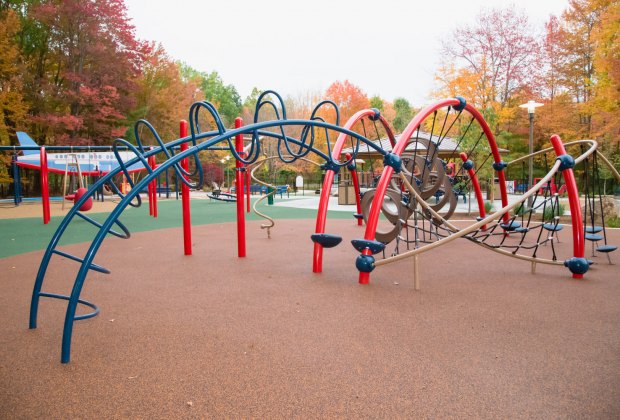 Ladders loop around the play structures at Jonathon's Dream. Photo courtesy of the park
Jonathon's Dream - Bloomfield
Newly re-opened and completely redesigned,
Jonathon's Dream
has state-of-the-art features for children of all abilities. Children will enjoy a Jeep to play in, two zip-lines, swings, and plenty of places to climb. There is also a central gazebo for having a snack or nursing a smaller child.
The Leonard Schine Preserve Natural Playground - Westport
If you would like to try something different with your children ages 3-7, check out the natural playground located on the property of the Leonard Schine Preserve. Built in 2010, the playground includes all natural wood play areas such as ramps, table and chairs. It has areas for tea-parties, fort building, and digging. There is an Elvin Village and a man-made bear cave to play in as well.
Bodie's Place Playground - Milford
A smaller playscape in Eisenhower Park, Bodie's Place has ample parking and a huge picnic gazebo. The playground has slides for littles and for elementary age children. The play area include a spiderweb climber, ramps and towers.
Kids in Motion - Cheshire
Super sunny Bartlem Park in Cheshire is home to Kids in Motion. There is a large play area with multiple locations for families to plant themselves for an hour or two. Some of the features include: climbers, swings, ramps, tunnels, towers, ladders, and rock climbing walls. Wear your sunblock, you'll be there for a while!
Mikey's Place - Wethersfield
A personal favorite of mine! This cozy, suburban neighborhood playground is wonderful and good for children of many ages. Our favorite place to go at Mikey's is he monster size sand pit with huge scoopers. But there are also long ramps, towers, a zip line, climbers, a see-saw and other good play areas as well. Benches are available on-site for mommy's to rest.
Pease Place
-
Woodbridge
The brainchild of two local moms, this accessible playground has a lot of exciting features: most notably a space-aged looking climbing tower that connects to a tall tube slide that's fun to zoom down. There are two separate areas, one designed for toddlers and preschoolers and another for kids ages 5 to 12.
There's plenty of room to explore—and accessible features at every turn—at Hannah's Dream. Photo courtesy of New Haven Transportation, Traffic and Parking Dept.
Hannah's Dream - New Haven
Located at East Shore Park, Hannah's Dream is an all-ability accessible playground. This is a huge playground at 300,000 square feet. There is lots to do in this wide-open play area including swings, towers, ramps, tunnels, see-saws, and tire swing. Recently renovated in 2017.
Devon's Place - Norwalk
This is a playground with a maritime flair! Come play at Devon's and see the huge lighthouse, the whale in the sand, and the boat. A very natural environment also includes a tire swing, Walk the very cool labyrinth path!
There's something for everyone, including kids with mobility impairments and also cognitive impairments, at Adam's Adventure. Kids love zooming up the long ramp that runs through the large main play structure, with lots of slides and ladders to peel off along the way, and smaller, colorful structures for climbing under or over alongside. Parents are grateful for a large, covered pavilion with restrooms, perfect for breaks.