Top 12 Playgrounds and Parks for Family Fun in the Hartford Area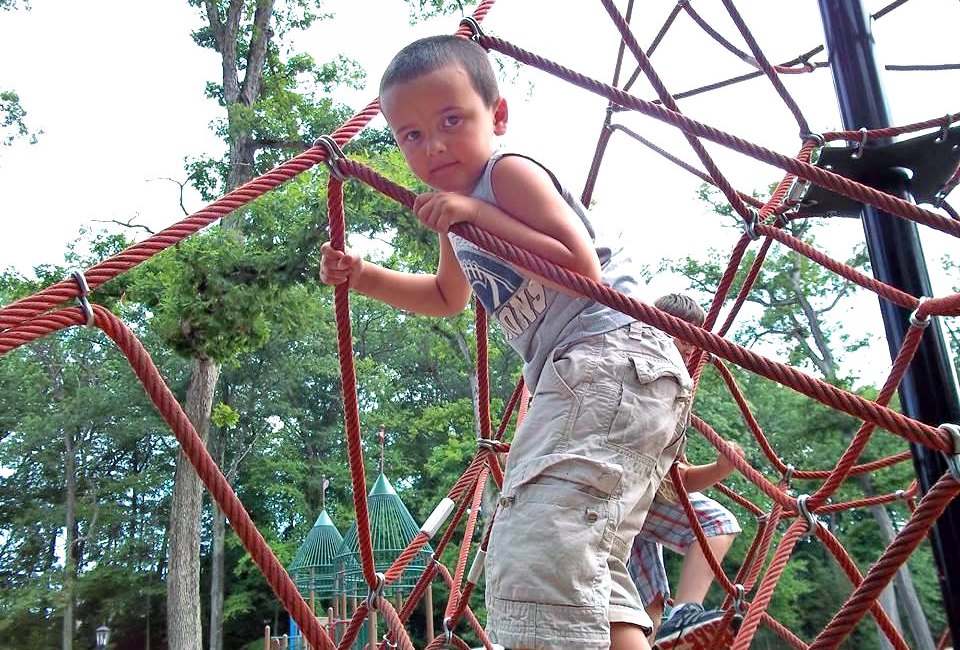 5/3/19
- By
Tania Pesce
Sometimes we get so busy with our regular routines that we forget to do one of the most important and healthy things with our children: get outside! Spending time in the sunshine and among the trees is so healthy for kids (and parents) physically, mentally, and even emotionally. With nicer weather upon us, everyone's itching to escape the house, and if you live anywhere near the Greater Hartford area, you're downright spoiled with outdoor options to choose from. Here are a dozen of our favorite parks and playgrounds to spend time as a family.
1. Rockwell Park - Bristol
This is a beautiful park with hiking trails and a pond to walk around. They have a great splash pad and learn-to-swim pool for the warm summer months, as well as a skate park for the older kids. The playground has a section just for the toddlers so they don't get trampled on by the big kids.
2. Wickham Park - Manchester
Wickham Park is a very unique park with many attractions including a nature center, bird sanctuary, various sports facilities, and a special sensory garden. You will never forget the peacocks! There are three public playgrounds available but the largest one is located near the aviary. Conveniently located right next to the restrooms, this playground has many things for your kiddies to swing, spin, and climb on. There are minimal parking fees. The park is open 7 days a week from the first weekend in April through the last weekend in October.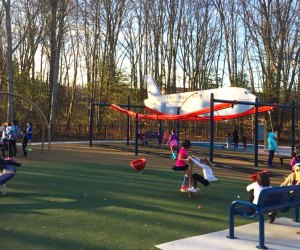 There's plenty of adventurous equipment options for kids of varying abilities at Jonathan's Dream. Photo courtesy of Jonathan's Dream/Facebook
3. Jonathan's Dream - West Hartford
An all-abilities accessible playground that has been recently redone, Jonathan's Dream has some of the most unique playground features you will ever see. The playground is entirely fenced in, and includes a play-Jeep, an airplane zipline, several climbers, a handicap-accessible swing, roller ramps, and a large gazebo directly in the center.
4. Wolcott Park - West Hartford
This park is located not far from West Farms Mall. With a smaller playground that has a cute castle theme and rubber padded areas, it is perfect for the 5-and-under crowd. During the summer months they have a splash pad open.
5. Stanley Quarter Park - New Britain
This park has soccer fields and a big pond to walk around. It also has a fun playground with swings, monkey bars, slides and all the usual favorites. The park also features a skate park for your older kids, hiking trails, and a children's fishing pond.
6. Salmon Brook Park - Granby
This large park has many amenities including a huge, multi-age playground, a basketball court, public swimming, a running brook with access, and great picnic facilities.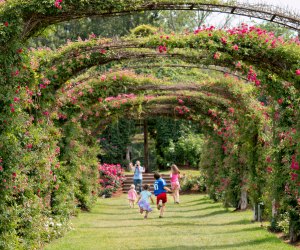 The amazing rose garden at Elizabeth Park. Photo courtesy of Connecticut Office of Tourism
7. Mikey's Place - Wethersfield
This is a wheelchair accessible playground with play for younger and older children. There is a sand pit with digging tools, handicap accessible swings, and plenty of shade to relax in.
RELATED: 12 Amazing Playgrounds Worth Driving to Across Connecticut
8. Mill Pond Park - Newington
Newington's largest park includes a baseball field, a boundless playground, an outdoor pool, a basketball court, and a nature walking trail with a pond that's fun for turtle spotting.
9. Simsbury Farms - Simsbury
There are 235 acres of fun at Simsbury Farms and loads to do. It features four separate pool areas, an ice skating rink, and a playscape in a natural setting.
10. Elizabeth Park - Hartford
Elizabeth Park is on the National Register of Historic Places. The amazing rose garden attracts hundreds of visitors. On site, there is a tennis court, ball fields, a playground, and plenty of gardens to stroll through.
11. Buckingham Road Recreation Area - Avon
A boundless playground, Buckingham Road Recreation Center is a fully accessible playspace for children of any ability. With plenty of shaded spots and picnic tables, you can pack a lunch and spend the day. There is ample parking available in the free lot. The parks season runs from April 1 to November 15.
12. Never Park Playground - South Windsor
Come enjoy this wide-open playground. There are two sections for different ages (ages 2 to 5 and 5 to 12), two towers, a roller ramp, slides, and drums to play on.
Originally published April 19, 2012
Sign up for the Mommy Poppins Newsletter today!
i