Best Museums for Kids in Connecticut: Children's Museums and Family-Friendly Museums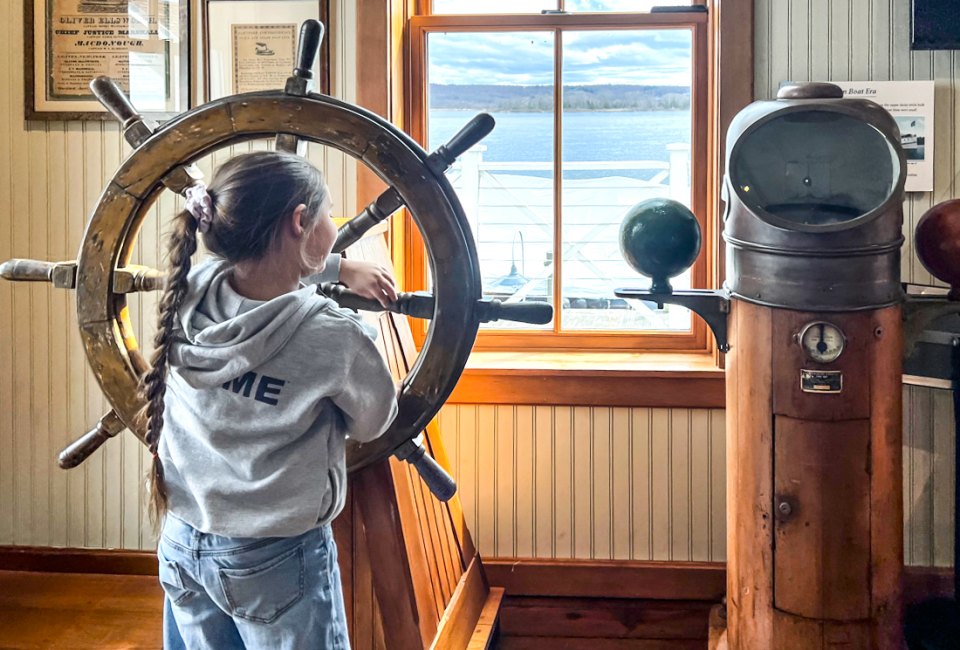 11/10/23
- By
Jennifer Coe
Local families love the best museums for kids in Connecticut; children's museums that are interesting, fun, and always hands-on! Connecticut offers all sorts of special places to take your kids. There is STEM-related fun in Hartford, historical exploration in Mystic, and CT children's museum excitement in Niantic, Norwalk, and beyond. So whatever your child is interested in, you can find interactive fun to fill up an entire day. Many of the museums offer regular classes and meet-ups that will become a part of your week. Some turn down the lights and music and offer sensory-friendly hours.
Be sure to look through our list of Free Museums in Connecticut to Visit with Kids for bargain-priced museum fun. And be surte to explore our Connecticut Museums Guide and Indoor Fun Guide for family activities in any kind of weather!
Best Museums for Kids in Connecticut - Hartford-Area

See some eye-popping attractions at these kid-friendly museums!Science Center photo courtesy of the Connecticut Office of Tourism
Connecticut's premiere science museum is always changing. With reasonable pricing and multiple levels of interesting exhibits, every kid will find something that piques their interest. Permanent exhibits include Science Alley, Kidspace (the water play level), Engineering Lab, and Exploring Space. Check the calendar for upcoming exhibits and events.
A real gem, NEAM showcases full-size airplanes from military to passenger planes in a massive space. Learn about aviation history utilizing helicopters, jets, and restored machines. Learn about women in aviation, the Tuskegee Airmen and the local influence of flight on Connecticut industry. Don't forget to check out the newest feature: the flight simulator station.
Dinosaur State Park is a great place for all the littles going through their dinosaur-phase. Yes, dinosaurs lived in Connecticut, and they left their footprints in Rocky Hill! Today, there is a whole State Park and museum built up around them. See animatronic dinos, watch a dino movie, then wander the grounds on a convenient boardwalk pathway.
Bristol's Imagine Nation Museum has a re-imagined approach and now offers educator-led experiences for children. The regular line-up of workshop and class offerings for kids include Monday Meetups, Playful Learners, and special events like the Festival of Art. Subjects kids can dive into include nature, water-play, art, science, and energy—just to name a few.
Best Museums for Kids in Connecticut - New Haven Area

Connecticut museums have maritime fun on the coast and along the rivers! Photo courtesy of the Connecticut River Museum
This museum is centered around the Connecticut River and its impact on our history. It explores Native American culture, European settlers, the geography of the river, and animals that make the river home. The museum does a great job of having regular an unique children's events. The museum also has a sensory-friendly day for families.
6. Kidcity - Middletown
A favorite place for kids growing up in Connecticut, Kidcity is a unique "museum" that allows children to have creative hands-on play, from very young to about the age of 7. With three full floors of play, kids will be able to move from Space Age Roadtrip to the Fishery to Main Street and the Farm. Reservations are required.
Best Museums for Kids in Connecticut - Fairfield
Norwalk's Stepping Stones Museum is a "wow" spot for kids; they can really sink their teeth into hands-on play and imagination. Dino-lovers will ooh and ahh over Dolly Dolophosaurus and her friends. Kids can learn about energy in the Energy Lab. For the littlest ones, Tot Town will hit the mark. Before you leave, grab a snack at Healthyville Cafe, which boasts a menu full of kid-friendly grub.
While not a children's museum, the Bruce offers regular kid-friendly programming, such as Museum Movers Yoga, Bruce Beginnings, and Family Tours. Rock lovers will thrill at the Wiener Mineral Gallery, the Science Galleries (one word: Dinosaurs). Of course, don't leave without getting a treat at the Bruce Cafe.
The Discovery Science Center and Planetarium is a wonderful place to spend a morning surrounded by STEM. This children's museum has lots of themed stations for kids, including the Hall of Space, Science at Play, Science of Flight. Even go to the "hospital" at Teddy Bear Triage. And coming soon: a Makerspace!
Best Museums for Kids in Eastern Connecticut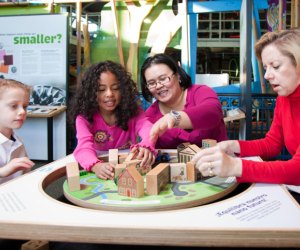 Kids—and kids at heart—will love Connecticut's children's museums! Photo courtesy of the Niantic Children's Museum
The Niantic Children's Museum is a colorful, bright, inviting place for kids from 9 months to 9 years. In this child-centered museum, kids can let their imaginations soar while strolling through the interactive exhibits. Several stations for kids include the Imagination Room, Discovery Room, the Outdoor Playscape, and their current exhibit, Nano Mini-Exhibit. The Children's Museum offers a monthly dollar night, sensory friendly days, and all kinds of special classes and events.
Part of UCONN, Ballard has limited hours but often showcases amazing exhibits and child-centric performances. Learn the history of puppetry, and see over 3,000 puppets in this collection. Ballard offers a one-of-a-kind experience for Connecticut kids.
This prestigious historic museum is on the Mashantucket property, and the Mashantucket Pequot Museum is worth a visit any time of the year. See a spell-binding Native American village as it was hundreds of years ago. Learn about how the Europeans came to New England and impacted the lives of the Native Connecticut people forever.
Connecticut's maritime museum connects the past to the present. Explore 17 acres of a 19th century seaport village, complete with a working shipyard and vessels in dock. Stop by the playscape, Funk Children's Museum, and the Discovery Barn. Besides exploring the village, kids will love the Mystic River scale model and community events held annually. Events include Trick-or-Treat nights, Lantern Light Village, and Carol Sing.
Best Museums for Kids in Connecticut - Litchfield

Kids can explore other cultures and have fun learning at these fmaily-friendly museums! Institute for American Indian Studies photo by Clementina Verge for Mommy Poppins
This small, but sought out museum offers many ways to teach children about Native history in Quinnektukut (Connecticut!). Kids will be blown away by the recreated Algonkian village. The Institute does a fabulous job teaching families about the long history of the Native People in our little state.
It may be kids play, but it's real life too! When your kids come to KidsPlay Museum, they will be able to simulate real life in a very well-stocked grocery store. Afterwards, stop by the dentist, and then make a deposit at the bank. Travel the world as your kids visit Korea, China, and Polar World. Infants and toddlers will love the soft play area.
Sign up for the Mommy Poppins Newsletter today!