A Visit to the Institute for American Indian Studies Museum & Research Center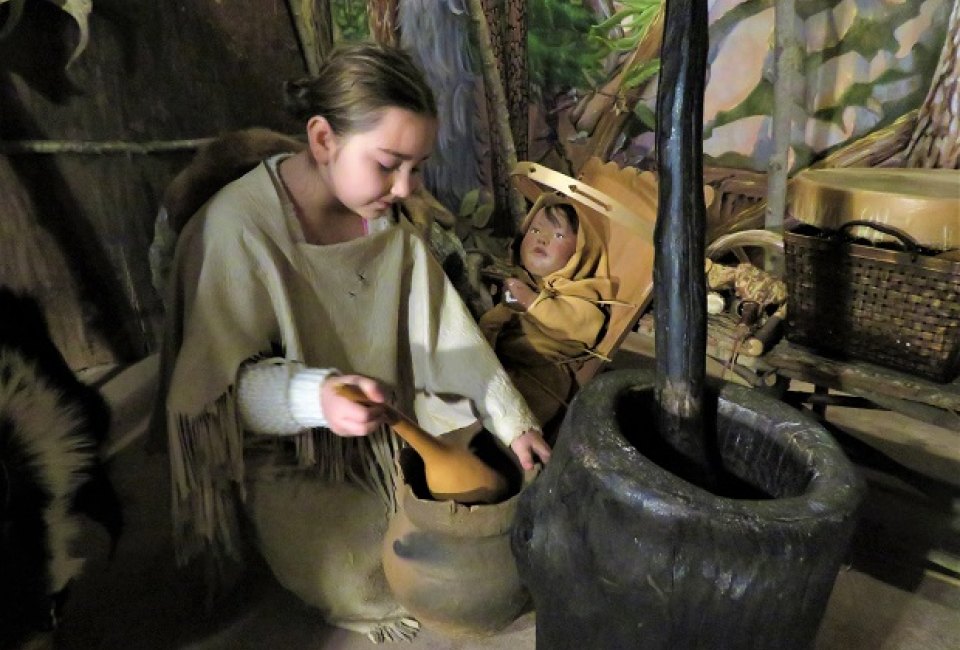 1/21/20
- By
Clementina Verge
Tucked on a woodsy cul-de-sac in Washington - one of the most pastoral areas of Connecticut – you will find an important assortment of stories and artifacts that preserve and celebrate the traditions and contributions of indigenous cultures. Though small in square footage, the Institute for American Indian Studies Museum & Research Center features an impressive collection and is an especially child-friendly Litchfield County attraction.
In Native American cultures, oral storytelling teaches and entertains, and a guided tour of this museum feels much more like a leisurely conversation with a family member than a formal or impersonal visit. Our tour guide – Darlene - was extremely knowledgeable and passionate, and very patient in answering questions from my daughters and allowing them to linger longer in areas they were most interested in.
Their favorite spot in the museum was the Sachem's House Classroom, where they were encouraged to try native clothing, touch various furs, practice grinding stone, pretend to cook and garden, and carry a baby doll in a cradle. While they happily imagined themselves living in the woodlands hundreds of years ago, I was pleased to see that a preschooler and middle schooler were both able to learn and enjoy the experience at the same time and in their own way.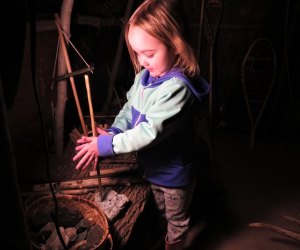 The presence of hands-on activities makes this museum memorable even for tiny visitors.
The rest of the museum displays are just as carefully laid out and informative. The primary exhibit "Quinnetukut: Our Homeland, Our Story" outlines 10,000 years of Connecticut's Native American people, tracing their history from the end of the Ice Age into the modern times. Expect to see everything from clothing, to tools, to jewelry and household items. The section gives insight into how ingenious people survived difficult climates, how they cleverly and compassionately hunted for food, and how the changing environment affected their way of life.
The "From East to West: Across Our Homelands" room offers a glimpse into the individuality of Native American communities by highlighting the artistry and significance of clothing attire representative of various tribes. It is both humbling and inspiring to see the beautiful and versatile items that were crafted from seemingly unimpressive materials, such as clay, porcupine quills, seeds, and moose hair.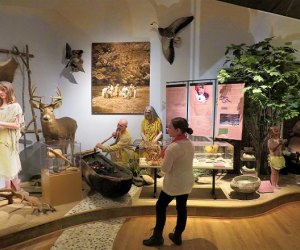 The diorama-based exhibits make for effective and enjoyable learning opportunities.
Hands-on exploration is further encouraged in the Children's Discovery Room where young visitors can try on clothes, explore animal tracks, furs, and various bones, enhance their map skills, and learn about differences in clothing and houses across the country. Of course, young ones will also love to venture outside where a replicated 16th century Algonkian Village awaits, in addition to a healing plant garden, and a simulated archeological site.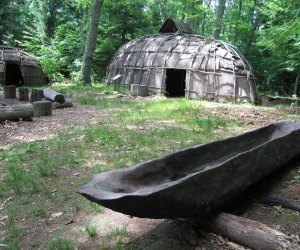 The replicated Algonkian Village is one of the outdoor attractions that children will love to explore. Photo courtesy of the museum.
Reverence for the earth and all living creatures has always been the trademark of Native American life, and those lessons continue to be instilled on this property, where the trails are marked and trees and plants are identified. We visited on a rainy day and spent about two hours exploring the interior. Unfortunately, we were unable to venture outdoors, but have done so during a previous visit.
Throughout the year, the museum hosts many child-friendly events, such as the Maple Sugaring Festival in March, the Green Corn Festival in August, and Storytelling Celebration in November. In addition, families can register for various workshops, such as moccasin slipper making, beading for beginners, and fire making.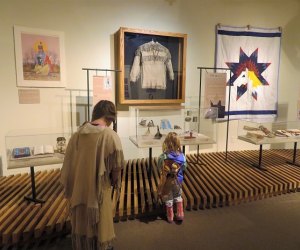 The museum features a beautiful collection of artifacts, including tools, jewelry, and household items.
The American Indian Studies Museum is open daily; from 10 a.m. to 5 p.m. Monday through Saturday, and noon to 5 p.m. Sunday (last admission is at 4:30 p.m.). It is closed on major holidays and during inclement weather. Admission is $10 for adults and $6 for children ages 3-12. Do not leave without perusing the gift shop and bookstore that offer crafts, pottery, jewelry, textiles, and also children's toys, including the wooden flutes with which my daughters serenaded me on the drive home.
On a warmer day, enjoy the picnic area (there are no food services provided on site) or venture a couple of miles down the road for a quick sandwich or snacks at the Roxbury Market and Deli, or a delicious meal at The White Horse. If you have time, take the opportunity to explore the Town of Washington. Depending on the season, picnic at Lake Waramaug, take a hike at Steep Rock Preserve, or pick apples at the 268-year-old Averill Farm. There are certainly plenty of Things to Do with Kids in Litchfield County.
On the other side of the state, you can further your knowledge and appreciation of Native American culture at the Mashantucket Pequot Museum, which is tribally-owned and operated, and offers a comprehensive history of the Pequot people.
Photo credit: Unless otherwise stated, photos are courtesy of the author.
Places featured in this article:
---
Institute for American Indian Studies Museum & Research Center
Sign up for the Mommy Poppins Newsletter today!