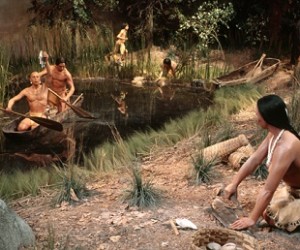 A Family Visit to the Mashantucket Pequot Museum
About an hour southeast of Hartford, nestled in an ancient cedar forest in the Foxwoods area, you will find the largest Native American museum in the world. The Mashantucket Pequot Museum will touch your heart from the moment you step through its oversized glass doors. Inspirational and detailed exhibits convey the thoughtfulness and simplicity with which Native Americans lived, the pain and injustice they experienced when war was imposed upon them, and the tenacity they showed in rebuilding and reclaiming their culture. Unlike other museums where Native American history is attempted in one or two dioramas, the collection here is comprehensive and, best of all, the history is owned and disseminated by the people who lived it.
The museum is set up as a journey through time and a visit begins on the lower level where an escalator travels down into a glacier (the kids love this part!) and descends into the last ice age, depicting the struggles of survival during harsh winters, but also the natives' resourcefulness and appreciation for the natural world. Even children noted the fact that they were not wasteful by pointing out tools and jewelry carved out of animal bones, necklaces made from seashells, and modest-sized wigwams free of clutter.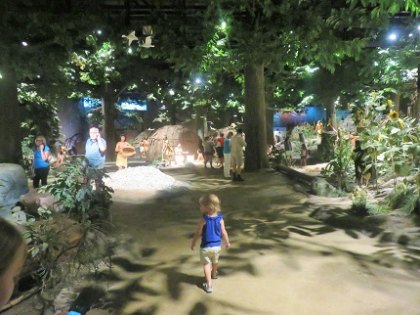 Your next stop will likely be the recreated half-acre Pequot Village. This life-sized exhibit is the best my family has seen (and our visits include the National Museum of the American Indian in Washington D.C. and in New York City). No flash photography is allowed (which is reflected in the quality of some pictures contained in this post), but rest assured that the amount of detail is amazing: listen to the sounds of birds and water, smell the woodlands, see the crackling fires, and stand before figures life-cast from indigenous people. Do not forgo the audio tour (children can use the phone-like devices on their own) because it provides valuable information otherwise unobtainable. My family spent more than an hour in just this part of the museum, and it was my children's favorite spot. My eldest daughter was appreciative of the close family bonds that Native Americans shared, while my youngest was thrilled to see that they loved their dogs (the only domesticated animals at the time) as much as she loves ours.
Throughout the museum's three floors, you will find dioramas, documents, and artwork that depict Native American life before and after European presence. Interactive exhibits allow visitors to learn in detail about medicine, nutrition, clothing, tribal hierarchy (at a time when status was not determined by material possessions), and language. The tiniest visitors will be captivated by colorful art and life-sized replicas of dire wolves, a mastodon, a 300-pound beaver, caribou, and other animals that once inhabited our state.

One of the most emotional portions involves The Pequot War - when Connecticut and Massachussetts colonies attacked the Mystic fort and orchestrated the killing of some 600 Pequots. You can view graphic details in a 30-minute film, which is the only part of the museum that may be inappropriate for children younger than 12 (advisories are posted on auditorium doors).
Before you leave, spend some time in the Tribal Portrait Gallery learning about contemporary Mashantucket Pequot people and do not miss the 18-story Observation Tower, which offers breathtaking views of the surrounding area. A trip here will be spectacular during peak foliage (The museum closes for the season in November).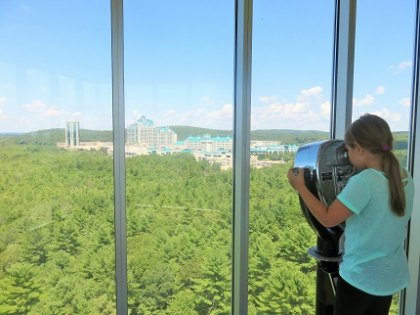 Overall, this museum is a fantastic destination that shouldn't be missed. After four hours, my family certainly left more informed, inspired, and sensitive to the needs and contributions of those who lived before us. Because we will revisit this year, we purchased a family membership. Otherwise, admission is $20 per adult, $12 for youth, and $15 for senior citizens and college students. Children under 6 are free.
The Mashantucket Pequot Museum is located at 110 Pequot Trail. Expect to find well-maintained grounds, ample parking, clean bathrooms, stroller-friendly and wheelchair-accessible exhibits, and a luncheon-style menu at The Pequot Cafe, that includes traditional and contemporary Native American selections.
If your visit here does not take most of the day, or if you are planning an overnight trip, Mystic Aquarium, Mystic Seaport, and Olde Mistick Village are about 15 minutes away.