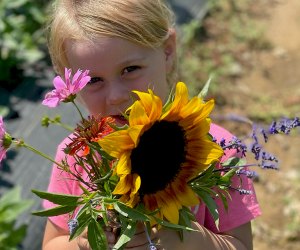 Top Things To Do in New Jersey This Weekend: Peach Breakfast, Clam Festival, County Fairs
It's looking to be a peachy keen summer weekend, with activities like Terhune's Just Peachy Festival and Alstede's Farm to Table Peach Pancake Breakfast. Throw some seafood in the mix at the 26th Annual Clam Festival and a little dessert at Edible History Series: Ice Cream. Go county fair hopping with festivities in Warren, Sussex, Middlesex and Atlantic Counties.
Feeling that August heat? Check out 25 Fun Ways To Beat the Heat in NJ With Kids in August, including a river tubing trip, hit the Jersey Shore, or just take a dip in a nearby swimming pool or New Jersey lake.
Looking for more things to do this weekend in New Jersey? Our NJ Summer Activities Guide is packed with picks, including day trips and free things to do this summer in New Jersey. Read on for the best things to do in New Jersey this weekend with the kids, and don't forget to check out the local Activity Calendar, which gets daily updates, continuing through the weekend and Best Things To Do in New Jersey in August 2021 With Kids.
If you've got summer camp on your mind, we have help for that, too, with these fun options for virtual camps that have availability for you to book right now. As always, if an event piques your interest, click through to our listing for all the details, including address and time. Subscribe to our newsletters to get stories like this delivered directly to your inbox.