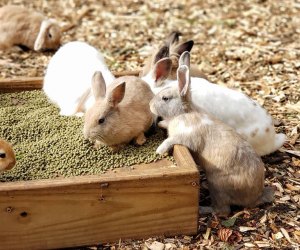 See Baby Animals at Petting Zoos and Family Farms in NJ
Get outdoors while visiting cute, cuddly baby animals and barnyard pets on a local farm or New Jersey petting zoo. In addition to seeing chicks, calves, lambs, bunnies, and piglets, kids can often pick their own fruits and vegetables at these Garden State farms. Some even host events where kids can watch cows being milked or another farmstead demonstration, such as learning how cheese and bread are made.
Some offer full petting zoos, as well as wagon rides and pick-your-own fruits and vegetables. Read on for more than a dozen of our favorite NJ petting zoos, and don't forget that you can also meet barnyard and other animals at several of New Jersey's zoos.
Be sure to check websites for reservation requirements and social distancing protocols in 2020, but we've updated our list with the most current reopening info at press time.
Northern New Jersey Petting Zoos
The barnyard is open in 2020 but online tickets are required for fall weekends when pumpkin picking and hayrides are also available.
Head to Abma's for a quaint farm experience. The family staff welcome everyone to visit and feed their cows, goats, bunnies, and more friendly farm animals. Head into the market to purchase crackers to feed some of the animals, or grab a sandwich, cookie, soup, and other delicious treats for yourself and the kids. The barnyard is open daily (with the exception of Sunday).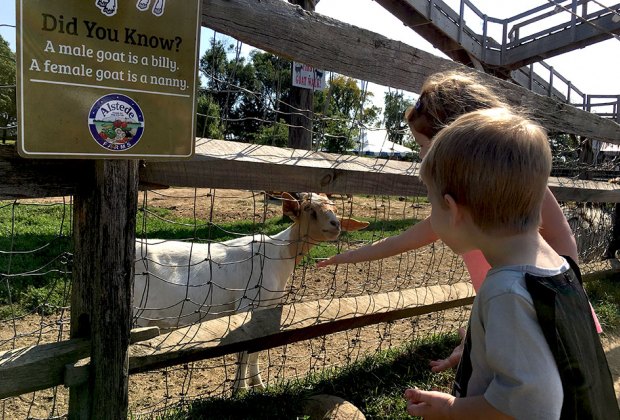 Learn how to handle and care for many different animals at Alstede Farms.
Farm area and animals are available for visitors, including feeding stations. Online reservations required for pick-your-own.
Alstede is a great place to bring the family year-round and offers everything from fresh produce to Christmas trees. There is always a seasonal fruit to pick, and the barnyard animals meet you right from the parking lot! It also has a baby animal tour for children. A scenic hayride brings everyone to a heated barn, where you can visit all the babies. Children can pet ducklings and visit baby goats, pigs, cows, lambs, and more. There are pony rides during certain seasons, too!
RELATED: 10 Best Farms for Family Fun and Entertainment in NJ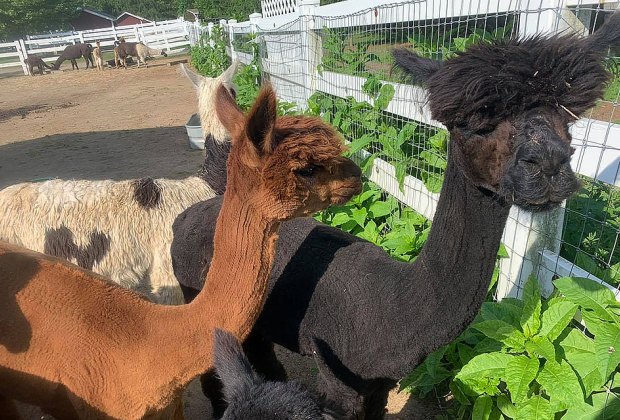 Go on a walk-thru or drive-thru at Brookhollow's Barnyard in Boonton.
Book walk-through or drive-thru tickets online in 2020. Separate tickets are available for fall fun, such as the pumpkin patch and corn maze.
Brookhollow's Barnyard is a small petting farm where kids can interact with animals such as alpacas, llamas, sheep, goats, ponies, donkeys, chickens, peafowl, ducks, and miniature horses. Their unique bucket-and-shovel method of safety-first feeding ensures that little fingers are never too close to the animals' chompers. Many baby animals arrive throughout the spring and early summer. Other activities include a playground, and seasonal fun from egg hunts to a pumpkin patch. The farm also offers birthday parties and weekly summer camps for kids. The barn here typically opens its doors in May and closes for the season following Halloween.
Open for drive-thru or in-person farm tours with online reservations through October 31.
Fosterfields Living Historical Farm functions exactly as it did at the turn of the 20th century. This is no petting zoo, but kids can see exactly how the animals were raised in the olden days. They can watch pigs, sheep, horses, and donkeys in the fields and pens. Kids can also crack corn and feed the chickens, and they can even go into the hen house and collect eggs at the end of the day. Bear in mind that the animals are just a small part of the farm, and kids are expected to help out with other chores such as pumping water, doing laundry, churning butter, and much more.
Open for the season, but fall farm tours are canceled in 2020 and pick-your-own is held on weekdays only.
Sun High has been a fixture in my family since I was in elementary school, and since having my son, I've been back every fall for pumpkin picking. The farmstand has grown from a tiny Jersey ripe tomato treasure into a full market that offers an impressive range of fresh-picked fruits and vegetables. This is not a full petting zoo, but there are friendly animals available to visit with at several spots around the grounds. There are well-shaded picnic areas to bring some treats or snag a bite from their on-site market.
RELATED: Step Back in Time at NJ's Living History Farms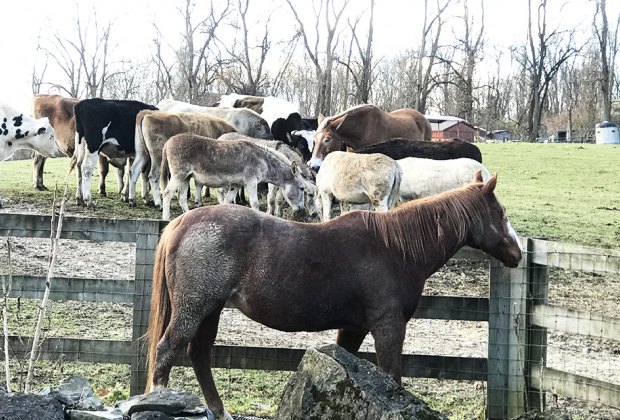 Schedule a visit to the Barnyard Sanctuary to meet rescued farm animals.
Temporarily closed to visitors due to COVID-19
​The Barnyard Sanctuary is a safe place where animals are rescued, rehabilitated, and re-homed. Currently, the property is home to more than 720 rescued farm animals, including horses, donkeys, mules, cows, water buffalo, sheep, goats, llamas, alpacas, emus, pot-bellied pigs, farm hogs, and many birds. This unique place is open to visitors, but you must schedule an appointment to visit. Open Monday through Friday between 9am–3pm or Saturday from 9am–noon. If you've been thinking about adding to your family (by two or four feet), the farm has an 'Adopt Me' program and a very vigilant vetting process to make sure their animals and adopters are ideally matched.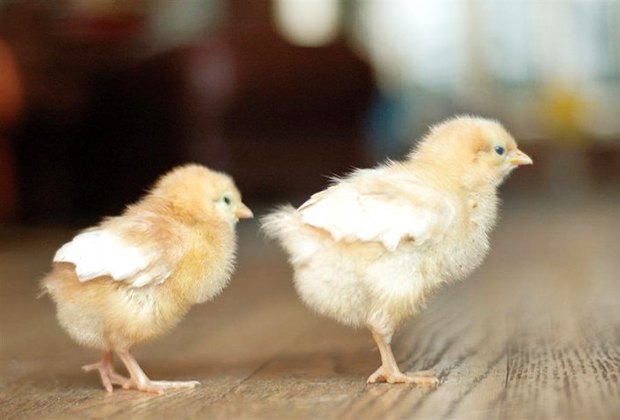 You can rent two baby chicks for two weeks from Sparta Mountain Farm.
Temporarily closed due to COVID-19 but products availabe at the farmers markets
Looking for a real hands-on experience for your family? Sparta Mountain Farm's popular rent-a-chick program allows families to rent two newly hatched chicks or ducklings for two weeks during the early spring. Kids will learn how these adorable creatures grow and how to care for them during this unique experience. Though the farm doesn't currently provide public tours, you can call or email in advance to schedule a visit at your convenience.
Farmstand is open and fall harvest tours are going on now.
This is the place to see everything sheep. Starting in May, the farm offers weekend spring and summer lambing tours, during which kids can see hundreds of lambs. It also offers milk and cheese tours in the fall, where you can learn how cheeses are made, see the milking and cheese-making process, and enjoy tastings. Check the tour schedule online to see what is offered seasonally.
Central New Jersey Petting Zoos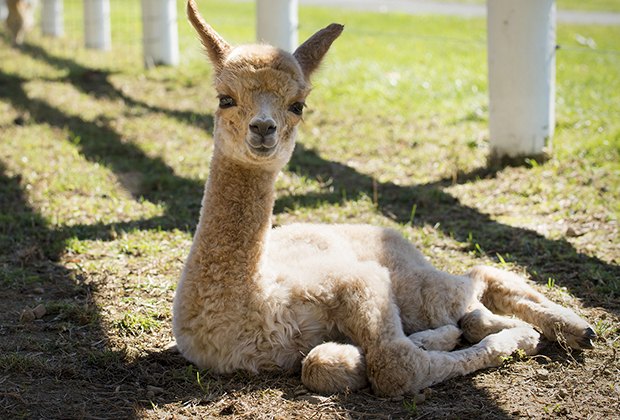 Visit the gentle alpacas at Bluebird.
Open on weekends by reservation only in 2020
The Bluebird Farm Alpacas is a unique type of petting zoo, with an 11-acre farm situated in the Somerset Hills. On a visit, you are encouraged to take pictures and meet and interact with the farm's cuddly herd. Visits are by reservation only or during one of the farm's open farm days.
Reopened for farm tours by reservation only in 2020. Classes are canceled at this time.
Bobolink Dairy has moved from its old location in Vernon to Milford, but it still raises grass-fed cows and produces outstanding cheeses and wood-fired breads. Show your kids where the cows pasture, see where the bread is made, and taste the different cheeses during farm tours.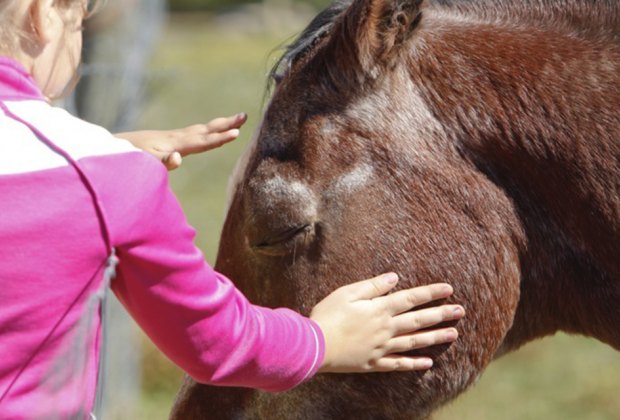 Meet the gentle resident horse and other friendly animals at Terhune Orchards.
Open for season, including fall harvest weekends with a visit to the barnyard.
Terhune Orchards is a fantastic location for a day of family fun on the farm. While it does not advertise as a petting zoo, it does welcome visitors to meet and feed the animals living on the farm. The barnyard animals include sheep, chickens, a horse, a friendly duck named "Egg," and more. Terhune has a great walking path for visitors and is also host to fun events coming up in the warmer months.
South Jersey Petting Zoos
Reopened to the public with some new rules in place
As a charity organization, Funny Farm Rescue has made it a goal to provide food, shelter, medical care, and love to unwanted farm, exotic, and domesticated animals for their entire lives. Visiting times for this special environment are Tuesdays and Sundays from 8am–4pm, and you can purchase food to feed their animals anytime of the day (in their store).
Reopened with online reservations and now offering hayrides, pumpkin picking, playtime, and yes, visits with the animals in 2020.
This popular NJ farm offers year-round family entertainment, including an outdoor fun park for kids, splash pads, and barnyard with friendly animals, including cows, ducks, goats, sheep, mini donkeys, and chickens. Admission to the barnyard area typically comes with the price of access to the play area that has climbing, slides, pretend play, go-karts, and more. There is plenty of year-round pick your own happening at Johnson's Corner Farm, too: strawberries, apples, and pumpkins.
The farm is open for fall harvest fun, but feeding is on hold.
Head to this historic, 315-acre farm—built 100 years before the 13 colonies became a nation—and step back in time. You will have the chance to meet and feed the goats, sheep, and chickens, and there is a perfect view from the animal farm to the pasture and side yard, where the cows and ponies hang out.
Originally published in 2014.
Photos courtesy of the farms.