Visiting Alstede Farms with Kids in NJ: What You Need to Know Before You Go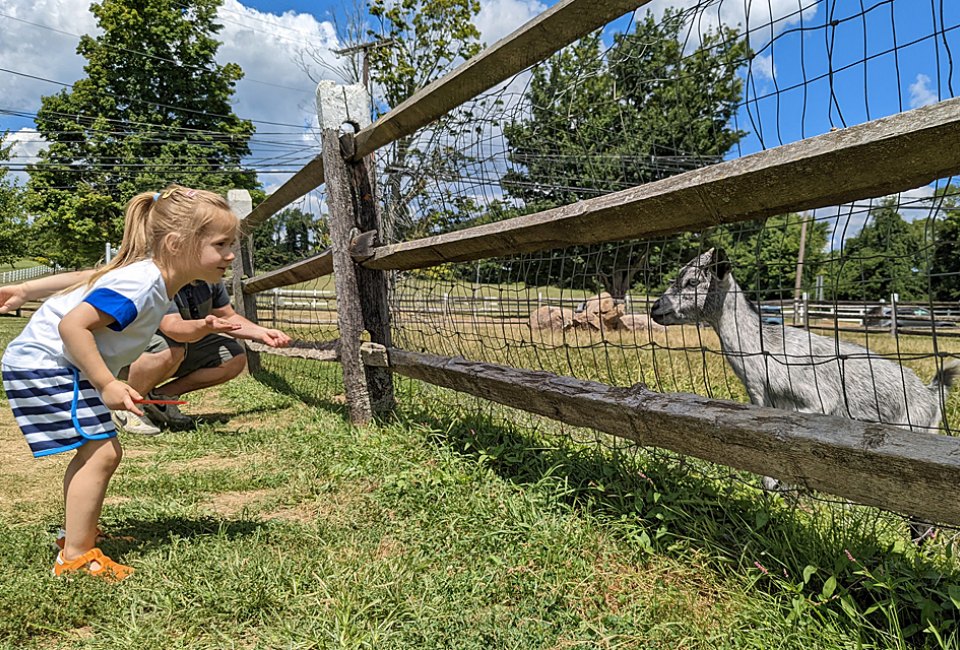 9/2/22
- By
Yuliya Marks
Day tripping to local farms is one of my family's favorite things to do, and Alstede Farms in Chester, New Jersey, is definitely worth the drive. Alstede Farms is jam-packed with family-friendly things to do—landing it on our list of the best farms in New Jersey for family-friendly entertainment. We planned our trip to include fruit picking, checking out the farm animals, and eating some delicious homemade food. Though there are plenty more farm activities to explore, our little one was too tuckered out to tackle them. That's left us planning a return trip; the hay pyramid awaits! Read on for the best things to do at Alstede Farms with kids and plan your own day on the farm.
Be sure to check our rundowns on apple picking in New Jersey and the state's top pick-your-own farms. And find everything else you need to know for autumn fun in our Fall Fun Guide.
Subscribe to our newsletters to get stories like this delivered directly to your inbox.



Enjoy some live music on weekends at the stage outside the Alstede Farms store.
Top Things To Do at Alstede Farms with Kids
1. The Farm Store
We went to the shop at Alstede Farms first, just in case we were too tired to visit later. It carries a large variety of fresh items and a lot of little house trinkets. Freshly picked fruits and vegetables are available, plus homemade products like jam, pico de gallo, apple cider doughnuts, and more. There is even a wine corner if you are an enthusiast. We got some obligatory honey sticks and a lot of quarters to prep for our next stop: feeding the furry farm animals.
2. The Farm Animals
What's a visit to the farm without some furry and feathered face time? Horses, chickens, sheep, and goats all awaited eager kids who were ready to feed them. Lots of little animals ran around with all the kids trying to anxiously feed them.
3. Farm Fun Activities
Alstede is well-known for its "agritainment," which extends well beyond the picking fields. Though we petered out before we got to experience all the fun, plan to purchase your Farm Fun tickets before visiting, which grant kids pony rides, a tractor-pulled wagon ride, and access to the bounce house. Though tickets are available on-site, the lines are long! So avoid a meltdown and purchase in advance.
RELATED: 25 Fun-Filled Fall Day Trips from New Jersey for Families

No matter the season, there's always something fresh to pick in Alstede Farms fields with kids.
4. Pick-Your-Own Fields
What's a farm trip without freshly picked produce? From May through November there's always something fresh to pick at Alstede Farms, including popular crops like strawberries, apples, and pumpkins, plus lesser-known goodies like corn and dig-your-own potatoes. It's also a spectacular spot for sunflower picking come fall. Currently, pick-your-own admission requires advance ticket purchase.
5. The Corn Maze
We wanted to visit the corn maze after our pick-your-own adventure, but we were worn out from our other adventures. We had great fun losing track of time and spending hours walking around the pasture. Still, the corn maze, sunflower trail, and evergreen maze are worth adding to your list for your Alstede Farms visit—and tops on our list of things to do when we return.
6. Special Events
From farm-to-table holiday brunches to harvest moon night hayrides and breakfast with Santa, there's always something special happening at Alstede Farms. Keep an eye on our Family Activity Calendar to see what special seasonal events you can enjoy.
RELATED: Apple Picking near New Jersey: Best Apple Orchards for Apple Picking with Kids

Alstede Farms serves a delightful array of homemade soft-serve flavors. Good luck keeping yours to yourself.
Eating at Alstede Farms
Though there's no outside food allowed at Alstede Farms, there are plenty of fresh options to choose from, including purchasing snacks like buttered corn on the cob from the shop. We had some tasty food followed by the most delicious homemade ice cream. You can also enjoy wine tasting if you're not driving. There's a huge picnic table grove where you can take a break and enjoy your fresh from-the-farm treats.
RELATED: Find an Amazing Petting Zoo in New Jersey Where Kids Can Meet the Animals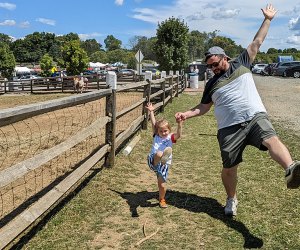 A trip to Alstede Farms left us with a little extra pep in our step!
Know Before You Go to Alstede Farms
Alstede Farms is open daily for pick your own during the harvest season.
Be sure to visit the picking schedule and book your timed-entry tickets before heading out. Pick-your-own admission includes some activities, like admission to the mazes, a hayride around the farm, and access to the hay pyramid.
Farm Fun activities, like pony rides and the bouncy house, require a separate ticket add-on. Purchase in advance to avoid the lines when you arrive.
Kids are welcome and encouraged. Bathrooms are equipped with changing tables and strollers are allowed in some parts of the farm—though you'll have to leave them behind when you visit the picking fields, so plan to bring a carrier for babies.
There's little shade, so come prepared with hats and sunscreen if you're visiting during the summer! Dress for rugged terrain if you're planning to pick; closed toed shoes and clothes that can get dirty are a must.
Enjoy live entertainment on weekend afternoons.
Got a kid who is farm crazy? Consider booking a birthday party package at Alstede Farms, with options ranging from pick-your-own to pot-a-plant, animals and activities, and more.
If you're traveling from the city, Alstede offers a courtesy shuttle from the Chester train station on weekends. Call in advance to book your ride!
All photos by author
Places featured in this article: