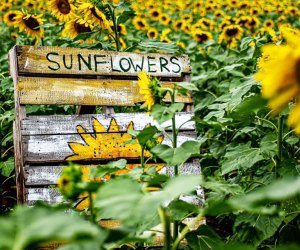 Gorgeous Sunflower Fields and More Pick-Your-Own Flowers in NJ
It is sunflower field season in New Jersey! One of the best things about our state is its bountiful pick-your-own farms—you can load up the family and pick strawberries in late spring, blueberries and peaches in the summertime, and apples and pumpkins come fall. But what many people may not know is that in addition to fresh produce, New Jersey farms are overflowing with acres of beautiful flowers, especially camera-ready sunflower fields.
There are even some NJ farms hosting sunflower mazes, sunflower trails, and festivals. So plan to spend a day on the farm this summer, and bring home a fragrant assortment of Jersey-grown blooms!
Many farms require a refundable deposit for the use of flower cutters; save some time and bring your own, along with a large vase!
Sunflower Fields NJ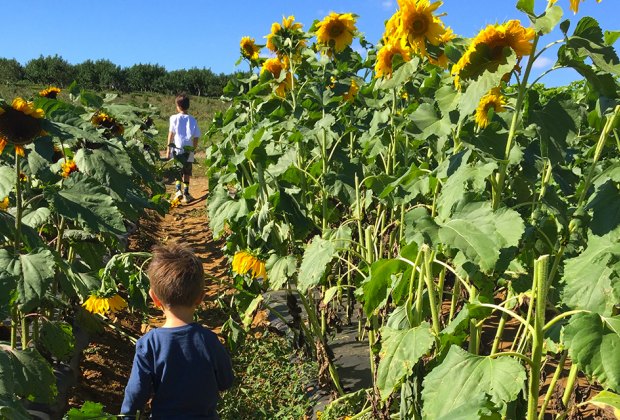 Wander through the towering sunflowers at Alstede Farms.
Alstede Farms is a family-friendly farm for all seasons, including during sunflower season. Enjoy the sunflower maze here, or pick your own for $2 per stem. You can also pick berries, peaches, and more produce, and enjoy the barnyard animals. Just be sure to reserve your picking slot online in 2020. The farm also offers pick-your-own zinnias.
Bring the whole tribe to Manalapan's Happy Day Farm to pick a big bunch of these yellow stems. Its sunflower field is set up with a bunch of fun photo props, too. Sunflower field admission in 2020 is $8 for adults and children, and kiddos under 1 are free; sunflowers are $2 each. The owners suggest bringing your own clippers and water to keep your fresh-picked blooms healthy. After enjoying the fields, cool down with a shaved ice or fresh lemonade. Blueberry picking was also still available at the time of publication.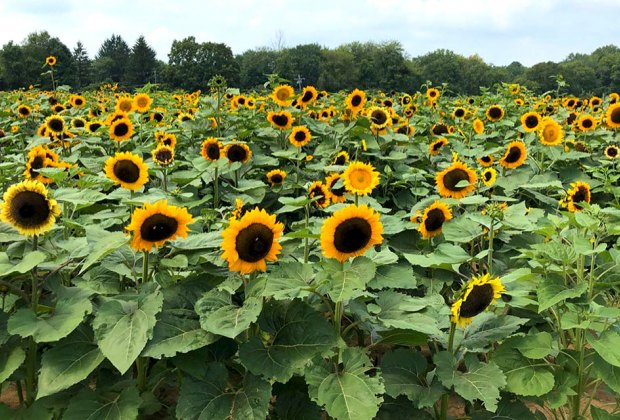 Gorgeous fields of sunflowers await at Stony Hill Farm.
Stroll the sunflower fields at Stony Hill Farms during its Sunflower Festival (July 31, August 1-2, and August 8-9, 2020) to enjoy live music, food, wagon rides, and more fun at a social distance with timed tickets. One field is for walking through the stalks, while the other sunflower field is for picking. (Note: Some of the usual farm amenities here are closed due to COVID-19 concerns, including the playground.) Homemade ice cream flights and more treats are lined up for 2020.
Walk the sunflower trail at VonThun Farms' six-acre sunflower field in Warren County, NJ, for a chilled-out summer vibe. The farm encourages selfies. Online reservations encouraged. Stems are $3 each. The farm was also open for blackberry and raspberry picking at press time but only with online reservations.

Enjoy the sunflowers at Johnson's Locust Hall Farm in NJ.
Johnson's Locust Hall Farm invites you to visit starting in July to pick your very own New Jersey sunflowers. Reserve your picking slot online this year. Pick a dozen stems from their sunflower patch within a 30-minute time slot for $25. There's also peach picking, corn ripening, a farm trail, and special evening hours happening at this 17th century NJ farm. All of it is available by reservation in 2020.
For the first time in its history, this south Jersey farm (sister farm to Johnson's Locust Hall Farm) has opened a sunflower field to the public for 2020. The evening sunflower stroll comes with a wagon ride and the opportunity to pick flowers at the end. This farm has plenty of other activities, too, including fruit picking, an animal barnyard, homemade ice cream, and a splash pad. Book reservations online.
Hit the sunflower patch or pick-your-own flowers at this beloved NJ farm. Daily picking options with sunflowers ranging from $1-$2 a stem. The farm is also hosting pick-your-own with a story hour on select days in 2020. Preregistration required for storytimes.
More NJ Flower Picking Farms

Flowers and produce are available for picking at Terhune Orchards.
You might know Terhune for its pick-your-own produce, but it also has an abundant field of flowers to choose from. Open from 9am–6 pm daily, starting in late June; pick-your-own hours may vary depending on availability.
When it comes to pick-your-own flowers, Lew's is well-known. Bouquet pricing can vary, but for about $4 you can pick a nice one! The farm's delightful season of sunflowers, zinnias, and snapdragons starts around the end of June or beginning of July. Call for current picking conditions and availability: (856) 234-2480.
RELATED: See Baby Animals and More at Family-Friendly NJ Farms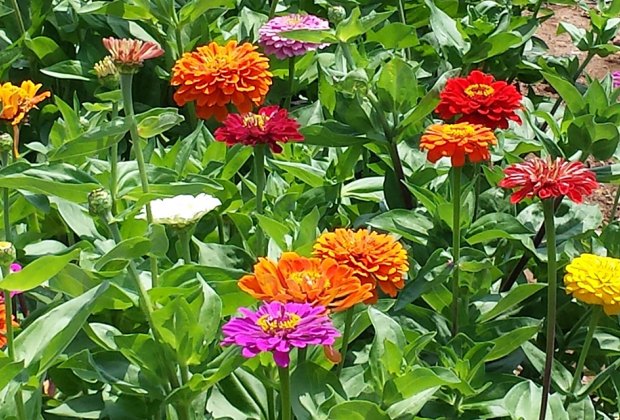 Create a beautiful summer bouquet with flowers from Melick's.
Put together a fantastic summer bouquet at Melick's, which plans to offer a wide variety of flowers this season, including sunflowers for $1.50/stem. Most other stems go for about 75 cents. Open seven days a week. No reservations needed.
This family-owned organic farm has been around for more than 20 years. The eight-acre farm offers tons of freshly picked produce and pick-your-own flowers in the summer months, such as cosmos and dahlias. Prices per bouquet.
A version of this article was first published in 2015, but it has since been revised.
Photos courtesy of the farms and orchards