Pick-Your-Own Adventures Await on the Many Gorgeous Flower Farms of New Jersey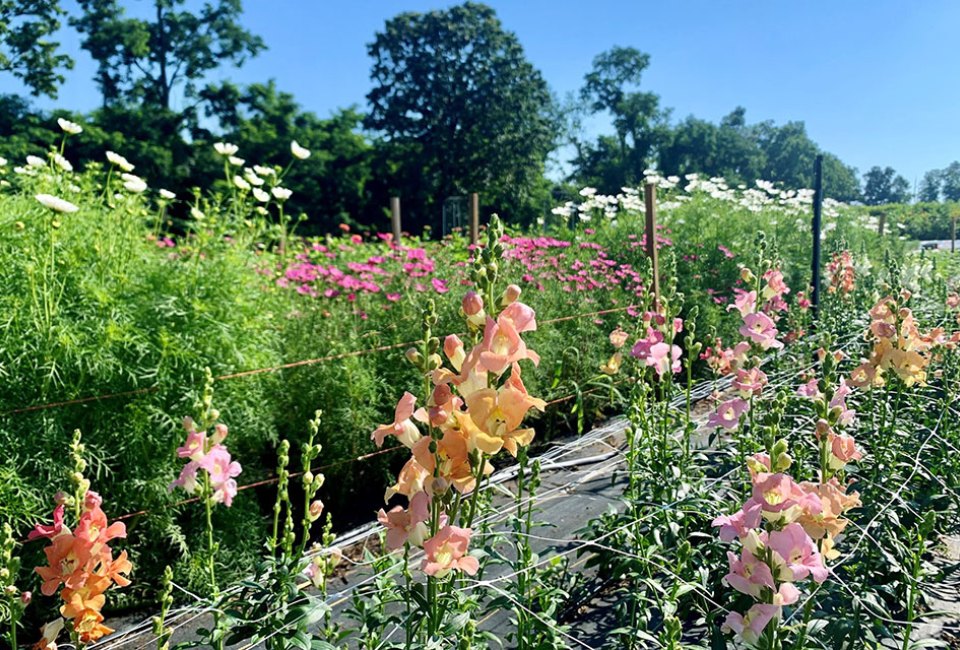 4/26/22
- By
Jaime Wisz
New Jersey is known for its bountiful farmland, and the pick-your-own-farms dotting the state offer opportunities for many hours of family fun. These New Jersey farms are overflowing with acres of beautiful flowers, including camera-ready zinnia and lavender fields. Sunflower fields in New Jersey offer a particular treat for fans of the long-stemmed plants during its long growing season, which typically lasts from mid-July through October. In the fall, some farms host sunflower mazes, sunflower trails, and even sunflower festivals. Read on for everything you need to know about spending a day of flower-picking in New Jersey and bringing home a fragrant assortment of blooms.
If your family also gets excited about picking your own produce, check out our guides to picking strawberries in late spring, blueberries and peaches in the summertime, and apples and pumpkins in the fall.
Subscribe to our newsletters to get stories like this delivered directly to your inbox.
Many farms require a refundable deposit for the use of flower cutters; save some time and bring your own, along with a large vase!
Flower Farms in New Jersey
There are numerous farms to choose from throughout the state with a wide variety of blooms available for the picking.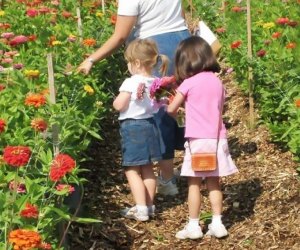 Flowers and produce are available for picking at Terhune Orchards.
You might know Terhune for its pick-your-own produce, but it also has an abundant field of flowers to choose from. Open from 9am-6pm daily, starting in late June; pick-your-own hours may vary depending on availability.
Fans of flower picking in New Jersey may already have Lew's pick-your-own offerings on their radar. Bouquet pricing can vary, but a nice one can generally be had for around $5. The farm's delightful season of sunflowers, zinnias, and snapdragons starts around the end of June or the beginning of July. Call for current picking conditions and availability: 856-234-2480.
RELATED: See Baby Animals and More at Family-Friendly NJ Farms

Create a beautiful summer bouquet with flowers from Melick's.
From July through September, put together a fantastic summer bouquet at Melick's, a great spot for flower picking in New Jersey, that plans to offer a wide variety of flowers this season, including sunflowers for $1.50/stem. Most other stems go for about 75 cents. Open seven days a week. No reservations are required, but you must bring your own clippers.
This family-owned organic farm has been around for more than two decades. The eight-acre farm offers tons of freshly picked produce and pick-your-own flowers in the summer months, such as cosmos and dahlias. Prices depend on the bouquet.
RELATED: 15 Top Farms in New Jersey for Family Entertainment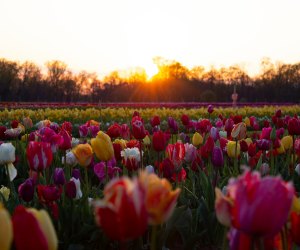 The fields are bursting with color at Holland Ridge Farms.
This flower farm has 300+ acres, making for a picture-perfect picking adventure. Its pick-your-own tulip event, which usually runs for a few weeks starting in mid-April, stands out among flower farms in New Jersey for its focus on tulips. Rows upon rows of tulips bloom during the event, and individual stems can be cut and assembled into heaping bouquets. If you miss this magic season, take note: Sunflower picking happens in the fall, too.
Make time to stop and smell the lavender at this farm in June or July. Tickets run around $20-$25 per car and include admission for all passengers plus one bouquet.
If tulips are what you're after, head to the tulip festival running through late April. Pick as many tulips as your heart desires; a bunch of 10 will run you $10. Admission is $12 per person.
Pick-Your-Own Sunflower Fields in New Jersey
The Garden State truly shines when it comes to sunflower fields. Put these fields on your list for the next time you and your family decide to gather a beautiful bouquet.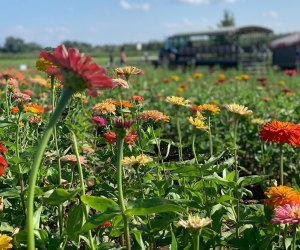 Wander through the flower fields at Alstede Farms.
Alstede Farms is a family-friendly farm with various seasonal attractions starting in late spring. It has an annual sunflower maze, with entry included in pick-your-own admission. You can also pick berries, peaches, and other produce, or enjoy the barnyard animals. Let the farm's handy "what can I pick today" page be your guide.
This South Jersey farm—and sister farm to Johnson's Locust Hall Farm in Jobstown—has a stunning sunflower field that's open to the public. In September, its evening sunflower stroll involves a wagon ride and the opportunity to pick flowers at the end. Other activities Johnson's offers include fruit picking, an animal barnyard, homemade ice cream, and more. Book advance reservations online.
RELATED: Family-Friendly NJ Alpaca Farms for a Cute and Cozy Day Trip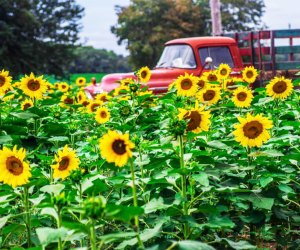 Bask in glorious fields of sunflowers at Happy Day Farm.
Bring the whole tribe to Manalapan's Happy Day Farm to pick a big bunch of yellow stems. Its sunflower field is set up with tons of fun photo props, too. Sunflower field admission is cash-only—kids under 1 get in free—and sold at the door. The fields are open mid-June through mid-August. After enjoying the fields, cool down with a shaved ice or fresh lemonade. Lavender season precedes the sunflower bloom at Happy Day, and while the fields are open for wandering, the lavender cannot be picked by the public.
Stroll the sunflower fields at Stony Hill Farms during its annual summer Sunflower Festival and enjoy live music, food, and wagon rides. One field is reserved for walking through the stalks, while the other is open for picking.
RELATED: Botanical Gardens and Arboretums With Kid-Friendly Programming in New Jersey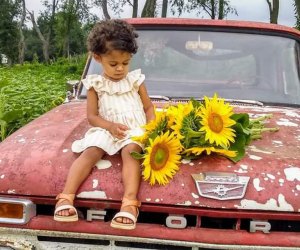 Take a sweet and memorable photo at The New Jersey Sunflower Trail at Von Thun Farms.
Walk the New Jersey Sunflower Trail at Von Thun Farms' six-acre field for a chilled-out summer vibe. The Warren County farm has one of the largest sunflower fields in New Jersey, and online reservations are available. The farm also offers summer berry picking, plus pick-your-own summer bouquets with zinnias, marigolds, and more bright blooms.
Pick-your-own flowers or hit the sunflower fields in New Jersey's beloved Long Valley farm every August and September. Daily picking options for sunflowers range from $1-$2 a stem. Weekends bring a host of other family-friendly activities, including pony rides, train rides, apple cannons, and horse-drawn carriage rides.
RELATED: Long Island's Lavender By the Bay Immerses Visitors in Acres of Fragrant Blooms

Enjoy the sunflowers at Johnson's Locust Hall Farm in Jobstown.
Johnson's Locust Hall Farm invites you to visit starting in July to pick your very own sunflowers. In recent years, the Park N' Pick tickets provided an all-access farm pass to its picking fields on Friday, Saturday, and Sunday at specific time slots. Travel along the route and make stops at the picking fields along the way. Stops include the Peach Orchard, Sunflower Patch (open through August), blackberry fields, and in late July, corn. Tickets include hayrides on the weekends.
A version of this article was first published in 2015, but it has since been revised.
Photos courtesy of the farms and orchards
Sign up for the Mommy Poppins Newsletter today!
i