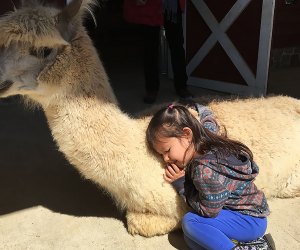 Family-Friendly NJ Alpaca Farms for a Cute and Cozy Day Trip
If you're looking to expand your barnyard repertoire beyond cows, horses, and pot-bellied pigs, the Garden State is home to plenty of family-friendly alpaca farms that offer a chance to feed, touch, and spend time with these soft and gentle creatures.
Native to the Andean regions of Peru, Bolivia, and Chile, alpacas found their way to North American back in 1984, when a small group of importers brought a carefully chosen herd to the United States and Canada. As of the end of 2018, that group had steadily grown to 20,000, spread among zoos and private farms, including more than a dozen farms in New Jersey.
Read on for five of our favorites.
Often mistaken for their bigger relative the llama, alpacas are the smallest members of the camel family. They're bred for their fiber, which is softer than sheeps' wool and can be used to make everything from hats and sweaters to blankets and scarves. Many of the farms here offer alpaca products for sale.
Arrow Acres Farm – Wall
Caring for alpacas is a family affair for Don and Dee Sherman, who own and run Arrow Acres Farm with the help of their children and grandchildren. The Shermans owned horses for 40 years before opening their Monmouth County farm to alpacas. The family welcomes visitors and encourages them to check the website for upcoming events. Families can also email or call to schedule a visit. In addition to meeting the friendly herd, guests won't want to miss stopping in the farm store, which is stocked with alpaca socks, scarves, blankets, sweaters, cardigans, hats, and more. The Shermans' daughters also offer knitting lessons in the store for those interested in learning the fiber arts.
RELATED: See Baby Animals and More at Family-Friendly NJ Farms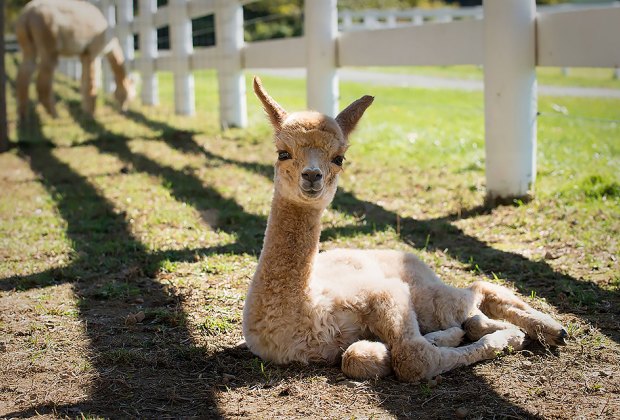 Book a tour to explore Bluebird Farm, where you can feed, walk, and pet the adorable resident alpacas.
Bluebird Farm Alpacas – Peapack
This 11-acre alpaca farm, nestled in the rolling hills of Somerset County, can be visited on weekends by appointment, which can be scheduled online. If you book a tour, expect to have plenty of fun as a staff member guides you through the Alpaca pens and fields. Families can enjoy a full sensory experience, explains farm coordinator Nick Villa.
"At Bluebird Farm Alpacas, we spin yarn from each individual alpaca. Not only can you meet, walk, feed, feel, and photograph them, you can also wear them! Here at Bluebird Farm Alpacas, we go from field to fashion," he said.
Tours are $10 for adults and $5 for kids age 11 and under. Halter training, which allows you to take an alpaca for a walk through wooded terrain or the farm's fields with a staff member using a halter and lead line, is also available when booked with a farm tour. The cost for halter training with a farm tour is $20 for adults and $10 for kids ages 8–11. If kids fall in love with an alpaca—and let's be honest, they probably will—Bluebird Farm offers a two-tiered adoption program. Through these programs, you'll receive a certification of adoption, good for one year, from your chosen alpaca and a free weekend farm visit for up to six people.
RELATED: Brookhollow's Barnyard: A Sweet Petting Zoo in Boonton, NJ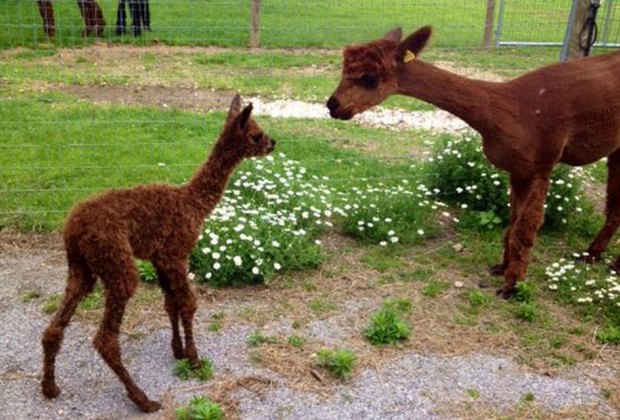 Families are welcome to stop by Edel Haus Farm from 11am–4pm on Saturdays.
Edel Haus Farm Alpacas – Wall
This family-oriented and kid-friendly farm is located in Monmouth County. The 14-acre gentleman's farm aims to be a peaceful place where people with a love of nature and animals can enjoy a brief break from the hustle and bustle of the modern world. Parties can be held on the bucolic grounds, which include a stunning two-story barn. The farm is open from 11am to 4pm every Saturday year-round. Families are invited to stop in for a visit. Local groups and classes are welcome by appointment. The farm store sells hats, scarves, socks, blankets, and even stuffed animals.
Jersey Shore Alpacas – Cape May
For more than a decade, Jim and Tish Carpinelli have owned and operated this farm, located in Green Creek, a small town near historic Cape May. From August through December, the farm is open to the public Saturdays 10 am to 4pm, no reservation necessary. The Carpinellis provide carrots so visitors can feed these friendly creatures at the fence line. While there's no charge to visit on a Saturday, the farm appreciates donations, which help support the alpacas. For a more personal experience, private appointments can be made Monday through Friday but depend on the availability of staff members. These are priced at $25 for a party of four, with additional guests charged $5 each. In addition to feeding the alpacas, you can also go into the paddock. Want to bring home a souvenir? The farm has a gift shop where you'll find high-quality clothing, including sweaters, hand-knit scarves, hats, ear warmers, and more.
Little Brushwood Alpaca Farm & Country Store – Newton
While most kids ask for ponies, if your brood is partial to alpacas, here's your chance to purchase one. This family-owned farm in Sussex County offers the opportunity to buy an alpaca. Think you don't have enough land? No worries. The farm offers owners boarding and personal mentorship with any purchase of their alpacas. If you'd prefer to start off with a visit, that's fine too. In order to ensure that guests have quality time with the alpacas, farm visits and tours are by appointment only. Interested families can book online. Admission is free for up to six guests, and groups of seven or more pay $8 per guest. In addition to its herd of alpacas, the farm raises chickens. You can purchase farm-fresh eggs in the country store, which offers an array of alpaca items and other of handmade gifts After three years of beekeeping, the farm will soon add honey to its list of farm-made products at the store.
Alpaca-loving little ones can also celebrate their birthdays at the farm. Themes include: Farm/Country, Pirate, Traditional Girl's Garden/ Tea Party, and Alice in Wonderland/ Mad Hatter High Tea Party. No matter which theme you choose, children will learn about farming, alpacas, and chickens. For more information about booking a party, visit the website.
Photos courtesy of the farms