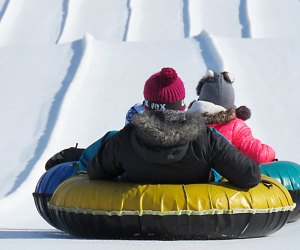 Best Snow Tubing Destinations for Families Near Chicago
When there's no snow to be found in the city or your neighborhood sledding hills are worn down to the grass, you still can find perfect slopes for snow tubing with kids in Chicago just a short drive outside the city.
Snow tubing is the perfect winter activity for the whole family; it gets everyone outside playing, and unlike skiing or snowboarding, it requires no gear. (And unlike ice skating, it requires no balance!) Everything you need to go snow tubing with kids—a tube, a hill, and snow—is provided by the parks. Just dress warmly, and you're ready for a day of snowtubing in Chicago.
Editor's note: While we are trying to promote safer activities that occur outdoors or with social distancing guidelines in place, please keep your family and others safe by always wearing a mask and maintaining an appropriate distance. If you are traveling to an activity outside of your state or local area, check on any travel restrictions, advisories, or quarantine orders.
Due to current Covid protocols, some spots have reduced capacity and require advance purchase of tickets. Outside of COVID restrictions, most sites have restrictions on how tall kids must be to rent a tube, so make sure your littles are tall enough to participate before going. Most places require participants to sign a waiver, which can often be downloaded and signed in advance. Waterproof clothing, sunglasses or goggles, and helmets are recommended.
OUR LATEST VIDEOS
40 minute drive from Chicago
The Blackwell Forest Preserve in Warrenville has well over 1300 acres of natural beauty and is one of the most spectacular spots for winter activities in Chicago. Once there's enough snow on the ground (usually at least 3 inches), Mount Hoy opens for an 800-foot slide down the hill. Inner tube rentals are at the base of the hill and are $10 per tube per day, and only these tubes are allowed on the hill. The hill is open weekends and school holidays (January 15 & 18, February 15 & 26) through February 28 from 10am to 4pm (last tube rental is at 3:30pm).
Covid-19 safety measures: The Forest Preserve District of DuPage County requires that all visitors practice social distancing. For a detailed list of what is currently open and closed (most flush toilets remain open), along with a list of recommended CDC best practices, check the park website.

Take a magic carpet ride to the top of the hill, and come flying back down at Villa Olivia.
60 minute drive from Chicago
Boy oh boy is the snow tubing at Villa Olivia popular. New this year, reservations are available online and we strongly suggest you make them, as they have been selling out. Tickets are good for two hours of all-you-can-tube time, and range from $20-$26 for kids 6 and up (and over 42 inches). Kids that are 4 and 5 years old may ride along with a paying adult for $7. Fees include tube rental and rides up the magic carpet to the top of the hill. Everyone hitting the hills must sign a waiver (which can be printed and signed at home). Day tubing is available weekends and holidays from 9am-5pm, and evening tubing takes place Thursday through Sunday and holidays from 5 pm-9:30pm.
Covid-19 safety measures: Villa Olivia requires that face masks be worn at all times. Check the website for the most current information before you go.
RELATED: Chicago Winter Fun Guide

Have a snowy blast at Wilmot Mountain.
75 minute drive from Chicago
Halfway between Chicago and Milwaukee, this mountain has a big tubing area with 22 lanes and two surface conveyors. About half a mile from the main ski lodge, the tube runs have a separate snack lodge and deck for taking a break. Rentals are available weekdays from 4pm-9pm and holidays and weekends from 9am-9pm. Kids must be 42 inches tall to go tubing, and only one person is allowed per tube. (But up to 4 tubes can link together for a ride down the mountain!) All participants must book a reservation ($37 per person for the day) in advance, and must sign a waiver, which can be done when purchasing tickets online.
Covid-19 safety measures: Face masks be worn at all times, and no indoor seating is available. A new reservation system is in place to limit the number of guests allowed and reservations are required. Check the website for the most current information before you go.

Sunburst claims to be the largest tubing park in the world, and it sure looks it.
120 minute drive from Chicago
Yes, we just called Wilmot's 22 lanes big, which makes Sunburst Winter Sports Park massive, with all of 45 tubing chutes. In fact, it claims to be the largest tubing park in the world. The chutes have a 90 foot drop in elevation, and Sunburst says riders can reach speeds of a thrilling 30 mph. The rules here are simple: tickets are $20 for everyone (that's for 2-hour sessions on weekends and holidays, and from 4pm-8pm Tuesday through Thursday), kids must be 42 inches tall to ride, tickets are only available for purchase on site, and everyone signs a waiver when you get there. We have heard reports that it can get very crowded here, and lines can be long, so prep kids to keep masks on and stay together as a family this winter.
Covid-19 safety measures: Sunburst has a three part approach to safety this winter: masks, social distancing, and frequent disinfecting.
RELATED: Best Ski Spots Near Chicago for Families and Kids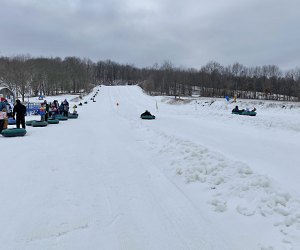 Timber Ridge is a perfect first safe tubing adventure for families with young kids.
145 minute drive from Chicago
This family-friendly Southwest Michigan ski slope, terrain park, and snow tubing area has something for outdoor winter sports enthusiasts of all ages and ability levels. The snow tubing area has only 3 lanes, but they're gentle and fun for the whole family (well, anyone in the family who is over 5 years of age and at least 42 inches tall). Tubes are available on a first-come, first-served basis, and $20 gets you the tube lift and tube use for 2 hours. (For $10 you can rent a helmet to use while tubing.) The slides are open Wednesday through Friday from 1pm-9pm, Saturdays and holidays from 10am-9pm, and Sundays from 10am-7pm. The warm up hut is not open this year, so take heat breaks in the car, and bundle up!
Covid-19 safety measures: Face coverings are required in most locations, and social distancing must be maintained in all lines and indoors. No indoor eating or drinking is allowed and there are several locations for grab and go food. Check the website for the current policy.
RELATED: The Best Sledding Hills in and around Chicago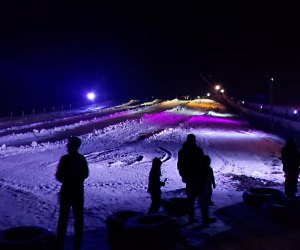 The only thing better than tubing? Night tubing with brightly colored snow lights at Snowstar.
3 hour drive from Chicago
While this spot is a bit more of a trek from Chicago, if you need a winter weekend getaway, the short lift lines, family atmosphere, and required reservations means this spot is a good one for young kids, or if some of the family wants to ski and others want to tube. Also, this is the only place on our list that is for kids 3 and up (riders must be able to safely hold onto a tube and ride alone). $20 gets you 2 hours to use a tube and ride up the hill on the magic carpet lift. Everyone has to sign a waiver to hit the hill, and it is open daily, with reservations taken only by phone.
Covid-19 safety measures: Capacity limits are in effect. All visitors are required to observe social distancing rules and wear masks at all times.
Photos courtesy of the mountains/parks