Best Stroller-Friendly Hikes and Trails Near Chicago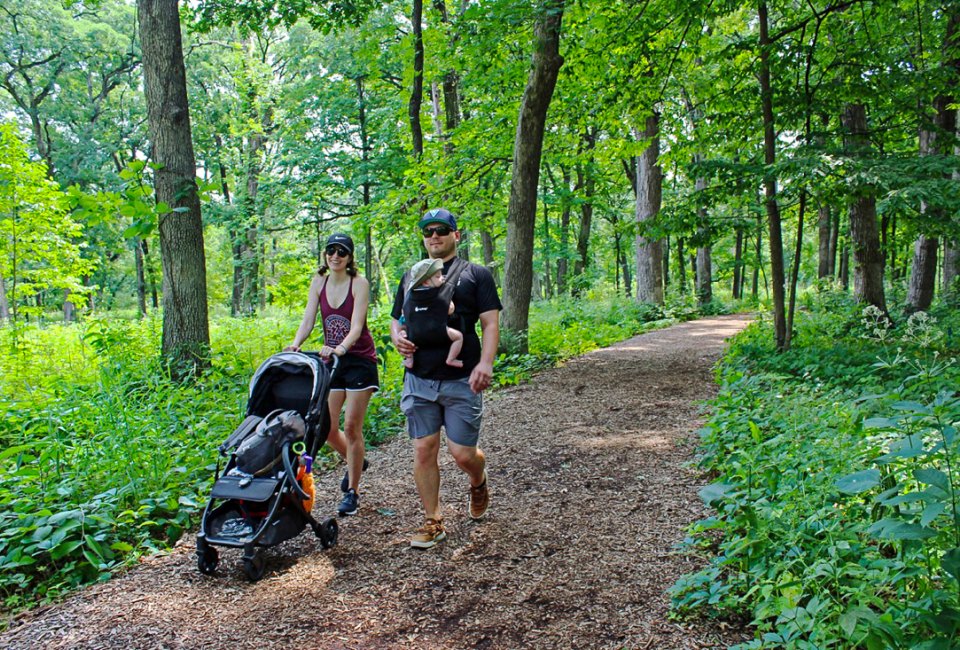 4/7/23
- By
Lauren LaRoche
Stroller hikes allow us to get in some exercise and scenery without carrying a three-year-old all the way back to the car. If you've ever been hiking with little kids, you know that having a backup for when their legs get tired is as important as bringing snacks. We've rounded up a few of our favorite kid-friendly stroller hikes to help you out. These hikes swap steep inclines and rocky terrains for smooth, paved, or gravel surfaces that make it easy to push a stroller with kids. You'll get your steps in while taking in beautiful sights and the kids get outdoors, away from screens. These strolls are perfect for littles still in a stroller and siblings who want to get their wiggles out without the need for hiking gear.
Looking for more kid-friendly fun outdoors? Check out our round-up of kid-friendly hikes for after the stroller days come to an end and this list of best outdoor adventures for kids.
Best Stroller Hikes in Chicago

The 606 in is an easy stroller hike in Chicago. Photo courtesy of The 606 Trail
The 606, also known as the Bloomingdale trail, is a paved path that goes from Bucktown to Humboldt Park in the city. You'll find miles of paved trail to push your stroller or wagon high above the hustle and bustle of some of Chicago's most iconic neighborhoods. Along your path you'll find wildflowers and native grasses in full bloom throughout the spring, summer, and fall months. Hop off for a Coffee at Ipsento (Milwaukee Avenue exit) or grab a slice of pie at Bang Bang Pie & Biscuits (California exit).
One of the coolest features of our great city is the 18-mile trail that runs along Lake Michigan through countless neighborhoods and city landmarks. There are no cars to worry about as you push your stroller down a paved path along the beautiful shores of Lake Michigan. You can hop on or off the path anywhere from the far north side to the south side.
Best Stroller Hikes in the Chicago Suburbs
Spanning the 3 cities of Glenview, Morton Grove, and Skokie are Harms Woods. These 250-acre woods gives you plenty of scenic trails, nature, and smooth surfaces that are perfect for strollers and wagons. The trails even run into parts of the Chicago River.

The Morton Arboretum has 16 miles of stroller hike options. Photo courtesy of the Morton Arboretum
The Morton Arboretum in Lisle is one of the best places for a stroller hike. There are 1,700 acres and 16 miles to explore. You'll find paved walking paths and even wood-chipped trails that are still easy to push a stroller through.
Waterfall Glen features a variety of terrains to walk through. The 2,492-acre forest preserve was actually created from the melting of the Wisconsin Glacier. The park boasts 11 miles of turf or limestone-covered paths that a stroller can easily tackle. There are 4 different route options available which include lookouts of quarries and a man-made waterfall.
The Illinois Prairie Path spans from Aurora to Elgin and Oak Park. There are parking lots at trailheads, including Aurora, Wheaton, Villa Park, Maywood, Northwoods, and Elgin. There is also plenty of street parking in other towns along the path. The entire Prairie Path is paved or made of crushed limestone that is easy for a stroller to navigate. Along your journey, you'll find natural grasses, prairie flowers, birds, artwork, and indigenous plants. Choose from a variety of on and off points with parks, coffee shops, ice cream, tacos, and more.
Just over the border of Wisconsin, you'll find a massive forest preserve created by the Wisconsin Glacier. There are 6 different ecosystems here with rivers, swamps, bogs, lakes, and beaches. In addition to mountain biking and more expansive hiking terrains, there are plenty of stroller-friendly paths available. This huge state forest has something for everyone.

The Geneva Lake Lakeshore Path has paved and unpaved portions on its 26 miles of walking path. Photo by Lauren LaRoche
In less than an hour and a half from Chicago and the surrounding suburbs, you'll find Geneva Lake. This lake has a unique 26-mile walking path that spans the entire lakefront. While not all of it is paved, there is a mile-long paved stretch from each major town along the path. You'll find paved areas for strollers in Lake Geneva, Williams Bay, and Fontana.
Click Here to Sign Up!