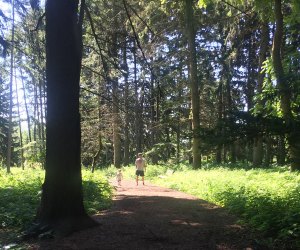 Best Places to Hike Near Chicago with Kids
Looking for a fun family outing that's outdoors, close to home, and doesn't break the bank? Hiking with kids in one of Chicago's forest preserves or parks is a great way to get everyone outside, and there are many shady trails where you can beat the heat while getting some exercise.
We've rounded up 14 of our favorite Chicago-area hiking spots, all within an hour's drive of the city, for a perfect family day trip. While some hiking trails may be better suited to bigger kids who can walk a mile or more on their own, plenty of these paths are stroller friendly—in fact, we've hiked a few with two preschoolers in a double stroller. Who knows, maybe a local hike will inspire your family to take a trip to a national park this year or next.
Places to Hike with Kids in Chicago
North Park Nature Village
For a taste of nature without leaving the city, Chicago families can visit North Park Village Nature Center. The 46-acre nature preserve has trails that display the areas woodland, wetland, prairie and savanna. Kids may also enjoy the Walking Stick Woods natural area designed for outdoor nature play.
Cantigny Park has paved or gravel trails that are easy on strollers. Photo by Maureen Wilkey
Places to Hike with Kids West of Chicago
Morton Arboretum
Aside from the much-lauded Troll Hunt exhibit, Lisle's Morton Arboretum offers walking and hiking options for kids of many ages and abilities. The fully paved mile-long Meadow Lake trail is perfect for walking with a double stroller, while more intrepid adventurers can explore collections of trees and plants from all over the world. Programming is also starting to pick up at the Arboretum again post-COVID-19, with themed Woodland Family Hikes led by Arboretum staff in the latter half of July.
Fullersburg Woods
More than three miles of scenic trail erupt in color with flowers in spring and autumn leaves in the fall. Along the path, families may see geese, toads, beavers, foxes, herons, or egrets. The historic Graue Mill and Museum, a man-made waterfall, and the Fullersburg Woods Nature Center, home to real woolly mammoth bones found in DuPage County, are fun stops along the way.
Cantigny Park
History and nature converge at Cantigny Park in Wheaton. Along paved or gravel trails, families can explore the rose garden, key hole garden and gold pond garden. Many kids' favorite is the tank park, where they can check more than a dozen real army tanks. When COVID-19 restrictions are lifted, kids may even be able to climb on the tanks again. A construction project to renovate the prairie garden, idea garden, and camp sites currently has these parts of the facility closed, but they are expected to open again in 2021.
Waterfall Glen
This 2,300-acre nature preserve is home to a nearly 10-mile trail loop best traversed by bigger kids and adults. Smaller kids might enjoy an orienteering course for beginners through advanced compass-handlers. Park in the Bluff Road parking lot to access the namesake Rocky Glen Waterfall via the Rocky Glen Trail. Not all areas are stroller friendly, but a short out-and-back hike could introduce kids to the forest and prairies of the park.
Knoch Knolls/DuPage River Park
Pools and splash pads may be closed for the summer, but kids can get their feet wet in the DuPage River in Knoch Knolls Park. The park's 5.5 miles of trail connect it to DuPage River Park to the south and east. The DuPage River runs through both parks and lends itself to canoeing and kayaking. At one boat launch, kids can wade a short way into the water. Sporty families can also enjoy the park's 18-net disc golf course.
Herrick Lake Forest Preserve
Families looking for a short stroller jaunt around the lake or groups looking to embark on an 8-mile excursion may like Herrick Lake, one of just two glacier formed lakes in DuPage County Forest Preserves. The lake itself leads into a forested hiking trail and then a prairie landscape with paths extending into neighboring Danada Forest Preserve to the east. Fishing and boating are allowed on the lake, and trails are well-marked and easily walkable for kids of all ages.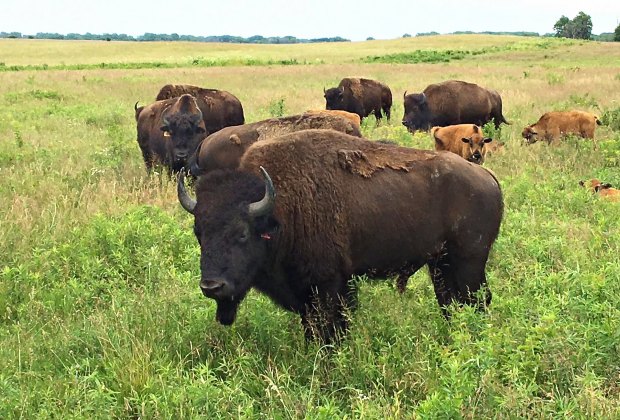 Kids may spot bison on the Midewin National Tallgrass Prairie. Photo courtesy of Forest Service, Eastern Region
Places to Hike with Kids South of Chicago
Little Red School House Nature Preserve
Families can explore 2.4 miles of trails along with an accessible garden for people of all abilities at this southwest suburban nature center. The namesake schoolhouse was built in 1886 and served as a classroom building until 1948. Naturalists are leading family exploration walks and talks about various creatures in the park like honey bees, birds and flies.
Midewin National Tallgrass Prairie
The USDA's Midewin National Tallgrass Prairie in Wilmington is home to a bison repopulation project, allowing kids to see the animals that once roamed the Great Plains. The 13,000 acre site includes more than 21 miles of trails. Families can download a brochure from the website to find selected paths that may work out best for them. Included on the trails are a World War II era portable bridge, a turtle pond, and two historic farmsteads to explore.
Lake Katherine Nature Center and Botanic Gardens
A man-made waterfall is the highlight of this southwest suburban nature center. The park's 85 acres include and herb garden, butterfly garden, children's forest, nature play area, pollinator restoration area, and overlooks onto the waterfall and canals.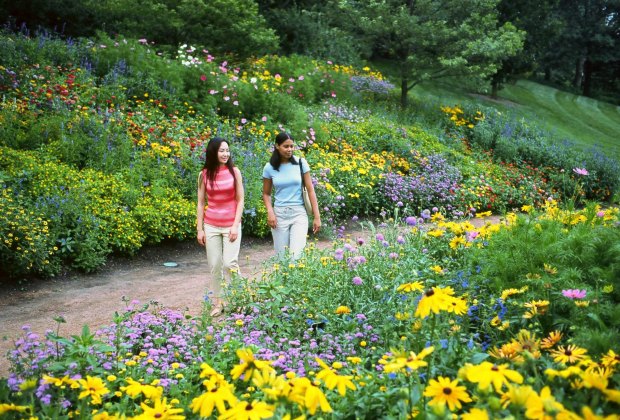 Kids can explore the children's garden or sensory garden, among others, at Chicago Botanic Gardens. Photo courtesy of Illinois Office of Tourism
Places to Hike with Kids North of Chicago
Busse Woods
Trails from one to seven miles meander through prairie, forest and even an elk pasture in this northwest suburban forest preserve. Families can go boating or fishing, enjoy a picnic, or search for a wide variety of wildlife including herons, egrets, terns, minks and muskrats.
North Branch Trail
This 36-mile trail system connects the Northwest Side to the Northwest Suburbs, starting in LaBagh Woods near Foster and Cicero and ending at the Chicago Botanic Gardens in Glenwview. In between, hikers and bikers can visit Caldwell Woods, Harms Woods Nature Preserve, and the Skokie Lagoons for fishing and boating. The Forest Preserve District of Cook County has several recommended hikes that for varying abilities and levels of adventurousness.
Chicago Botanic Gardens
Gardeners and aspiring gardeners can get ideas from the Chicago Botanic Gardens. Kids can explore more than 40 displays from the Aquatic Garden and the Children's Growing Garden to the Sensory Garden and the Waterfall Garden. Admission is $25 per car on weekdays and $30 per car on weekends to the recently reopened park. Reservations are required until further notice.
Skokie Northshore Sculpture Park
More than 60 unique sculptures adorn McCormick Boulevard between Dempster Street and. Touhy Avenue next to the Chicago River. While tours are on hold during the COVID-19 outbreak, families can print out a self-guided tour from the park's website before their visit. The park educates young learners about art, and even includes art from local high schoolers.
Independence Grove
This 1,114-acre forest preserve includes seven miles of trail centered around a 115-acre lake made from a reclaimed quarry. Trails provide views of a forest and native garden. While the lake is closed for swimming this year, visitors can enjoy swimming and boating on the grounds.