20 Best Summer Day Trips From Chicago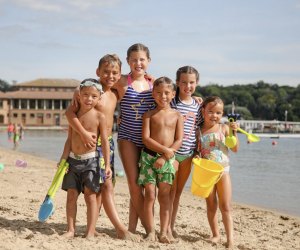 After a year at home, it's time to hit the open road! While getting out of town for a week (or even a weekend) can sometimes be impossible, just a day away can refresh and recharge. We've gathered up 20 summer day trips from Chicago that have kids in the car for a couple of hours (or less) and still offer up a change of scene and plenty of fun. From beaches to hikes to slides, we've rounded up some fun-filled day trips away from the city for the whole family to enjoy.
For more local trip ideas check out our Midwest Travel Guide or our list of the Best Lakeside Resorts for Families.
Beach Day Trips from Chicago

Illinois Beach State Park photo courtesy of Peter Ciro Photography
1. Illinois Beach State Park
The name of this state park may be a bit misleading as it is one of the only beach-ridge shorelines (a ridge created by sediment piled by waves long ago) left in the state. It is home to 6.5 miles of sandy shore and recreation areas, with dunes, swales, marshes, and forests. Illinois Beach State Park has interesting examples of Illinois wildlife like prickly pear cactus, prairie grasses, and cattails. Families can swim, boat, picnic, hike, fish, or camp in the park.
2. New Buffalo, Michigan
Relax on one of Lake Michigan's popular beaches in New Buffalo, Michigan, a small town just north of the Indiana border. Families can rent paddleboards, kayaks, and tubes for lake and river recreation. Kids might also enjoy picking blueberries in July––there are several pick-your-own farms nearby––or exploring lighthouses along the coast.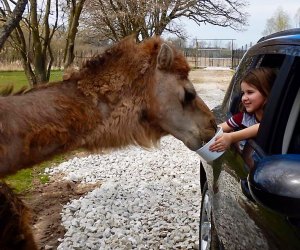 Feed a variety of wild animals at the Safari Lake Geneva drive-through zoo experience. Photo courtesy of Safari Lake Geneva
3. Lake Geneva, Wisconsin
Just 90 minutes from Chicago, Lake Geneva has plenty of quiet shores and quaint shopping, as well as outdoor adventures and water sports for families to take in. Families can go tubing, ziplining, hiking, biking, waterskiing, or golfing at this large resort community. Families may also enjoy Safari Lake Geneva, a drive-through zoo experience in which families can feed a variety of wild animals from alpacas to yaks (online reservations required).
4. Indiana Dunes National Park
Enjoy 15 miles of Lake Michigan shore at Indiana Dunes National Park. The Dunes have several hiking trails, a boardwalk, and historic sites to tour. The most adventurous families can also spend the night at Dunewood Campground.
5. South Haven, Michigan
The charming Michigan beach town of South Haven offers beaches along Lake Michigan, a walkable downtown with shops and restaurants, nature trails, boat rides, and even golfing and a wine trail for the grown-ups. Plenty of rental properties offer swimming pools for families, making this Chicago day trip easy to turn into an overnight weekend getaway.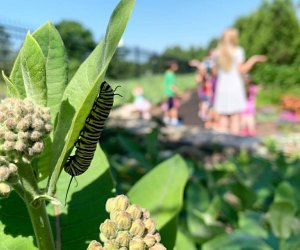 The Sweet Bookworm Garden has 70 gardens each with a theme from classic children's books. Photo courtesy of the garden
6. Kohler and Sheboygan, Wisconsin
In addition to swimming or boating in Lake Michigan, kids may enjoy two special gardens in the areas of Kohler and Sheboygan, Wisconsin. The sweet Bookworm Garden in Sheboygan features 70 different gardens with themes from classic children's books. (Book your timed entry online.) Tellen Woodland Sculpture Garden hosts statues of 30 historic religious and mythic figures. Kids may also be able to celebrate bathroom design with Kohler's museum and factory tour (for those who take potty humor seriously).

Bike through Kettle Moraine State Forest. Photo courtesy of the state
Outdoor Day Trips from Chicago
A hike through one of our nearby state parks is among the best day trips near Chicago for families. We're lucky to be surrounded by a variety of parks, water, and more outdoor activities on all sides. Read on for a sampling of where to take the kids.
7. Kettle Moraine State Forest
Kettle Moraine State Forest is located in Southern, Wisconsin. Just a 2.5-hour drive from Chicago, you'll find 22,000 acres of glacial hills, prairies, forest, and kettle lakes. The views here will make you think you've traveled days away from the city. If your kids love hiking, nature walks, and picnics, this spot is for you. There's also a state campground if you'd like to spend the night or make a weekend out of it. You'll also find fishing, boating, kayaking, and swimming, and horseback riding in parts of the state forest.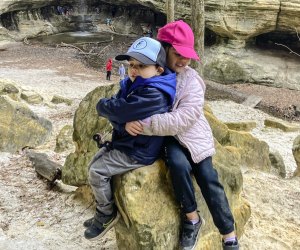 Starved Rock photo courtesy of the author
8. Starved Rock
Get ready for some serious hiking at Starved Rock State Park's 13 miles of trails complete with waterfalls, sandstone overhangs, and spectacular overlooks. Families can also enjoy fishing and boating, or a stay at Starved Rock Lodge in luxury lodging or cabin rooms. The park is rich in Native American history, so kids can also learn more about the Illinois tribe and French explorers Louis Jolliet and Father Jacques Marquette throughout the lodge and park.
9. Morton Arboretum
The 1,700-acre Morton Arboretum is home to more than 222,000 live plants––and seven new sculptures from South African artist Daniel Popper.The Human+Nature sculptures are 15 to 26 feet tall and up to 37 feet along the ground. Each shows a different way humans and nature, specifically trees and plants, are connected through combining images of humans and trees. Unlike the previous Troll Hunt exhibit, all of the Human+Nature sculptures are within a mile walk of either the Visitors Center or the Thornhill Education Center, and all are along woodchipped or paved paths, so this exhibit is easy to navigate, even with the smallest of kids. The suburban spot requires advance timed tickets to visit.
10. Brookfield Zoo
The Brookfield Zoo is an amazing local treasure for any animal lover. The 216-acre zoo features bears, big cats, pachyderms, and dolphins.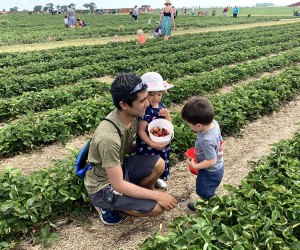 Head to a berry patch with your little ones and let them do the picking! Photo by the author
11. Berry Picking
Head northwest or southeast to pick strawberries, blueberries, raspberries, blackberries, or even gooseberries at these nearby farms. Berry picking can take several hours with preschoolers, but to make the trip a whole day adventure with bigger kids, pair it with another day trip near Chicago, such as the drive-in movie in McHenry, Indiana Dunes National Park, or New Buffalo, Michigan.
12. Drive-in Movie at Golden Age Cinema in McHenry
OK, this isn't completely outdoors as you'll be in your car. But movies screened at this outdoor drive-in movie theater happen every night at 6:30pm in far Northwest Suburban McHenry for a summer treat. The drive-in theater features classic and new films for $6 per child and $12 per adult. Snack carts on-site offer a variety of movie concessions.

Get out and hear some live music and the Ravinia Festival.
13. Ravinia Festival
Raise your hand if you missed live music! If you and your family have been waiting for the return of live music, you're in luck. Ravinia Festival in Highland Park is a wonderful outdoor concert venue for the whole family. The venue is completely outdoors so there is plenty of room to spread out and let the kids move around. One of the best parts is that you can bring your own picnic blanket, food, and drinks as well. Highland Park is just a short drive from the city on Lake Michigan. On concert days, you can also show your tickets and ride the Metra for free.
14. Water Parks
On a hot summer day, a road trip to a water park is sure to be a hit. For some great water parks that are all less than an hour from the city, check out our round-up of the best outdoor water parks in Chicago. This list features drop slides, tube slides, water roller coasters, and smaller splash zones for little swimmers.

Visit the Milwaukee County Zoo to see over 2,100 mammals, birds, fish, amphibians, and reptiles. Photo by the author
Cities and Towns near Chicago That Make Easy Day Trips
15. Milwaukee, Wisconsin
Less than two hours away, Milwaukee is a favorite day trip from Chicago for families. It offers many options for kid-friendly entertainment. (Fun fact: the Milwaukee County Zoo has elephants, which neither Chicago zoo has on display.) Kids and adults may enjoy a tour of Sprecher Brewing Company, where kids can see how soda is made and adults can learn more about beer—with a few age-appropriate samples for both kids and adults. Milwaukee Public Market provides lots of options for local favorite foods and treats.
16. Rockford
Rockford, the third-largest city in Illinois, has plenty of nature and water adventures for families. Kids can learn to wakeboard, kayak, or paddleboard on the Rock River from Rocktown Adventures or West Rock Wake Park. Hiking excursions along the Rock River Trail or a day trip to the Nicholas Conservatory Gardens might be a better speed for less aquatically inclined families. The Burpee Museum of Natural History is open daily and is a great place to visit with kids.

Photo courtesy of the Wonder Works Children's Museum, Facebook
17. Oak Park
This near western suburb of Oak Park is worth the short trip from the city––families could even take the L or the Metra at off-peak hours. Architecture-loving families can once again enjoy interior tours of the Robie House and the Frank Lloyd Wright Home and Studio or walk around the town to enjoy the buildings' exteriors. The Oak Park Conservatory also offers a natural respite from the hustle and bustle of the city (though note that it is closed every Monday). Wonder Works Children's Museum can give little kids the classic museum experience without the congestion of Navy Pier. Stop by Junction Diner for a train-themed lunch (it's also closed on Monday; maybe don't visit Oak Park on a Monday!) and Peterson's Ice Cream for an old-fashioned treat.
18. Naperville Riverwalk and Downtown
For a slightly smaller town feel and to get kids out of the city, families can take a Metra ride or drive out to Naperville, Illinois. The Western Suburb's Riverwalk offers almost two miles of brick paths with fountains, bridges, and outdoor sculptures. Along the River Walk, visitors can rent paddleboats, paddleboards, or kayaks for a water adventure in the quarry. Downtown Naperville also has several family-friendly shops and restaurants including Anderson's Bookshop and Sweet Home Gelato.
19. Long Grove
Historic Long Grove, Illinois is a quaint small town located less than an hour from downtown Chicago. With multiple festivals a year including Strawberry Festival, Irish Fest, and Apple Fest, there's something for everyone. You'll find vintage boutiques, bakeries, coffee, ice cream, and adorable small shops. On summer nights, you'll also find live music and kids' carnivals. Check out the city calendar for a list of 2022-2023 events.

Spend the day in charming Galena.
20. Galena
Galena, Illinois is a small town located off the Mississippi River about 2.5 hours from Chicago. From hiking to kayaking, there is something for every adventure-lover in the family. There's also boutique shopping, vineyards, scenic hills, quaint shops, and restaurants in addition to the endless amounts of outdoor fun. The town is located on an inlet of the river that makes for great canoe and kayak rides with kids. There are also several nearby places to golf, rent scooters or bikes, and ski in the winter months.