Visiting Starved Rock State Park With Kids: Things To Do, Places To Stay, and More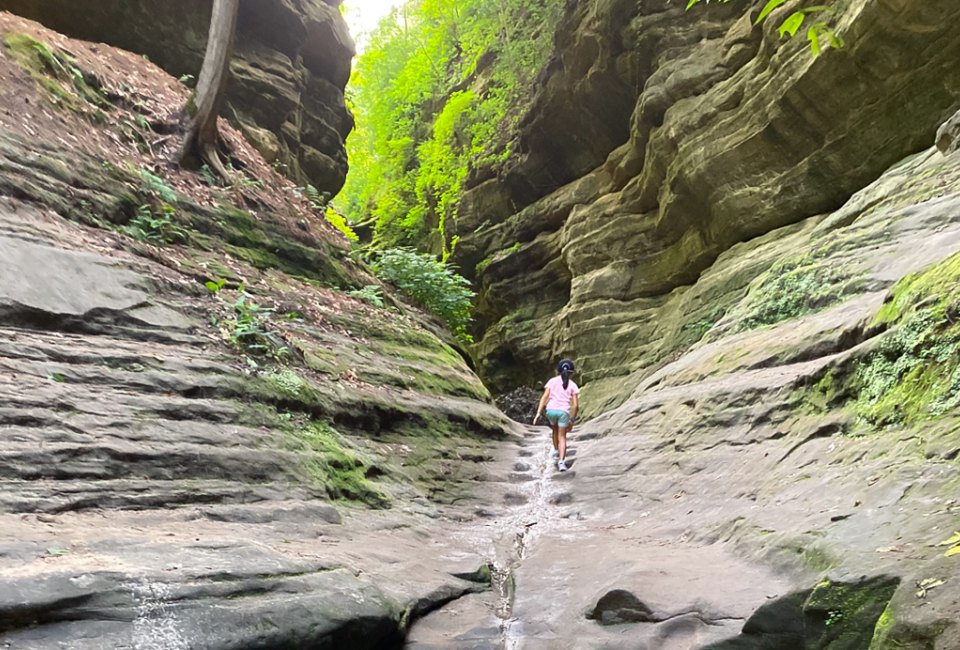 8/18/23
- By
Maureen Wilkey
Located just 90 miles from Chicago, Starved Rock State Park is there for when Chicago families need to get away from school and screen time and head to the great outdoors for the weekend. The state park is one of several just a 90-minute drive southwest of Chicago, but once you leave the area officially considered the suburbs, you may feel like you're in a different world.
In addition to the wealth of hiking, there are unique places to stay and interesting restaurants to keep our kids entertained for a weekend trip. We also love that we can plan a vacation here at the spur of the moment. Each time we've gone, we have found lodging with less than two weeks notice.
Here's what our family likes to do at and around Starved Rock State Park. For more outdoor family fun, check out our State Parks Near Chicago to Hike, Camp, and Swim with Kids.
Places To Hike With Kids In Starved Rock State Park
1. Starved Rock
The largest parking lot at Starved Rock is near the lodge, which is about two flights of stairs up from the Visitors Center. This is a great starting point for hikes for families of all ages, but especially those with little kids. Ask a ranger or volunteer what the best hikes are for your specific family needs before you leave the center. The easiest hike is around Starved Rock itself. Within a third of a mile on boardwalks and leveled trails, you can read the legend of Starved Rock and see views of the Illinois River and native landscape. Most kids will be able to do the walk by themselves and feel encouraged to go on the next larger hike.
Kids will love finding waterfalls on their Starved Rock hikes.
2. French Canyon
After completing the loop around Starved Rock, we like to head out to French Canyon. This is a little under half a mile with some slightly rough terrain. You can stop at the mouth of the canyon, or hike in to see a small waterfall if it's been raining recently. You may have to jump over a small stream, which may be tough for some of the littlest kids, but it's a lot of fun if you can make it happen.
3. Lovers Leap and Eagle Cliff
Boardwalked trails make the hikes from French Canyon to Lovers Leap (.7 miles from the lodge) and Eagle Cliff (.8 miles from the lodge) easier for kids. Be prepared for a few long stretches of stair climbing, but the views are worth it when you get to the top to see these two scenic overlooks of the Illinois River. From Eagle Cliff you can see boats operating through shipping locks, which is an interesting view for little vehicle lovers. This was our turnaround point on our first trip when our kids were 4 and 6—you can choose to take a more rugged trail back to the lodge from here, or continue back along the boardwalked path back to your car. The trail allows more detailed looks at nature, but may be a little more challenging for younger legs.
Try an educational tour to learn more while you hike in Starved Rock.
4. Council Overhang, Ottawa Canyon, Kaskaskia Canyon, and Illinois Canyon
Not every hike has to start from the lodge. In our favorite recent hike, we parked at a lot along Route 71 several miles east of the Visitors Center and hiked in to Council Overhang, Ottawa Canyon, and Kaskaskia Canyon. Council Overhang is about a quarter mile from the parking lot with a few small inclines along the path. The sandstone formation looks like an open cave and was once used for tribal gatherings and ceremonies. If you book a tour, guides will tell you more about how the sandstone forms and what functions the space served for Native Americans. From the overhang, you can hop a creek and travel another quarter mile to see Ottawa Canyon. This is one of the most active waterfalls in the park, and kids can explore the water from behind under the arch of rocks. Trek back to the creek you hopped and take another fork to go to Kaskaskia Canyon. This is a smaller waterfall that's a little more embedded in nature—you'll have to jump some streams and logs to get there. Our kids liked looking for fish and tapdoles in the water and listening to the sound of the waterfalls as they came down.
After you hike back to the parking lot along the same path from Council Overhang, you can take another hike from the opposite end of the parking lot to Illinois Canyon. It's about a half mile from the parking lot, but the only way to get back is the same way you came. Our kids were done after the first three landmarks, so our goal is to make it to Illinois Canyon next time.
5. St. Louis Canyon
We got to see this one on a trolley tour on one of our trips. It's just over a half mile from the parking lot with some stairs and areas where you'll be walking on a narrow path along a ledge, so stay single file or with the grown-up on the outside. This is the only spring-fed waterfall in the park, and it's huge! Kids enjoy climbing into the small inlets under and to the sides of the waterfall. It can get muddy or sandy, but our kids felt accomplished after making this hike. We also liked learning about the flora and fauna along the way from our guide. For grown-ups who are true crime fans: watch the HBO documentary The Murders at Starved Rock before visiting here.
Hiking in Starved Rock State Park.
6. LaSalle Canyon and Owl Canyon
Here's our major hiking fail: We visited on the hottest day of the year this summer and decided to try to make it from the Parkman's Plain parking lot to LaSalle Canyon between 7 p.m. and sunset. I made a miscalculation and thought it would be under a mile to the canyon; it was closer to 1.3 miles. However, if you have the time, LaSalle Canyon is the most photographed waterfall in the park. The hike takes you along the Illinois River and past many beautiful rock structures. Owl Canyon, on the way to LaSalle, is stair heavy and interesting to look down into from the trail. Definitely a goal for next time with more than 75 minutes before we have to move our car!
This state park is just a few miles away from Starved Rock, and while it's definitely smaller, there's still plenty to do there. We hiked parts of the Dells trails loop, which is around 3 miles total and included aptly named landmarks like the Devil's Paintbox, where brown and reddish water wells up from the ground, and the Giant's Bathtub, a canyon with a shallow waterfall. There are some places in the Lower Dells where you have to walk across stepping stones over water, which can be difficult for the shorter kids. At the height of summer, you can also make the hike to the sunflower fields in the park's Vermillion River Area. The Vermillion River Area has another 1.9 miles of hiking that is little less scenic, but also less hilly.
Just to take a look at something different, we checked out this smaller nearby state park. The highlight is definitely the three live bison that live in an enclosure close to the park's entrance. We hiked the Effigy Tumuli trail, which is home to five effigy mounds built in the shapes of different animals. The nearly 2-mile trail is mostly in the sun, and it's hard to picture the shapes of the animals just from walking beside them. There's also a shooting range just outside the park, which makes this not quite as relaxing as the other trails. If you need a break from heavy hiking, take a look at the bison, but this wouldn't be our first choice for a half-day hike.
Where to Stay Near Starved Rock
This rustic hotel and its accompanying cabins are the obvious choice. They were built in the 1930s as a public works project and are still operational today. The hotel rooms are basic and include an "old-timey" TV and phone that our kids got a kick out of. Cabins, sans TV, are available for two or four people and are located just outside the lodge. Both have access to the pool and restaurants on site, and you can borrow board games from the lodge to make for a fun screen-free night. Cabins book up a year in advance for popular weekends, so make sure you pick your dates early.
Our Getaway tiny home.
Our son declared these tiny houses "better than Disney World." Each 150 square foot mini cabin has a bathroom with stand-up shower and toilet, a kitchen area with a two burner stove, a sink, a kettle, a pot, a pan, metal dishes, mugs and cups, a small table for dining and writing, two chairs, and a bench that leads up to either one queen bed or queen bunk beds. Outside, a firepit, picnic table, and four Adirondack chairs complete the accommodations. The cabins are heated and air conditioned. This is the perfect compromise between camping and the lodge.
If your family is into actually roughing it, there are more than 100 camp sites at Starved Rock just south of Wildcat Canyon. They can be reserved six months to four days in advance on the Department of Natural Resources website. Bring your own tent, and use the campground's pit toilets and shower houses. This is truly getting away from it all if your family is outdoorsy enough to give it a try!
If you're more of a luxury vacation family, the Grand Bear Resort may be for you. From standard suites to a grand cabin that sleeps 18 people, there are a wide variety of accommodations here at reasonable prices. Plus, the resort boasts an indoor water park, arcade, mini golf course, restaurants, and bar. This could be a good break from hiking for families that have some less outdoorsy members.
Or perhaps you'd rather have loads of space for your kids to roam. This 2-bedroom condo on VRBO is walking distance from the St. Louis Canyon park entrance. It's fully stocked, there's no cleaning fee, and the water park and mini golf couse on the property are a huge plus!
Where to Eat Near Starved Rock State Park
The basics are all covered inside the state park at its lodge and visitors center. At the Lodge Restaurant, you'll find full sit-down meals that remind me of my central Illinois grandparents. Weekend buffets satisfy the appetite you can work up from a long day of hiking. The Veranda offers seasonal outdoor dining with more casual sandwiches and pizzas. If you're staying at the Lodge, grab a breakfast sandwich or coffee at The Cafe in the morning and early afternoon hours. Or visit the Backdoor Lounge for a local brew or a fun seasonal cocktail. Trek down to the Visitors Center for snacks or small meals at Trailheads on weekends during the daytime hours.

There are several local kid-friendly restaurants near Starved Rock. Photo courtesy of Tangled Roots Brewery
Local brewer Tangled Roots has a classy brewpub located in downtown Ottawa. We stopped in for a Sunday brunch and loved the Pacos—breakfast tacos rolled up in a pancake. The kids enjoyed the standard kids meals which included chicken fingers and mac and cheese. Reasonably priced housemade beers named after the landmarks we had just hiked past added to the fun.
This fun coffee shop and deli in downtown Utica is the perfect place to pick up a casual sandwich or picnic box to go. Ice cream is an added treat for trail-tired kids and grown-ups.
This article contains some affiliate links, which means we might earn a small commission if you book a hotel or activity. There is no extra cost to the reader. We only recommend hotels and services that we have personally used or have thoroughly researched.
All photos by the author unless otherwise indicated.
Places featured in this article:
Click Here to Sign Up!
i