Butterfly World in Coconut Creek: Why Kids Love this South Florida Bug Zoo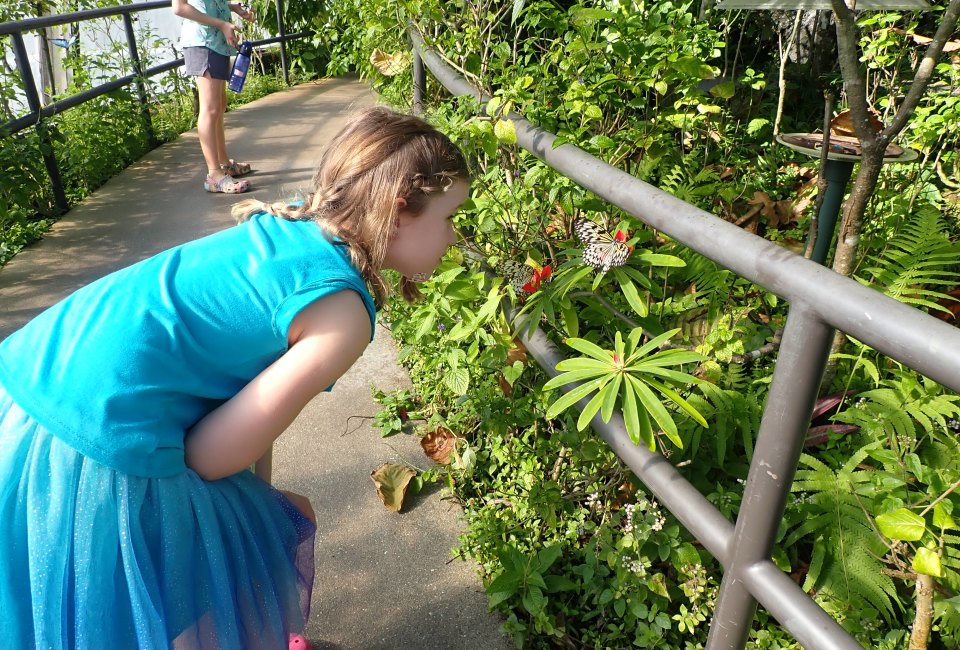 7/8/22
- By
Roberta B
Of the many glorious ways there are to enjoy nature in South Florida, Butterfly World is one of our family's favorites. We might not always agree on going to the beach or taking a hike, but from grandparents to toddlers we all love spending an afternoon in a cloud of butterflies at this relaxing and beautiful spot in Tradewinds Park.
Looking for more ideas for things to do in South Florida? Check out our picks for things to do this weekend!
What is Butterfly World?
Home to more than 20,000 live butterflies, Butterfly World is the world's largest butterfly park, and it's right here in South Florida. The gardens of this enchanting bug zoo enclose countless varieties of butterflies fluttering energetically through their life cycles. Screened pavilions are populated with plants chosen to delight and tantalize the winged beauties, and targeted food stands offering sliced fruit and nectar are placed strategically throughout. Temperatures and humidity are set at optimum butterfly comfort level, and of course no predators are allowed. The result is a heaven for an astonishing number of breathtaking insects, and a treat for all visitors. Classical music plays and water babbles, as children follow the flight paths, and slow-moving adults can enjoy views from serene benches with perfect views.
Visitors interested in the science can peer through windows into the labs where the caterpillars are nurtured as they begin their life cycles. Educational display cases throughout the exhibits show chrysalises in varying states of readiness—often wobbling intriguingly or even opening up for emerging butterflies stretching their new wings.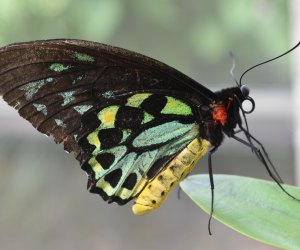 There are butterflies on every leaf! Photo by Ian Brown
Once released, the winged beauties take flight and enjoy the screened pavilions and inviting greenery. Kids interested in a lesson in birds and bees are quite likely to spot mommy and daddy butterflies getting the next generation started. It all plays out before our eyes in the idyllic setting.
Visitors need to respect the residents, of course, meaning that no one is allowed to pick up or even touch a butterfly. While it might be tough for some kids (and even parents!) to resist the urge to touch the lovely bugs, the good news is that, while we're not allowed to touch them, they don't have to live by the same rules. If you spend enough time in the gardens, you may get some gorgeous winged critter hitching a ride at some point; you could even stack the deck by wearing something colorful or floral to look more appealing. Have those cameras ready!
RELATED: Things To Do near West Palm Beach with Kids
What else is there to do at Butterfly World?

Butterfly World's lorikeets are adorably friendly. Photo by Roberta Brown
When you feel you've seen all the butterflies you can possibly take in on one afternoon, Butterfly World's other displays invite. The aviary is just as endearing as the butterfly area, with adorable and multi-colored budgies, parakeets, and exotic birds of all descriptions flitting and tweeting from tree to tree. Kids also love galloping across the wobbly suspension bridge to Macaw Landing, where nearly every parent who visits has to say the words, "No, that's not a parrot; it's a macaw..."
Anyone whose heart is warmed by adorable birds must also make a stop at the Lorikeet Encounter. These colorful and friendly birds have their own exhibit, where handlers sell cups of nectar to visitors who want to be assured of a lorikeet or two landing on them. The birds are friendly, entertaining, and great at posing for photo ops.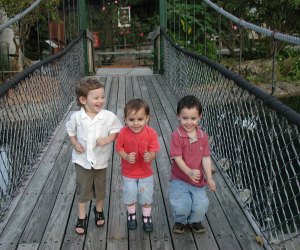 Little ones love bouncing on the suspension bridge. Photo by Roberta Brown
One of the most educational stops along the way is the indoor Bug Museum, which has species of insect from all over the world. While some of us may prefer to speed up past the cockroach exhibit, it can be fascinating to see just how large some Peruvian moths grow and to watch scorpions and tarantulas from safely behind glass.
The gardens at Butterfly World are also a treat, particularly the extraordinary assortment of passion flowers in the Vine Maze. There is an impressive rose garden to take in, and a garden center where visitors can buy plants to bring home. The shop is a wonderful resource for any gardeners hoping to encourage more butterfly visits in their own back yard.

Kids can learn about all the varieties of moth and butterfly in the Bug Zoo. Photo by Jackie Jones
Where is Butterfly World?
Butterfly World is nestled in the heart of Tradewind Park in Coconut Creek, Broward County. Note that on weekends and holidays, the county charges $1.50 per person to enter the park; this is separate from the admission charged at Butterfly World.
Butterfly World Tickets
Butterfly World is open daily, except Christmas, Easter, and Thanksgiving. Hours are Monday through Saturday 9am-5pm, and Sundays 11am-5pm.
Tickets are sold at the door, though it's worth checking the website in advance for admission discounts. Annual passes are a great deal for locals, and well worth it if you plan to visit more than twice in a year. Annual passholders also get discounts at Zoo Miami, Palm Beach Zoo, and Miami Seaquarium.
2022 Ticket prices:
Adults $32.50; Children (3-11) $22.50, (under 3) free
Places featured in this article:
Sign up for the Mommy Poppins Newsletter today!