Best Sandbars Near Orlando and Central Florida for Families Interested in Adventure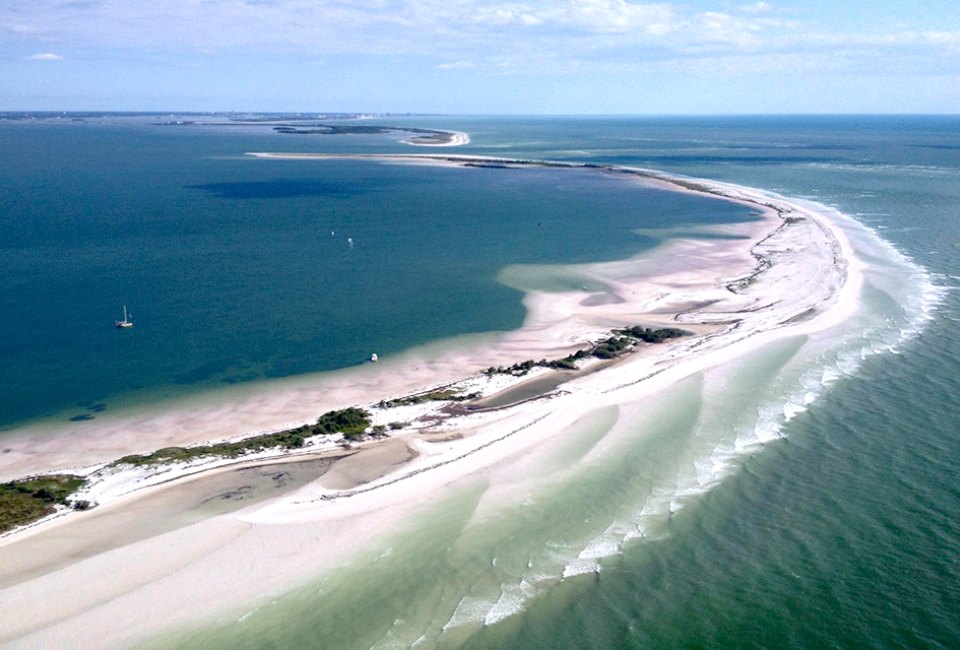 8/11/23
- By
Charlotte B
Central Florida sandbars are popular gathering places for Florida boating families. These Florida families love sandbars because of shallow and safe waters, offering children an ideal space to play and swim right off the boat! The opportunity to explore, beachcomb, and create amazing memories along a coastal environment further solidifies sandbars as great destinations for family outings.
Sandbars sit along coastlines, near island shorelines, or within river channels. Coastal sandbars are visible above the water's surface during low tide, but usually become submerged during high tide. Read on for our list boat-accessible sandbars around Central Florida, including saltwater sandbars within a 2.5-hour drive from Orlando, as well as sandbars at Orlando's lakes and springs. Don't have a boat? No problem! Enjoy smaller sandbars along Florida's beaches during low tide.
For more water related family fun, check out our Guides to the Best Shark Tooth Beaches in Florida, Top 10 Natural Springs Near Orlando, and Exciting Lakes for Water Activities Near Orlando.
Before we get into the coolest sandbars in Central Florida, let's discuss what an actual sandbar is! A sandbar is a submerged or partially exposed ridge of sand or other sediment that forms in bodies of water such as oceans, rivers, and lakes. These sediments are often carried by currents and waves, which then settle in shallow areas.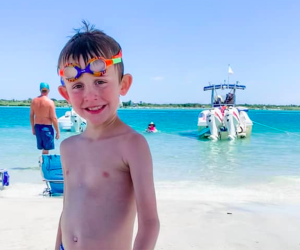 Disappearing Island is only visible at low tides and "disappears" during high tide. Photo by the author
Central Florida Sandbars: East Coast
Perhaps the most popular sandbar near Orlando, Disappearing Island is located between New Smyrna and Ponce Inlet and just across the intracoastal waterways from the Ponce Inlet Lighthouse (makes for great photos opps from the sandbar). Appropriately named, the island is only visible at low tides and "disappears" (submerges underwater) during high tide. Visitors should check the tides and visit when the tide is low, and plan to leave before high tide rolls in. On weekends, keep an eye out for the traveling ice cream boat!
Matanzas Inlet Sandbar
Located south of St. Augustine, Matanzas Inlet features sandbars and interior islands great for a day of relaxing, with the historic fort in the background. This inlet is also great for fishing. The main boat ramp to launch from is located at Vilano Beach.
RELATED: St. Augustine, Florida: 25 Best Things to Do with Kids
Ski Island
This small sandbar is located just outside of the lock that separates Banana River from Port Canaveral. It's a great place to anchor and enjoy wading, swimming, and beachcombing.
Titusville Spoil Islands
Many people use the terms "spoil island" (artificial) and "sandbar" (natural) interchangeably. Spoil islands are artificial islands created from the construction of navigation channels, allowing families to enjoy its sand and shallow waters. Check out many spoil islands in Titusville along the Indian River Lagoon; some of the most popular ones include Dolphin Tail Island and Horseshoe Island, accessible by public boat ramps.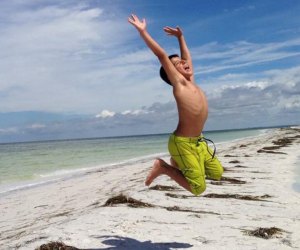 The pristine Anclote Key is only accessible by boat. Photo courtesy Florida State Parks
Central Florida Sandbars: Gulf Coast
Just three miles off the coast of Tarpon Springs, Anclote Key is a state park only accessible by boat. Four islands make up Anclote Key, including Three Rooker sandbar, a semicircular sandbar that has recently emerged in the last decade and is a popular gathering place for boaters.
Bunces Pass
Located within Fort De Soto Park just south of Clearwater, Bunces Pass is a family-friendly sandbar that separates the park from Shell Key. It is popular among boaters, most of which anchor along the southern shoreline.
RELATED: Clearwater Beach with Kids: Top 30 Things to Do on a Family Beach Vacation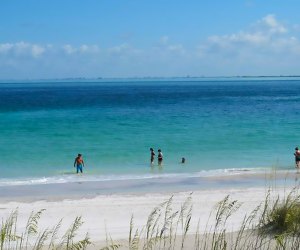 Egmont Key is only accessible by boat and is great for beachcombing. Photo courtesy of Florida State Parks
Egmont Key is a sandbar island accessible only by boat. This state park, located at the mouth of Tampa Bay, formed as a result of sand deposits into the bay. The water is crystal clear and great for beachcombing. This island is also home to a historical lighthouse and Fort Dade, an old military fort.
Flats of Hernando Beach
The Flats sandbar is situated outside of the canal system in Hernando Beach. The shallow waters are anywhere from 2-4 feet deep. During summer weekends, hundreds of boaters visit The Flats. However, don't let that deter you; it's a large sandbar and there is plenty of room for everyone!
Jewfish Key Sandbar
On the western side of Jewfish Key, an island only accessible by boat, there is a sandbar where boaters gather. Kids will love swimming in the crystal clear water and spotting fish. There are several restaurants a short distance away to dock and enjoy a meal.
Central Florida Sandbars: Lakes
Bird Island Sandbar
Bird Island is located on Lake Butler in Windermere, FL. Along the northeast shore of the island, boaters anchor in the shallow waters, perfect for swimming and enjoying the unspoiled island. To access Bird Island, the closest boat ramp is at R.D. Keene Park on Lake Isleworth. The Butler Chain of Lakes is also great for checking out all the beautiful lakeside homes (many owned by celebrities).
Lake Conway Sandbar
This is a popular Orlando sandbar on a scenic lake just south of downtown. The waters are clean, clear, and refreshing, and it is a great lake for water activities. The sandbar is underwater so best to bring a float. Boaters: Arrive early as there is only one public ramp, and trailer parking fills up fast.
Lake Dora Sandbar
Located near the beautiful lakeside town of Mount Dora, the Lake Dora sandbar can be found on the Northwest side of Deer Island Point and is only accessible by boat. Like Lake Conway, this sandbar is shallow but always underwater, so visitors need to bring floats.
RELATED: Mount Dora with Kids: 25 Best Things to Do in Mount Dora, Florida
Boaters can anchor in the clear shallow waters outside of the spring run at the Salt Springs Recreation Area, located off of Lake George in the Ocala National Forest. The closest place to launch boats is the Astor boat ramp on the St. Johns River — travel to Lake George from there. Weather conditions can make the waters in Lake George choppy, so be sure you have a capable boat.
Also located off Lake George, boaters love to gather in the crystal-clear, shallow waters of the Silver Glen Springs freshwater sandbar. The natural spring water is a consistent 72 degrees year-round. Like most of the other freshwater sandbars, Silver Glen Springs remains underwater. Bring snorkeling gear to see a variety of fish that navigate the spring run.
Tips for Visiting Sandbars Near Orlando
Check tides before you go and keep an eye on your boat, as the difference between high and low tide can change dramatically. You don't want to end up with a beached boat!
Water shoes protect feet from shells, rocks, and any underwater debris at sandbars.
Flotation devices, like inner tubes and floaties, are helpful in shallow sandbar waters. Floating waterpads are also popular for kiddos.
Pack essentials like life jackets, first aid kits, sunscreen, water, and snacks. There is no drinking water available at most of the sandbars listed, so plan accordingly.
Beach shelters, like umbrellas and tents, provide shaded areas from the sun since many sandbars offer no natural shade.
Arrive early as sandbars tend to get crowded as the day goes on.
Leave no trace so carry all trash back with you and leave the sandbar as you found it, preserving its natural beauty for others!
Sign up for the Mommy Poppins Newsletter today!
i