Exciting Lakes for Water Activities and Water Sports near Orlando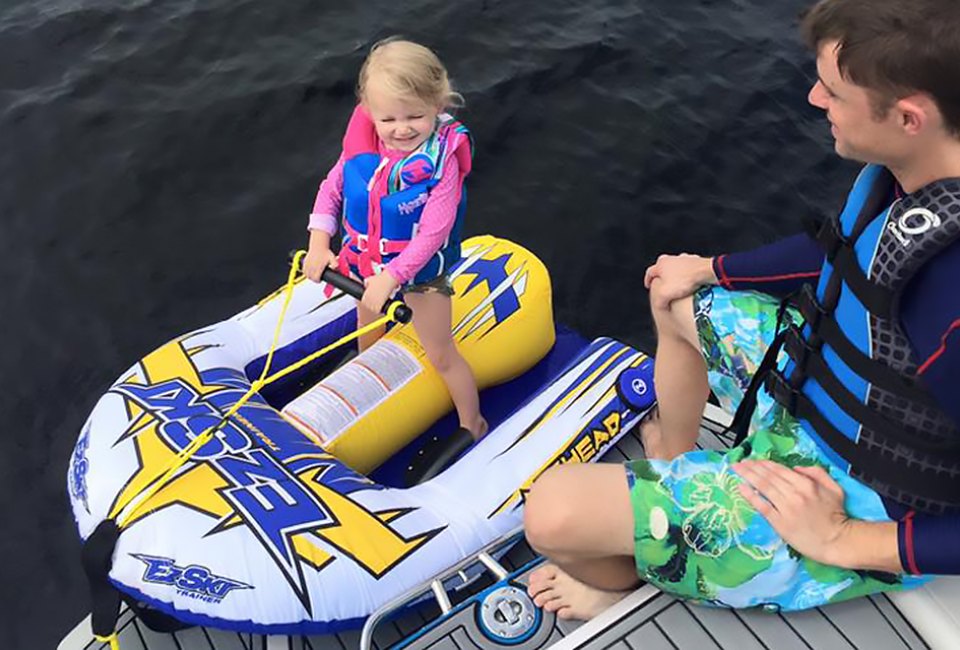 5/22/22
- By
Melanie Preis
Water sports near Orlando beckon to those looking for adventure, excitement, and time on the water. These water activities near Orlando are great ways to spend a day on the lake, for appropriate ages, which include wakeboarding, paddleboarding, boating, kayaking, canoeing, fishing, and more. Because Central Florida has such an extensive volume of lakes and waterways, it makes sense that these water sports near Orlando are huge draws to outdoor enthusiasts.
If the only summer water activity near Orlando you seek is swimming, make sure to take a dip in one of the picturesque Top 10 Natural Springs in Florida Near Orlando. Swimmers should stick to these natural springs and swimming holes near Orlando because they are safer than large Orlando lakes better suited for water sports. Avoid wildlife and dangerous bacteria and ameobas (which flourish in hotter temperatures), by enjoying daytime water activities near Orlando in boats, on floating appratuses, or at the dock. Check water conditions and learn more about environmental hazards online, with the Florida Department of Health and/or Protecting Florida Together Water Quality websites.
Want to cool off but water sports near Orlando seem too extreme? Enjoy 20 Great Spraygrounds and Splash Pads in Orlando, hang out at the Best Orlando Hotel Water Parks, and Dive Into the Best Inflatable Water Parks in the area.
Lakes for Awesome Water Activities Near Orlando
Lake Jessamine - Edgewood
This public lake stretches almost 300 acres, with prime waters for fishing and boating. When it comes to fishing, the most popular species caught at Jessamine are largemouth bass, bluegill, and chain pickerel (always check local regulations before heading out). Because of all the accessible boat ramps, docks, and overall size, Lake Jessamine is a welcome spot for wakeboarding and water skiing.

Make sure water sports enthusiasts know the importance of safety before heading out on the water.
Lake Virginia - Winter Park
Lake Virginia offers a lot of great water activities near Orlando, and is part of the Winter Park Chain of Lakes. This chain of narrow, deep, interconnected lakes also include Mizell, Osceola, Maitland, Nina, and Minnehaha. Virginia is a popular lake for fishing, spanning about 225 acres, as well as paddleboarding, kayaking, waterskiing, and boating.

Go bass fishing on Lake Tohopekaliga. Photo courtesy of BookaFly
Lake Tohopekaliga - Kissimmee
Also known as Lake Toho, this massive lake is a huge draw for fishermen from all over the country. Lake Toho is teeming with bass; in fact, it's a popular spot for hosting professional bass fishing competitions. Besides fishing, Lake Toho visitors can enjoy canoeing, kayaking, air boats, and much more.
One of the largest lakes in Central Florida, Lake Kissimmee and its connected waterways, creeks, and chain of lakes is a popular spot for water enthusiasts. There's no shortage of fishing and wildlife in the water and along the shore. Paddling, either by kayak or canoe, is a popular water activity to enjoy the local wildlife. Lake Kissimmee State Park also features amazing camping options, horseback riding, geo-caching, and hiking trails.
RELATED: The Best Places to See Manatees Near Orlando
Lake Conway - Belle Isle
Lake Conway and its chain of lakes is a major hot spot for tourists and residents alike. Jet skiing and wakeboarding are extremely popular water sports at the Lake Conway Chain of Lakes, as well as boating and fishing. Just a tip to families in the summer months—Lake Conway's water traffic can be fast and furious so make sure to keep an eye out, especially for little ones.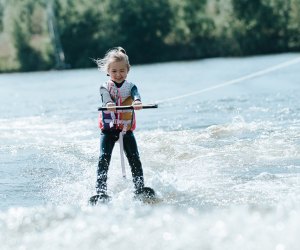 Waterskiing is a popular sport for people of all ages. Photo by Ron Lach via Pexels
Harris Chain of Lakes - Apopka
Hit up the Harris Chain of Lakes for major fun on the Central Florida waters. Consisting of eight lakes --Apopka, Harris, Griffin, Eustis, Dora, Beauclair, Carlton, and Yale -- this chain is an excellent spot for fishing, specifically bass. Water skiiers, boaters, and sailors also love taking on the currents of this waterway.
Butler Chain of Lakes - Windermere
Comprised of 11 lakes, this chain has earned major poularity for its good water quality and fishing. The Butler Chain of Lakes spans 5,000 acres of surface water, with about 30 navigable canals. The site is great for water activities near Orlando, consisting of freshwater fishing, pontoon boats, jetskis, and fast boats pulling wakeboarders, water skiiers, and tubers.
Water Sports Near Orlando Beyond Lakes
Buena Vista Watersports is located on Lake Bryan and offers jetski, paddleboard, kayak, ski boat rental experiences. Families will enjoy this 450-acre complex, surrounded by beautiful cypress trees, white sandy beaches, and tropical foliage.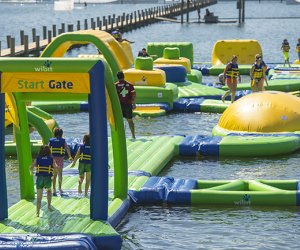 Beyond jetskis and wakeboards, Orlando Watersports Complex offers an amazing inflatable water park. Photo courtesy OWC
This boat and cable park allows visitors to enjoy water sports near Orlando in a safe, family-friendly environment. In fact, Orlando Watersports Complex (OWC) is one of the largest cable wakeboard parks in the country. Families can pay one fee for lessons and equipment rental in a supervised setting. OWC also offers an amazing inflatable water park, with 40 fun features and lifeguards at the ready.
Sign up for the Mommy Poppins Newsletter today!