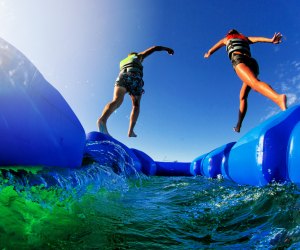 Inflatable Water Parks Around Orlando to Cool Off
Orlando is a prime location for a number of water parks, but they can easily get overcrowded. Fortunately, hot and humid Orlando has no shortage of water activities, including some brand-new water entertainment centers. A number of inflatable water parks have popped up in the area in the last few years, and we've got all the details below.
These aqua parks make for a great day of summer fun with school-age kids, as well as tweens and teens. Of course, it's always harder to entertain, or even hang with, your teens, so we're usually willing to try any option—even if we seem a bit crazy out there on the ninja warrior course.
Looking for more swimming and splashing spots for the kids near Orlando? Check out our guides to local splash pads, natural spring swimming holes, and nearby Florida beaches.
New COVID-19 restrictions are in place throughout Florida's theme parks now, including reduced capacity at these parks and sometimes additional measures, such as mask-wearing when out of the water.
Each park requires kids to reach a certain height and/or age before they can attend. Be sure to measure and plan ahead so as not to come away with disappointed kids.

Daring kids and teens take the leap at the Orlando Watersports Complex. Photo courtesy of the park
Kids and adults can climb, jump, slide and splash on over 40 obstacles at this 10,000-square-foot inflatable water park playground located at the Orlando Watersports Complex. With a beach entrance area, three different skill levels, and obstacles such as an XXL climbing tower, trampoline, and rodeo slide, this aqua park provides hours of family fun! The complex also boasts a cable park operation to experience water sports such as wakeboarding, waterskiing, and tubing.
Aqua park participants must be at least 6 years old and 43-inches tall, and they must be able to swim. Life vests are required and provided by the park, and lifeguards are onsite. Online bookings are available for single (50-minute) sessions or double (100-minute) sessions. The aqua park is also available for private events and birthday parties, and there's a summer camp and lessons here, too.
In light of the coronavirus crisis, this Florida water park is operating at 50% capacity and asking staff and guests to wear masks when not in the water. It has also implemented new cleaning procedures and temperature screenings of staff.
RELATED: Best Inflatable Kiddie Pools, Bounces Houses, and Backyard Water Slides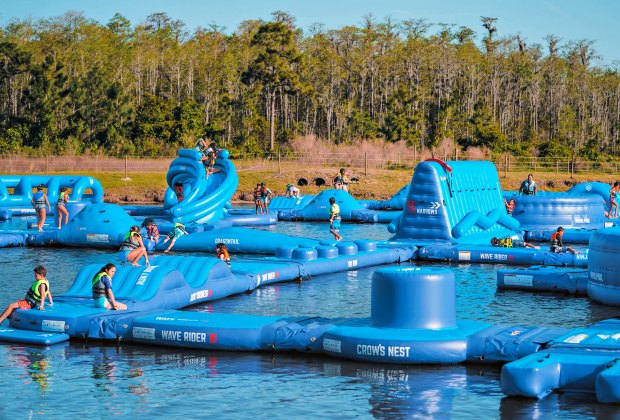 They'll be worn out after navigating the obstacle courses at Nona Adventure Park. Photo courtesy the water park
This entertainment center on Lake Nona features a 1,000-foot floating water park with multiple interconnected obstacles such as a whirlpool, ninja jump, tire run, and many more. The park also features a wake cable system with two tracks for all skill levels, plus a 60-foot-tall climbing tower complete with a ropes course, climbing walls, and a junior course for kids. (The climbing tower is temporarily closed.) Between adventures, stop by the onsite bistro for a bite to eat.
Participants must have basic swimming skills, and the minimum age to participate in the aqua park is 5 years old. Kids ages 5 to 8 years old must be accompanied by a paying adult. Aqua guides are onsite and are first aid certified. Guests can book 50-minute sessions or purchase day passes. Group and party packages are available as well.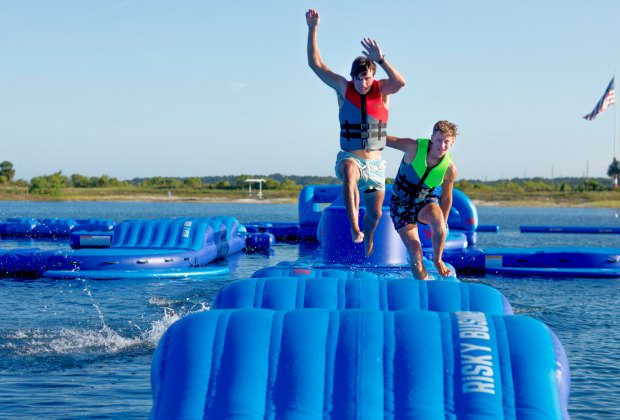 The Lift Adventure Park has closed some areas of its water playground due to health concerns, but there is still plenty of space for playtime. Photo courtesy the park
The Lift Adventure Park sits on a 70-acre spring-fed lake with a white sand beach. Located a little less than 2 hours from the heart of Orlando, this attraction makes for a great family day trip. Participants can take on the inflatable tire run, traverse along a narrow inflatable beam, swing across monkey bars, and slide into the refreshing spring water. Other activities include a cable wake park, paddleboarding, and kayaking.
Water park participants here must be at least 7 years of age and 45-inches tall, and all participants must wear a provided life vest at all times. Sessions are 45 minutes long and guests can book a time slot online. This aqua park has reduced its capacity by temporarily closing half of its park due to coronavirus concerns.
Cooling off is just part of the fun at these inflatable lakeside water parks. As you can see, most kids come for the thrill of the obstacle courses, bouncy slides, and even boating.