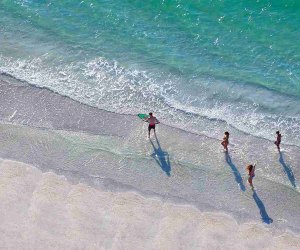 Best Florida Beaches near Orlando for a Trip with Kids
Take a break from the Orlando theme parks with a quick getaway to one of the many Florida beaches near Orlando. Whether you want to take in the sunrise and coastal breeze on the Atlantic side or enjoy the calm waters and picturesque sunsets on the Gulf side, Orlando is centrally located, making it an easy drive to either coast.
We rounded up our favorite Florida beaches within a few hours' drive of Orlando, so you can make it a weekend getaway with the kids or just a day trip. For those days when a shorter drive is better, consider a swim at these nearby Orlando beaches attached to Florida's natural springs.
Note: At the time of this writing, much of Florida has reopened following temporary closures due to the spread of the coronavirus. The pandemic is not over, however, so please use caution when visiting public areas and follow all local rules, including face coverings and maintaining 6-feet of distance from others.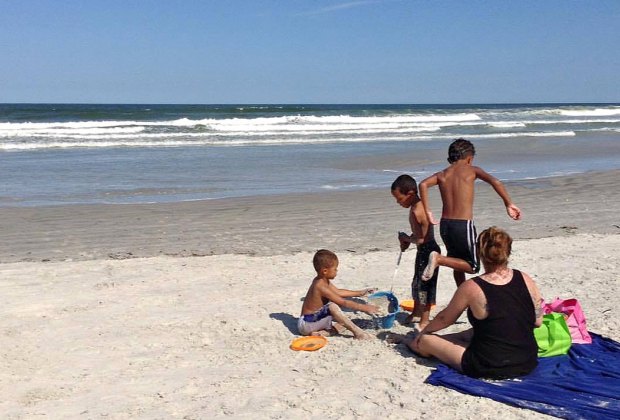 Daytona Beach is about an hour from Orlando. Photo courtesy of Daytona Beach Area Convention and Visitors Bureau
Florida Beaches Near Orlando on the Atlantic
1. Cocoa Beach
This surf town is situated on Florida's Space Coast and is the closest beach to Orlando at a little less than an hour away. With 72 miles of beautiful shoreline, Cocoa Beach is popular for watersports, deep-sea fishing, and surfing. Visit the flagship location of Ron Jon Surf Shop, the world's largest surf shop. Explore the landmark Cocoa Beach Pier complete with restaurants, shops, fishing, and live music. If staying for the weekend, be sure to set some time aside to visit nearby Kennedy Space Center.
2. Daytona Beach
Known as the "World's Most Famous Beach," Daytona Beach is a short one hour drive from Orlando. The beach spans 23 miles, and visitors can drive and park on certain portions of the beach. There is a popular boardwalk area complete with a bandshell, rides, amusements and an arcade just steps from the beach. Take a tour of the famous Daytona International Speedway or venture to the top of the historic Ponce Inlet Lighthouse, Florida's tallest lighthouse.
3. New Smyrna Beach
If you want a day of surfing and sunbathing, try New Smyrna Beach. This 13-mile stretch of beach is just a one hour drive from Orlando, making it an easy day trip. Like Daytona, visitors can drive and park along portions of this Florida beach. But unlike Daytona, there aren't many hotels along the shoreline as this beach is largely residential. An area at the end of the beach known as the jetties—a formation of rocks that form an inlet—is popular for fishing, but watch out for sharks as the abundance of baitfish in this area tends to attract them. Downtown New Smyrna is within walking distance of the beach and has a variety of restaurants and shops to check out.
4. Vero Beach
Situated on Florida's Treasure Coast, Vero Beach is a bit further away than other Orlando beaches at just under 2 hours. However, this Florida beach boasts family-friendly shores with wide-open spaces in a quaint beachside community. It is also a great location for nature adventures with many parks offering access to rivers and inlets. Rent a kayak or canoe to explore the river system, and keep your eye out for manatees! Take an airboat ride or charter a fishing boat while in the area as well. Visitors can also experience some Disney magic at Disney's Vero Beach Resort, WDW's only Florida beach resort.
RELATED: Best Beaches in Florida for Families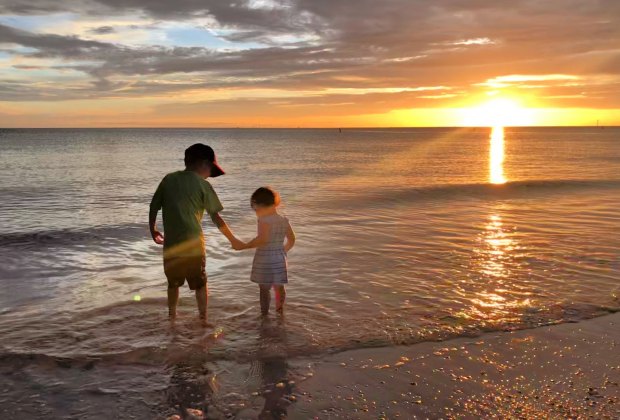 Picture perfect Clearwater Beach has long been popular with families. Photo by Charlotte Blanton
Florida Beaches Near Orlando on the Gulf
5. Clearwater Beach
With wide white sand beaches and clear, calm waters, Clearwater Beach remains a top pick for families among Florida beaches, year after year. Roughly 2 hours from Orlando, this area has an abundance of activities, such as parasailing, jet-skiing, dolphin tours, and a 1,080-foot fishing pier complete with a nightly sunset festival. Visitors wanting to avoid traffic and parking at the beach can opt to take the Clearwater Ferry from downtown to the beach. If staying the weekend (or week), plan to visit the Clearwater Marine Aquarium to see Winter the Dolphin, the star of the movie Dolphin Tale.
6. Caladesi Island State Park
Caladesi Island is one of Florida's few undisturbed barrier islands, making it a true getaway experience. This state park is 2 hours from Orlando and is known for its remote, pristine Florida beaches. It is only accessible by water, either through park ferry or personal boat, but I promise it's well worth the extra effort. Visitors can board the park ferry from Honeymoon Island. Once at Caladesi, families can explore the island's three miles of nature trails, swim in the clear blue-green waters, and relax on the white-sand beaches. Canoes and kayaks are also available to rent and explore the island's mangrove forest.
7. St. Pete Beach
Located south of Clearwater and a 2-hour drive from Orlando is St. Pete Beach, a gorgeous white sand beach located on a barrier island along the Gulf of Mexico. It includes the longest undeveloped stretch of public beach in the area known as Pass-a-Grille Beach, perfect for shelling, snorkeling, or just enjoying historic Old Florida charm. Another popular St. Pete Beach area is Fort De Soto Park, which is comprised of five interconnected islands. With a large pirate ship playground near the North Beach entrance, a wide tidal pool for little ones to splash in, and lots of opportunities for shell-seekers, it's easy to see why St. Pete Beach is known as one of the best family beaches in the country.
Find more family getaways in our Florida Family Travel Guide.