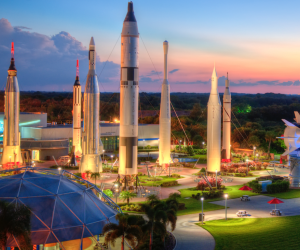 A NASA-Themed Family Vacation at Florida's Kennedy Space Center
More and more kids are looking up to scientists as the heroes they really want to emulate. There's no better place to revel in the science of space than at NASA's Kennedy Space Center Visitor Complex in Cape Canaveral, Florida. Something between a museum and a theme park all about space exploration, there's a lot to see and do at this family destination, including the brand-new Heroes and Legends attraction.
The Kennedy Space Center is a must-do for any family interested in science, space and American history.
In fact there's so much to see and do at the sprawling 144,000-acre Kennedy Space Center Visitors' Complex (don't panic, all the attractions are close together), it's good to arrive with a game plan. Here's what you need to know about the different attractions so you can plan your visit and make your day great.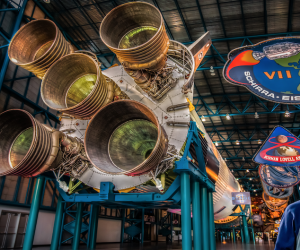 The Apollo/Saturn V Center tells the story of our race to space.
OUR LATEST VIDEOS
To do everything will mean a very full day, so start your planning by determining your family's stamina. Luckily the bus tour can be used as a strategic rest break when you need it. If you are doing the Lunch with an Astronaut you will need to plan your schedule around that. Most of the other attractions run regularly all day long. The Space Shuttle Atlantis Building is going to be a highlight for the kids and has over an hour of fun in store. Its location right by the end of the bus tour makes it perfect for doing afterward, but make sure you hit it before the kids get burned out.
Top Attractions at the Kennedy Space Center Visitor Complex
Heroes & Legends – Just inside the entrance, the new Heroes and Legends attraction is meant to bring an emotional bent to your visit. It starts with an homage to heroism and a 4-D experience highlighting the dangers of space travel that astronauts subject themselves to. Visitors can then wander through an exhibit dedicated to the virtuous qualities of heroism and personal stories of astronauts demonstrating them. The Astronaut Hall of Fame honors the heroes in a grand, solemn room. Don't go home without taking a virtual selfie with your favorite legendary astronauts as you learn their stories.
Rocket Garden – Wander through a forest of actual rockets of the Mercury, Gemini and Apollo programs and imagine them shooting off toward the stars. Their sheer size is astounding.
Astronaut Encounter – One of the most unique things you can do on your visit is the special Lunch with an Astronaut. In a room off the main cafeteria, a small group enjoy a buffet lunch followed by a demonstration by an actual astronaut. It's a firsthand peek into what life is really like in space. Visitors get to ask questions and take a photo with the astronaut afterward. This experience is not included in your admission, but is a worthy addition.
Kennedy Space Center Bus Tour – You can't get out to explore, but you can't fully appreciate the scale of the actual launch sites and the giant transporters that move the rockets without seeing them in person. The drivers disperses interesting facts along the way, and it's a nice chance to rest tired feet, too.
Apollo/Saturn V Center – The bus tour will drop you at this museum dedicated to America's race to the moon. Stand below the largest rocket ever flown, touch a moon rock, and learn all about the early space program here.
Space Shuttle Atlantis Building – Housing the famous Atlantis Space Shuttle, this complex would be a worthy destination worth on its own. A short film introduces the story of the Space Shuttle before entering the museum where you can view the actual shuttle, space scrapes and all. But that's only the beginning. You want to reserve at least an hour or two to explore all the interactive exhibits.
3D IMAX Theater – The five-story theaters show breathtaking imagery in two presentations, one from the Hubble telescope and another depicting NASA's current projects.
RELATED: Florida Family Travel Guide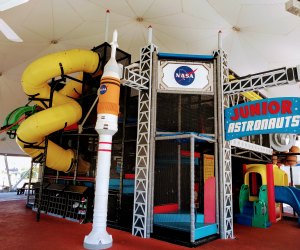 If little ones need a break this space-themed playground is perfect. Photo by Mommy Poppins.
More Experiences at NASA's Kennedy Space Center
Camp Kennedy Space Center – Imagine learning and training just like the real astronauts. Camps for kids in grades 2-9 offer educational and fun experiences that can only be offered by NASA.
Rocket Launches – We're sending rockets up to space more often than you may realize. Check the calendar to see if there's a launch planned during your visit. They often happen at night and there's a lot of waiting around, so do a little research to see if it's going to be fun for your family.
Find out more at kennedyspacecenter.com.
Photos courtesy of KSCVC unless otherwise noted.