New Worlds Await for Kids at the Kennedy Space Center's Planet Play Attraction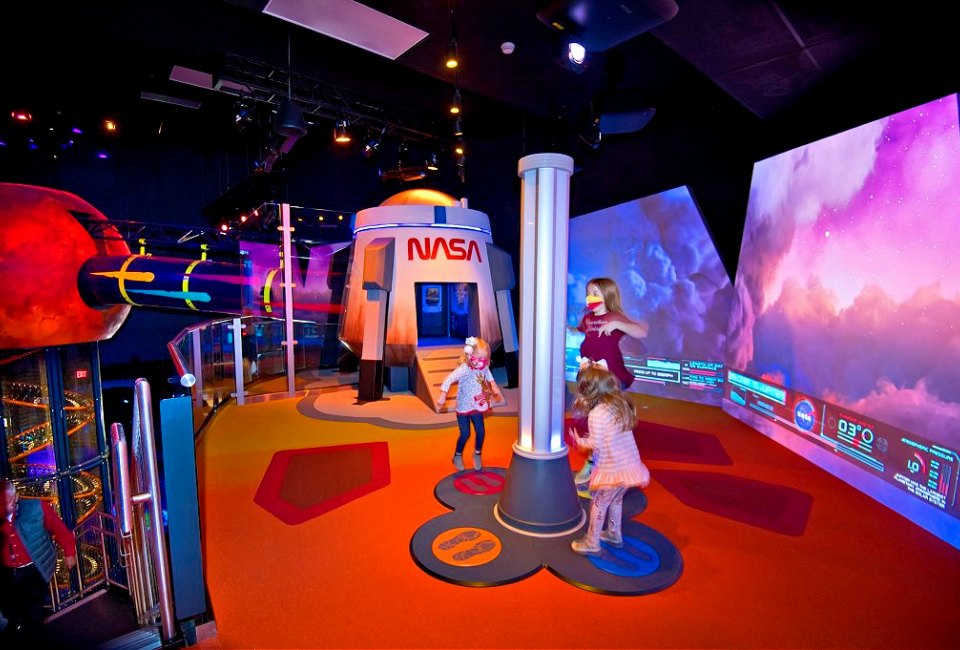 2/19/21
- By
Charlotte B
My family and I recently took a trip to the Kennedy Space Center Visitor Complex for my son's 10th birthday. As part of the trip we got to check out the new multistory play experience, Planet Play, which opened January 1.
Designed for ages 2-12, this indoor attraction includes interactive replicas of the planets in our solar system. Kids can slide down an asteroid field, walk on Saturn's rings, race rovers on Mars, and more. Here's what you need to know about this new play experience.
Planning to visit Kennedy Space Center? Make a fun family weekend out of it by staying at one of these nearby Florida beach communities.
As COVID circumstances unfold, check directly with the Kennedy Space Center for updates on safety protocols. Keep your family and others safe by wearing masks and maintaining social distancing measures.
Prefer to stay at home? Our new site, Poppins@Home, features new and exciting classes and workshops for childrenof all ages..

Dance on top of a mock constellation.
Visiting the Planet Play Attraction at Kennedy Space Center
Planet Play is located within the IMAX building of the visitor complex, and is included with admission to Kennedy Space Center. Upon entering the attraction, guests notice a net climbing structure known as Gravity Sink. Kids can use this to climb to the second level, or choose from several other climbing structures or stairs to access other levels. Also located on the first level is a Satellite Factory, where visitors can color their own satellites and then scan it to a machine and watch their creations come to life on the big screen. Junior astronauts can glide down an animated asteroid slide, which seemed to be a big hit with kids of all ages. Older kids (and parents, too) will enjoy the Rover Racers interactive gaming station.
On the second level, kids can create and dance on mock constellations and climb through tunnels from planet to planet. While kids play, parents can relax in an adjacent lounge area and enjoy coffee or adult beverages. The lounge includes interactive tables with digital games: My son and I enjoyed a game of digital air hockey. For the youngest space explorers, there is a toddler play area with soft play elements and seating for parents. There is also a smaller worm hole slide that younger kids will enjoy.
The top level is complete with theatrical and interactive elements to mimic storms on Neptune. Our favorite activity on this level was a game called Data Quest, where you can shoot at targets on top of Saturn's rings.
Throughout the play area, kids can learn trivia about the planets in fun, interactive ways. Quiz them when you leave to see what new facts they learned.
Kids must be supervised by an adult while in the play area. Note that for both slides, kids must remove their shoes, so be prepared with socks if you don't want them walking barefoot. I would recommend allowing 45 minutes to an hour for kids to explore Planet Play, but allow a full day to enjoy all that the Kennedy Space Center Visitor Complex has to offer.
RELATED: 25 Free Things to Do With Orlando Kids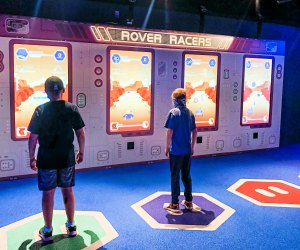 Kids (and parents) will thrill to a space rover race.
COVID-19 Safety Protocols at Planet Play
Operating hours have been adjusted to 10am to 4pm to allow for increased cleaning time. All guests ages 3 and older are required to wear face coverings. Temperature checks are in place at the entrance. Capacity at Planet Play and other attractions is limited to allow for social distancing. Hand sanitizer stations are available throughout the complex. Bus tours and the Apollo/Saturn V Center are not available as of February 2021.
For additional details, visit Kennedy Space Center's health and safety procedures page.
Getting to the Kennedy Space Center and Planet Play
The Kennedy Space Center is located about 50 miles east of Orlando. Take Florida Route 528 east to Florida Route 407 north. Car parking is $10.
Photos courtesy of Kennedy Space Center
Places featured in this article:
---
Kennedy Space Center Visitor Complex