50 Free Things To Do with Kids in Westchester and the Hudson Valley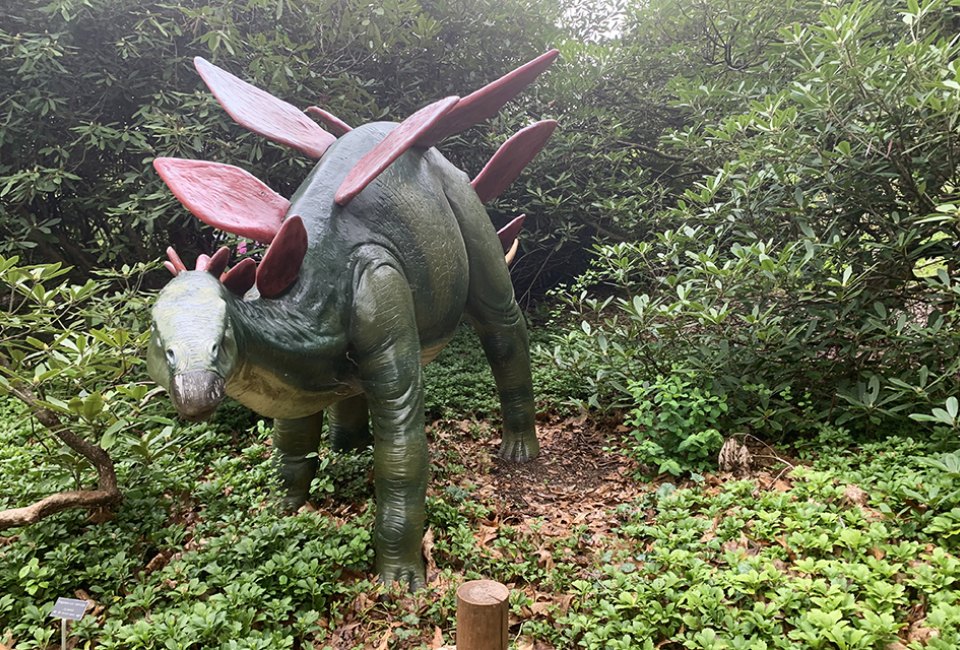 1/8/23
- By
Susan Miele
Our favorite price is FREE. And who doesn't love a good bargain? Especially to help offset the high costs of vacation, camps, child care, and holidays in Westchester.
With that in mind, we've rounded up 50 freebie things to do in Westchester and the Hudson Valley. From outdoor adventures and museum access to STEM fun and seasonal excursions, we've combed the area to give you plenty of options. Be sure to bookmark this for year-round reference—your family will never be bored (or broke) again!
Keep in mind that for many of these venues, advance reservations might be required. Also, check directly with each regarding COVID-19 policies.
Keep tabs on our Activities Calendar, which is always loaded with free (and low-cost) activities for all ages, and check out our Guide to Free Fun Things to Do With Westchester Kids.
Get more ideas for fun things to do delivered directly to your inbox when you sign up for our newsletters.
FREE Fun at Farms and Nature Centers in Westchester
1. Visit the Farm
Hilltop Hanover Farm in Yorktown Heights is FREE to visit (fees apply for select events and pick-your-own produce).
2. See the Raptors and Turtles
Take a romp through the Discovery Playground, roam the trails, and walk to the pond in search of turtles at the Greenburgh Nature Center. (Note: There is a cost to enter the Manor House.)
3. Be a Marine Biologist
Explore the aquaria and touch tank at the Marine Education Center.
4. Visit a Historic Farm
See what the animals are up to and view the historic buildings and tools at Muscoot Farm in Katonah, where admission is free.
RELATED: Top Playgrounds in Westchester and the Hudson Valley

Trail signs at Teatown offer plenty of info on local ecology and keep you moving in the right direction Photo by Marisa Iallonardo
5. Choose Your Trail
Explore the grounds of Teatown, with trails that are suitable for all abilities.
6. Contribute to Scientific Research
Support local scientific research by signing up your teen (ages 14 and up) to study the Hudson River.
7. Meet the Animals in Winter
Admission to Stone Barns Agricultural Center is free in winter.
8. Read a Story—While You Walk
Many towns in the area offer their own version of a StoryWalk, like in White Plains, that allows you to do something in nature that stimulates a kid's love of reading.
RELATED: Free Museums and Free Museum Days in NYC for Kids

The sprawling Untermyer Gardens offers free admission and plenty of family-friendly programming. Photo by the author
FREE Fun at Parks, Playgrounds, and Gardens in Westchester
9. Discover a Hidden Gem
Stroll the beautiful, tranquil gardens of Untermyer.
10. Skip the Admission Fee
Benefit from FREE admission to select historic sites on one of the National Park Fee-Free Days.
11. Spend the Day at Bear Mountain
There's loads to do on the grounds of Bear Mountain—whether viewing fall foliage, sledding or visiting the trailside zoo (there's also much to justify the voluntary donation). A parking fee applies.
12. Follow the River
Take a stroll on the Westchester RiverWalk, which you can pick up in Tarrytown, Croton, or Peekskill.
13. See Dinosaurs in a Garden
Romp with the dinosaurs and stroll through the lovely gardens of Lasdon Park.
14. Learn to Ski
Take advantage of FREE (or cheap) ski programs in the Northeast.
RELATED: Birthday Freebies for Kids: 60 Places To Get Free Stuff on Your Birthday

Spend a day enjoying the grounds at Caramoor. Photo courtesy of Caramoor
15. Picnic and Stroll the Grounds
Roam the gardens and have a picnic at Caramoor.
16. Pedal the Parkway
Hop on your bikes and cruise the car-free Bronx River Parkway during Bicycle Sundays from May–October.
17. Follow a New Path
Burn some calories on one of these great bike paths throughout the county.
18. Learn a New Skill
Check out what's going on at a local park and lean into a new skill, like the free Winter Shelter Building activity at Cranberry Lake Preserve.
19. Bundle Up for Snow Fun
Go sledding on one of our great hills.
RELATED: How to Get Free Baby Stuff: Free Diapers, Formula, Baby Gear, and More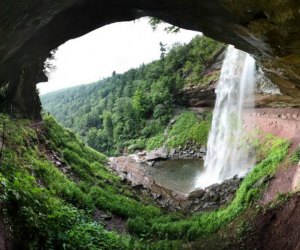 A trip to Kaaterskill Falls produces postcard-worthy views.
20. Visit a Waterfall
Commune with nature on a venture to any of these area waterfalls.
21. Play a Hiking Game
Take a hike and take in the beautiful Hudson Valley landscape, especially lovely in the fall. You can even play an adventure game to spice things up!
22. Cross the River from Dutchess to Ulster County
Traverse the Walkway Over The Hudson, the breathtaking 1.28-mile long pedestrian bridge that's hailed as the "world's longest elevated park." Keep an eye out for occasional events, like stargazing.
23. Cross the River in Westchester
Cross the Hudson along the Mario M. Cuomo Bridge, which features scenic overlooks and public art.
24. Try a New Playground
Be intrepid—explore a playground you haven't yet romped through.
25. See the Cherry Blossoms
Glory in the beauty of spring with a photo-op where cherry blossoms are in bloom.
26. Cool Off in Summer
Cool down in one of these spray grounds and splash pads.
RELATED: 20 Free Online Games For Kids to Play Together

Skate for free on a pond in North Salem. Photo courtesy of Westchester County Parks Dept.
27. Go for a Spin on the Ice
Take a spin around an outdoor skating pond.
FREE Fun at Libraries in Westchester
28. Work That Library Card
The 38 branches of the Westchester Library System offer more than just books and storytimes. There are loads of FREE perks, and the best events are found in our Activities Calendar.
29. Sign Up for the Summer Reading Game
Join the libraries' annual Summer Reading Game, a fun way to promote reading throughout the summer. A new theme is chosen each year, with events, prizes, and challenges.
30. Grab and Go
Many libraries continue to offer grab-and-go kits that are available for pickup on select dates. Did you know you could participate in another branch's programming? Branch out!​
Stores, Malls, and Downtowns to Explore for FREE Fun in Westchester
31. Bop While You Shop
Enjoy the music and motion entertainment provided by the mechanical characters throughout Stew Leonard's. We love Chiquita Banana and the Farm Fresh Five! FREE kids' activities are offered throughout the year.
32. Hit Up the Sidewalk Sales
Check the lineup at seasonal sidewalk sales and community days throughout Westchester. In addition to shopping for bargains, FREE entertainment and activities for children are often provided as an added draw.
33. Join Mall Events
Area malls often host FREE family events, like the Palisades Center's Tykes Tuesdays.
RELATED: 100 Things To Do in Westchester with Kids Before They Grow Up

The Keeler family in Putnam Valley traditionally puts on a spectacular holiday light display. Photo courtesy of the family
FREE Holiday and Seasonal Festivities in Westchester
34. Let There Be Light
Take a driving tour of Christmas light displays in Westchester and the Hudson Valley.
35. Light Up the Holidays
Join a tree- or menorah-lighting event, like the Bedford Menorah Lighting, which typically includes entertainment, refreshments, and giveaways.
36. Soak Up the Holiday Spirit—Year-Round
Subscribe to our newsletters to stay abreast of holiday parades, Easter egg hunts, New Year's Eve ball drops, Earth Day festivities, fireworks, seasonal festivals, and other FREE attractions. We also frequently post roundups of FREE things to do with kids by month or season. Think of all the money you can save with a newsletter subscription!
FREE Fun at Museums, Historic Sites, and Cultural Spots in Westchester
37. Do Good
Kids can learn more about giving back to their local community through national events, like MLK National Day of Service
38. Visit the Neuberger
The Neuberger Museum of Art is admission-free these days, making it a great opportunity to check out their cool exhibits.
39. Save the Date
Mark your calendar for FREE admission to participating sites on Smithsonian Museum Day Live in September.
40. Save Money with Your Library Card
Check your local library for year-round free museum passes.
41. Play Farmer
Sign up for John Jay Homestead's Red Barn Discovery Center private experience.
42. Visit a Children's Museum
With a new name, the Mid-Hudson Discovery Museum in Poughkeepsie continues its tradition of monthly Family Free Nights on the third Saturday.
43. Discover a New Artist
Catch the changing exhibits at a local gallery.
44. Head to NYC
Pack some snacks and meander through the streets of NYC—we've got plenty of ideas for free things to do!
45. Explore American History
For a slice of local American history, take a self-guided tour of St. Paul's Historic Church.
46. Follow the Signs
Experience the Museum in the Streets, scavenger-hunt style, in Hastings-on-Hudson.
47. Take a Tour of West Point
Learn about military history and cadet life at the West Point Museum.
48. Roam the Ruins
Take a short jaunt up to Cornish Estate in Cold Spring to see ruins without having to fly to Pompeii. Yet more ruins are worth exploring at the West Point Foundry Preserve.
FREE Theater, Music, and Film
49. Catch a Flick
In the summertime, many local parks and venues become a stage for FREE outdoor movies.
50. Put on Your Dancing Flip-Flops
Those same parks and venues also host many FREE summer concerts, magic shows, and theatrical performances.
Many more FREE programs can be found year-round on our Activities Calendar.
This post has been updated for 2023.