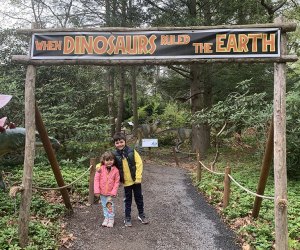 Visit the Dinosaur Garden and More at Lasdon Park & Arboretum
While nothing has been easy about this past year, one small upside has been the number of great outdoor parks and preserves we've visited in Westchester and the Hudson Valley. From Croton Gorge Park to Minnewaska State Park, my family and I have been able to spend time in nature and truly take in the natural beauty that is practically right in our own backyard. On the agenda recently: A visit to Lasdon Park & Arboretum, a 234-acre park on Route 35 in Katonah.
Bought by the Lasdon family in the 1930s as its "country retreat," Westchester County purchased the land in the mid-1980s, transforming it into a public green space with gorgeous gardens, lots of family-friendly walking paths, and (best of all for the kids) a Dinosaur Garden. There is plenty here to keep Westchester families engaged, and it makes a great day trip destination for New York City families, too.
Read on for more details on how to fill your day at Lasdon Park & Arboretum, and find more outdoor fun in our Guide to Parks and Playgrounds.
Editor's note: While we are trying to promote safer activities that occur outdoors or with social distancing guidelines in place, please keep your family and others safe by always wearing a mask and maintaining an appropriate distance.
Fun fact: The main building—once the family's home—was designed similarly to George Washington's Virginia property and has been standing on the site since 1933. If that history is lost on your little ones, here are our favorite modern-day highlights from our visit.
1. Visit the Veteran's Museum
Lasdon Park & Arboretum is home to The Westchester County Veteran's Museum, housed in the former caretaker's cottage. Currently, it's open only on weekends, from 10am-3pm, the museum—which offers lots of artifacts on display—also has a welcoming courtyard full of memorial stones.
RELATED: Short Hikes for Toddlers and Preschoolers in Westchester and the Hudson Valley

The Dinosaur Garden offers a short walk, fun dino sightings, and educational, easy-to-read signs.
2. Check out the Dinosaur Garden
As soon as we got to the park, my 6 and 3 year olds made a beeline for the Dinosaur Garden. (Not before stopping to throw a penny into the fountain at the 1-acre Lasdon Memorial Garden by the entrance, though.) The Dinosaur Garden, which is open seasonally, is a short path featuring large dinosaurs—including fan favorites like the brontosaurus and T. Rex—that was given an upgrade recently, with wider paths, a safety barrier, and more. My kids loved learning facts about the dinosaurs (Bonus: The info cards are easy enough for early readers to try on their own.) It's a quick walk, so it's great even for young toddlers. Before you head out, download the Zappar app to unlock a virtual visit with Lexi the T-Rexi. Just note that strollers aren't allowed, but there's a spot to leave them at the beginning of the trail.
RELATED: See Yayoi Kusama's Whimsical Art at NYBG's Newly Opened Exhibition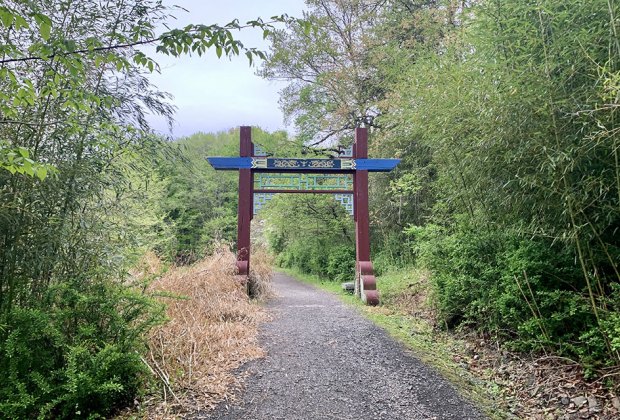 Though a longer 1-mile walk, the Chinese Friendship Garden is a lovely discovery for little ones, and they can chill in the stroller on this path.
3. Head to the Chinese Friendship Garden
If you're up for a longer walk, the trail to the Chinese Friendship Garden is a fun way to explore. The route—which is mostly paved and can accommodate a stroller—takes you through a pretty Magnolia Grove and then down a path lined with beautiful trees. (There are descriptions of most of the trees, too.) At the end, you'll come to the Chinese Pavillion—a gift from Westchester's sister city, Jinzhou, China—which is a great place to stop for a break and admire the colors and the architecture. The path from the entrance to the pavilion is about a mile, and since it's tucked away near a pond, it feels like a great discovery for kids.
RELATED: Exploring Teatown Lake Reservation With Kids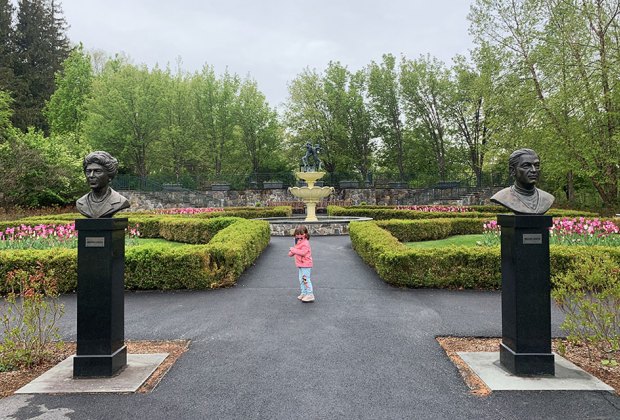 Beautifully manicured gardens have been preserved and enhanced since the county took over the grounds.
4. Walk the Grounds
Along with the Dinosaur Garden and Chinese Friendship Garden, the grounds at Lasdon Park are full of gorgeous gardens—and part of the fun is simply walking through and admiring it all. Our spring visit coincided with pink and red azaleas blooming in the Azalea Garden, located right by the main house. In the same area, you'll find a large grassy field, the Conservatory, where events are often held, as well as The Shop at Lasdon, though it was closed during our Saturday visit. There are plenty of tables to enjoy a snack break, and be sure to snap a pic in front of the large butterfly before you leave.
5. Attend an Event
Our first visit to the park years ago was for its wonderful annual Halloween event, which, at the time, included a spooky set up in the main house, a maze, and live entertainment and refreshments. Recently, it introduced The Magic of Spring, a fairy-themed event in the Conservatory, which friends raved about. An annual Holidays on the Hill Train Show is also a popular family favorite. Bookmark our Event Calendar to keep an eye on what's happening.
Whether you head there for an event or just an afternoon, you can also pair your trip with a visit to nearby Muscoot Farms (Currently, the grounds are open; buildings are closed.) or make a stop in Katonah for lunch or a look in one of the shops along Katonah Avenue.
RELATED: See Baby Animals and More at Petting Zoos in Westchester and the Hudson Valley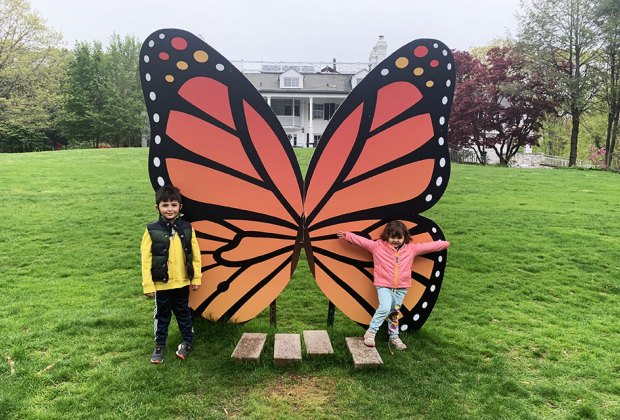 Pose for a shot with the giant butterfly before your visit to Lasdon Park & Arboretum ends.
Know Before You Go To Lasdon Park & Arboretum
The park grounds are open daily from 8am-4pm
The grounds are FREE to enter, though events are usually ticketed.
You must remain socially distanced during your visit, or masks must be worn. Masks are required indoors.
Bathrooms can be found by The Shop at Lasdon
Photos by the author