Exploring Teatown Lake Reservation With Kids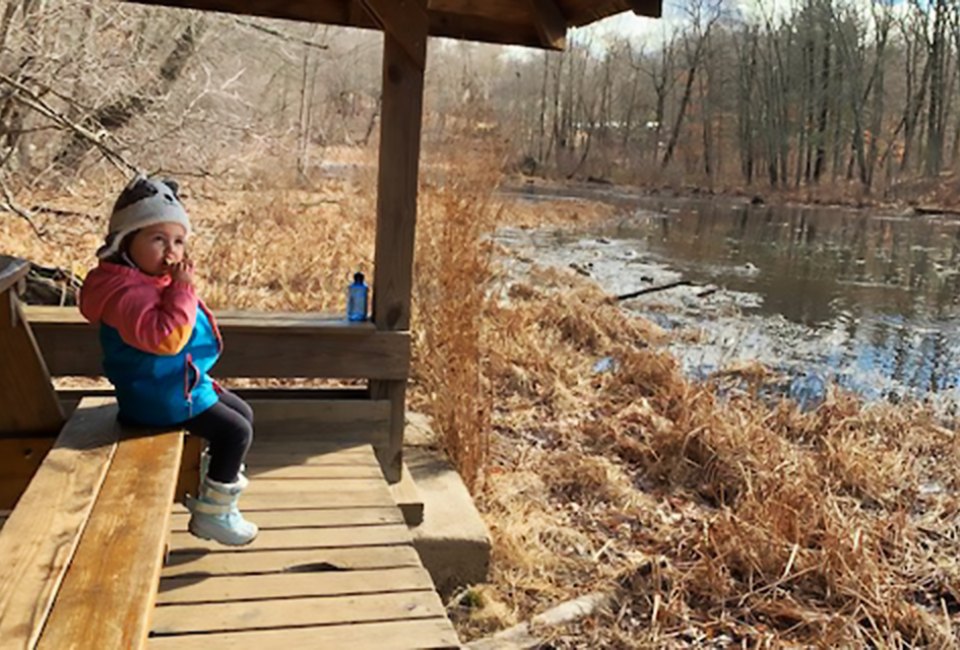 1/13/21
- By
Marisa Iallonardo
Westchester's outdoor parks and preserves are one of the biggest perks of living here, and that's never been more true than this year, as we've navigated the pandemic. Looking for a fun, safe, outdoor things to do with kids has taken priority. To that end, if you haven't visited the 1,000-acre Teatown Lake Reservation in Ossining yet, now's the time to add it to your list.
Even with winter's chill upon us, there is plenty to do at this natural gem, which kept my family busy on a recent January morning. It was a memorable outing, from a fun lakeside hike to a photo-op in front of the bright, beautiful outdoor owl mural.
Here's more of what we did on our visit—and what you can do while there. Find plenty more seasonal outings in our Winter Fun Guide.
Editor's note: While we are trying to promote safer activities that occur outdoors or with social distancing guidelines in place, please keep your family and others safe by always wearing a mask and practicing social distancing. If you arrive at an event that appears too crowded, try using the "nearby" search feature on our Event Calendar to find something else to do.
When planning your visit to Teatown Lake Reservation, there are some things to keep in mind before you head out: Certain facilities, like the Visitor Center, are presently closed. Masks are required, and signs are posted to remind visitors to mask up.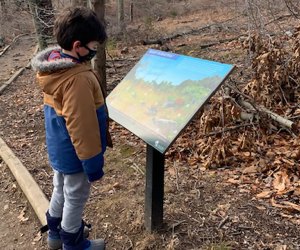 Trail signs offer plenty of info on local ecology and keep you moving in the right direction.
1. Go For a Lakeside Hike
Called "Lakeside Loop," this 1.5-mile hike circles Teatown Lake, which is right at the heart of the reservation. It's one of two hikes marked "easy" on the trail map—and it was a good fit for my 6 and 3 year olds. The trail itself is mostly flat, though it does narrow at points, and there are some hills, so it's best to leave the stroller at home. My 6-year-old loved pointing out the easy-to-spot trail markers (which are also a boon to hikers—as is the fact traffic on the trail currently moves only one way), and they both loved stopping to check out the water, crossing the wooden bridge, and picking up rocks and other kid-friendly hiking "souvenirs" (you know, like sticks) along the way.
RELATED: Day Trip Guide: Top 10 Things to Do at Bear Mountain State Park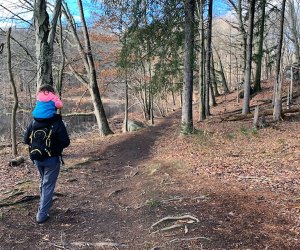 There are 15 miles worth of trails for hikers of every skill level at Teatown.
2. Or...Try One of the Other Trails
We loved our lakeside hike for the water view, but, with 15 miles of trails throughout the park, there are plenty of others to tackle, too. Another kid-friendly option is the .9-mile Catamount Hill Loop, close to the Catamount parking lot, which we're planning to do on our next visit. For older kids and more experienced hikers, there are hikes that clock in at just under a mile or longer options, like the 3.8-mile Three Lakes Loop, which, as the name suggests, takes you through Teatown Lake, as well two others on the property, Vernay Lake and Shadow Lake.
RELATED: Easy New York State Park Hikes For Families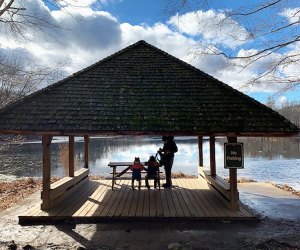 There are plenty of places to enjoy an alfresco meal at Teatown.
3. Enjoy an Outdoor Lunch
There are picnic tables near the parking lot for a snack or lunch break. By the lake, you'll find a covered structure with a picnic table underneath, perfect for taking a break while enjoying the view—which is exactly what we did. We didn't see any vending machines—keep in mind that the Visitor Center is currently closed—but there are many places to stop in nearby Ossining or Croton to pick something up on the way.
4. Go to an Event (Even Virtually)
There are several events at Teatown—including the popular annual Hudson River EagleFest, which is set to run from Saturday, January 30-Sunday, February 7, 2021. It "showcases the migration of bald eagles to the Hudson River." This go-round includes a mix of in-person and virtual events. There are also guided hikes and webinars for adults and multi-session programs for kids, such as Little Tree Huggers and Nature Detectives to try.

The scenery and artwork are stunning at the Teatown Lake Reservation.
5. Book a Virtual Visit With an Owl, Vulture, and More
OK, so this one isn't something to do while you're at Teatown, but it is one way to extend the fun after you get home: Set up a "virtual visit" with one of Teatown's 'animal ambassadors'—like Orion the great-horned owl, Ralph the turkey vulture, or Doug, the opossum. Visits last anywhere from 10-20 minutes and offer kids lots of info (and sometimes a chance to ask questions) about the individual animal. Visit costs range from $50-75 depending on the animal you choose.
And there are plenty of other things to do, too. In a post-pandemic world, book a birthday party, visit Wildflower Island, a 2-acre wildflower sanctuary that runs tours in the warmer months, and check out the exhibits at the indoor Visitor Center. No timeline has been planned for each to reopen, but Teatown says it will happen when it's safe to do so.
RELATED: 7 Things to Do at Minnewaska State Park Preserve With Kids

Teatown offers a stunning backdrop for nature exploration in any season.
Know Before You Go to the Teatown Lake Reservation
The trails at Teatown Lake Reservation are open daily from morning to dusk.
Parking is $5 (FREE for members).
The Visitor Center and its restrooms are currently closed, but there are composting restrooms near the parking lots. Masks are also required, as is social distancing.
Places featured in this article: