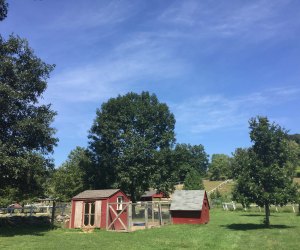 Day Trip to Muscoot Farm: Animals and Old-Fashioned Fun for Little Ones
Muscoot Farm is a Westchester gem and a great day trip destination, especially now that we're in prime fall fun season. The 777-acre Somers farm offers enough to keep kids having fun without feeling overwhelmed.
In fact, Muscoot Farm is a great farm introduction for younger children, because it allows them to see animals up close without it being as daunting as say, a trip to the zoo might be for that age group. The best part? Admission is FREE.
A former dairy farm founded in the 1880s, Alfred B. Delbello Muscoot Farm has been owned by Westchester County for more than 50 years. It's open every day of the year, from 10am to 4pm, and you don't need a parks pass or to be a county resident to visit. ​Like the admission, parking is free. There's a lot as soon as you pull in, though be warned that on certain days—like during the Farmer's Market on Sundays—it can get pretty crowded, so be sure to visit on the earlier side.
There are paths throughout the farm, and while most are not paved, they're flat enough that you can bring a stroller. When we visited with my then-1-year-old daughter, we were able to make our way around easily with our regular stroller in tow.
RELATED: See Baby Animals and More at Family-Friendly Westchester Farms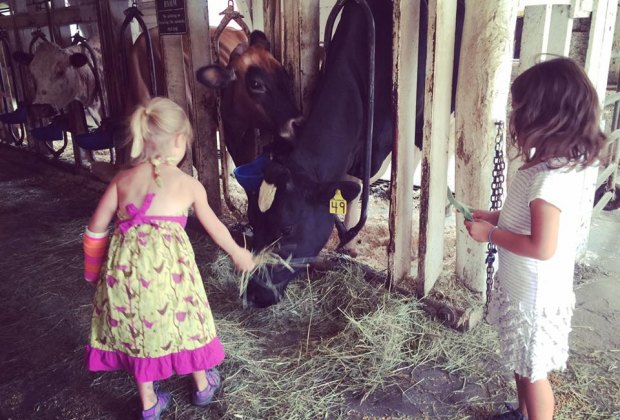 Feed the sweet-natured cows. Photo by Meagan Newhart
There are more than 50 animals to see at Muscoot Farm—from cows and horses to chickens and pigs. Just keep in mind that petting or feeding the animals is strictly prohibited, and the farm encourages the use of "indoor voices" while visiting so the animals don't get upset.
RELATED: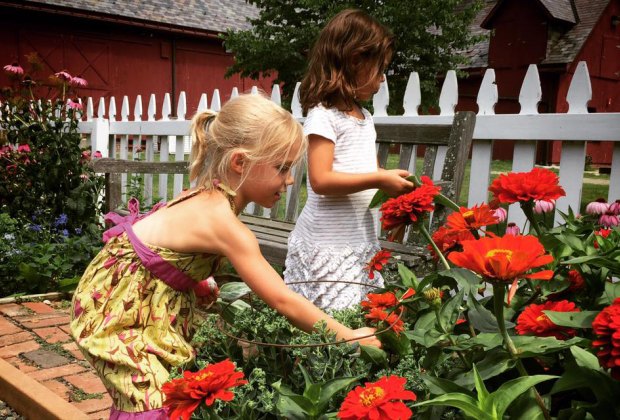 Wander the grounds at farms and see some beautiful flowers. Photo by Meagan Newhart
Along with the animals, there are also a number of historic buildings, which offer kids a glimpse into what things were like on the farm years ago. That includes a milk house, carriage house, and more—with everything from old-fashioned appliances on display to information about daily life.
On Sundays between May and October, kids can also enjoy a 25-minute hayride through the property. (Cost is $3 per ride, per person) Another favorite to-do while there? Snap a pic of your child on the big red tractor.
If you visit in the warmer months, there's food available on-site—as well as picnic tables around the property if you pack your own. Or, if you're there on a Sunday, you can stop by the Farmer's Market and grab some food from the vendors, then eat at one of the picnic tables—that's what we did on one of our visits, and it was a great way to switch things up (and not have to pack food for the whole family.) Spending just the morning at the farm? There's also nearby Katonah to visit for lunch.
We recommend topping off your trip with a stop at King Kone, which is a quick five-minute drive from the farm.
Along with the weekly Farmer's Market, which runs from May through November, Muscoot also hosts a variety of events throughout the year. For kids, you'll find everything from "Story Craft" to "Morning Farm Chores," where they can try their hand at working around the farm. In the fall, there's a Pumpkin Picking Weekend (coming up October 12–14, 2019) , as well as special events around Halloween, like this year's Boo Walk on Saturday, October 27, a Halloween-themed scavenger hunt around the farm.
You can also host a birthday party at the farm from April through November, and there are a number of popular summer camps for kids starting at 4 years old.