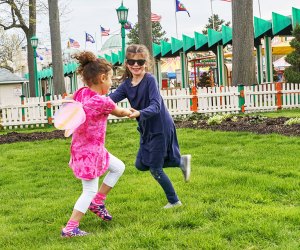 Mother's Day Weekend Fun for Westchester Kids
At last, the weekend we moms have been waiting for! We know how hard you work, how many balls you juggle, how many diapers you've changed, and we want to help you savor the moment when your family puts on their best manners and honors the lady who holds it all together. The tried-and-true Mother's Day brunch is a popular way to celebrate, but we've also rounded up 35 ways to spend Mother's Day that don't involve a restaurant reservation.
The Albany Tulip Festival will showcase Dutch traditions and festival-type fun in addition to loads of beautiful blooms. The season-opener of Rye Playland includes FREE admission for moms on Mother's Day, and the season-opener of the Science Barge offers FREE STEAM fun for all. Westchester County parks are hosting events with multiple variants on the theme Art in Nature, and wee ones can create abodes for wee woodland creatures at the Fairy House Workshop.
Looking for more ideas? Read on for all our top picks, head to our Event Calendar for additional options, and plan the rest of the month with our May GoList. For more seasonal activities, be sure to check out our Spring Activity Guide.
From all the parents at Mommy Poppins: Have a very happy Mother's Day!