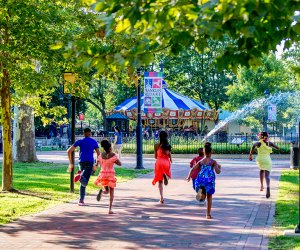 20+ Things To Do in Philadelphia this Weekend with Kids: Festivals, Exhibits, Free Fun
As July slips away and August arrives, Philly kids are sure to be a bit anxious. After all, summer is almost over and school days soon will be here. Now more than ever, it is important to check off items on that 2021 summer bucket list.
Haven't been to a festival yet? Celebrations can be found at The Harriton House and Peddler's Village. On Saturday, Franklin Square turns 15 while multiple venues celebrate the beloved children's book character, Harry Potter, and his birthday. Looking to visit a new exhibit? Our list includes museums in both the city and the suburbs featuring unique displays. Looking for free fun? Consider watching a movie under the stars at Caln Township Park and Oakbourne Park. Or search for birds at John James Audubon Center at Mill Grove or Newlin Grist Mill. On the other hand, splurge on Candytopia, which is back for a second engagement in the Fashion District.
Grown-ups ... we know you need some fun, too Why not schedule a trip to one of the many family-friendly wineries found on our recently update post? Or, if you need to occupy the kids with an engaging and education camp, browse our online camp opportunities. Read on for our top festivals, exhibits, and free fun for the weekend ahead.