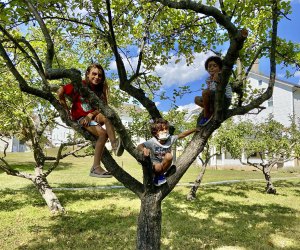 25 Kid-Friendly Spring Day Trips for NYC Families
By the time spring rolls around, my family has reached its limit of winter-induced stir-craziness. Despite all our city has to offer in spring, we collectively feel desperate for a getaway from NYC. Having this list of 25 spring-inspired day trips at our fingertips gives us something to look forward to, especially with spring break here.
From hiking to smelling the blooms and strolling amid sculpture gardens, there is something on this list for everyone.
We have a low tolerance for driving, so all of these day trips are within two hours of New York City. Find more ideas in our Day Trips Guide or our Family Travel Guide.
Editor's note: While we are trying to promote safer activities that occur outdoors or with social distancing guidelines in place, please keep your family and others safe by always wearing a mask and practicing social distancing. If you arrive at a venue that appears too crowded, try using the "nearby" search feature on our Event Calendar to find something else to do.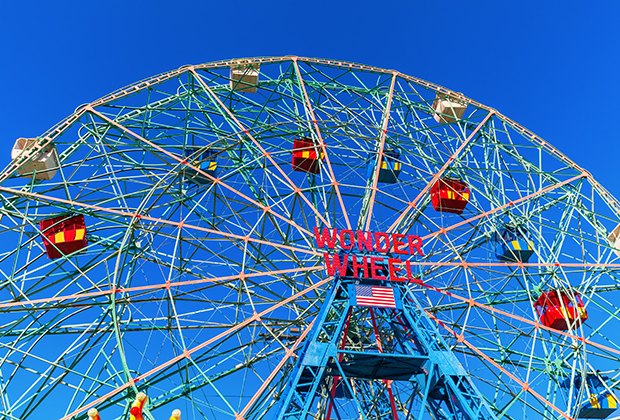 The view from the top of the Coney Island Wonder Wheel is one of a kind.
Spring Day Trips in NYC
1. Coney Island
Experience Coney Island's thrills at Luna Park and Deno's Wonder Wheel Amusement Park, both of which debut new rides this season (opening dates are still TBA), including Big Wavez and The Phoenix rollercoaster. Afterward, hit the beach, stroll the boardwalk, and feast on a hot dog at Nathan's.
2. Roosevelt Island
Ride the tram over the East River to explore Roosevelt Island and get a fresh perspective on the city. Our favorite spot is Southpoint Park and the nearby lighthouse. Take your scooter or bike and ride around on the promenade.
RELATED: 35 Things To Do During a Spring Staycation With NYC Kids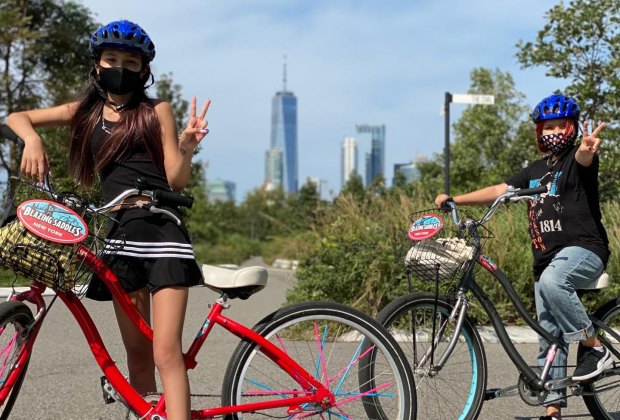 Hop the ferry to Governors Island to explore all the island has to offer. Photo courtesy of Governors Island
3. Governor's Island
Hop on a ferry to Governors Island, which generally reopens for the season in May. There's always a ton of activities, including zip-lining, creative playgrounds, biking-riding, and splash pads, just to name a few, to keep the whole family entertained.
4. Pelham Bay Park
Pelham Bay Park is the largest park in NYC. It's three times the size of Central Park, and to say it has something for everyone is an understatement. Take a stroll along the Orchard Beach Promenade and behold the beauty of spring.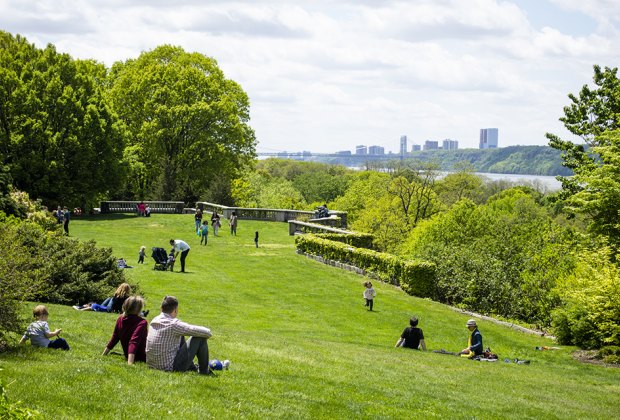 Explore the enchanted gardens at Wave Hill. Photo courtesy of Wave Hill
5. Wave Hill
Bask in the wonders of nature at the splendid Wave Hill in Riverdale.
6. Flushing Meadows Corona Park
Reaching Flushing Meadows Corona Park is a day trip for many in NYC, but well worth it: You'll find the Queens Botanical Garden, the the Queens Zoo and the Queens Museum.
RELATED: Parks and Playgrounds Guide for NYC Kids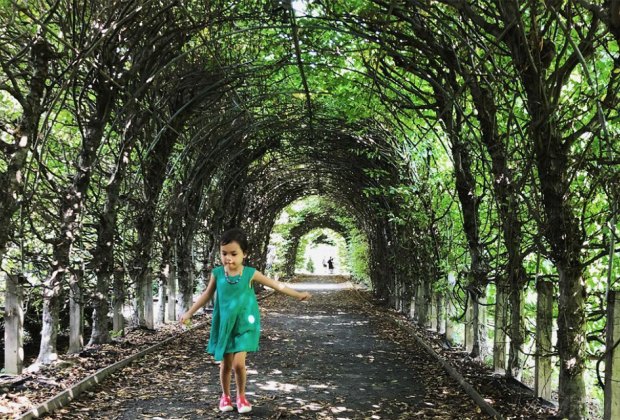 Snug Harbor Cultural Center and Botanical Garden is a delight for kids! Photo by Janet Bloom
7. Snug Harbor
Take the ferry to Staten Island and visit the Snug Harbor Cultural Center and Botanical Garden. Behold all the little treasures this small nook in Staten Island holds.
RELATED: Hudson Valley and Catskills With Kids: Top Sights, Towns, and Places to Stay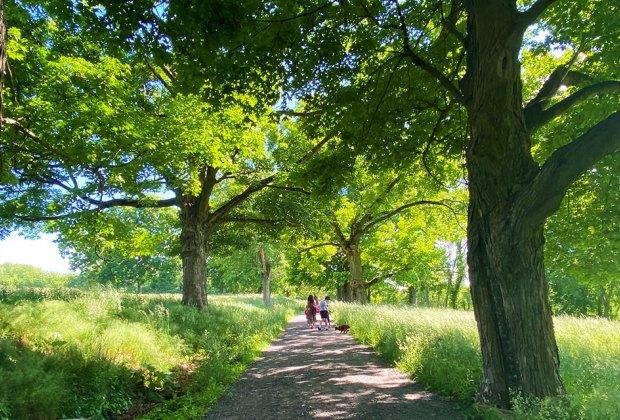 Roam the trails at the Rockefeller State Park Preserve.
Spring Day Trips in Westchester
8. Rockefeller State Park Preserve
Head to the Rockefeller State Park Preserve for a hike when the stunning peonies bloom in late April or early May. Or try one of these other destination hikes in Westchester.
9. Empire State Trail
Explore the newly completed, 750-mile-long Empire State Trail, which is the the nation's longest multi-use state trail, running from Manhattan up to the Canadian border and from Buffalo to Albany, providing a wonderful way to experience the natural beauty of New York and its rich history.
10. Untermeyer Gardens
Ride bikes along the Old Croton Aqueduct Trail from Van Cortlandt Park to Untermeyer Gardens in Yonkers, where you can enjoy 43 acres of New York's most beautiful landscaping.
RELATED: Easy New York State Park Hikes for Families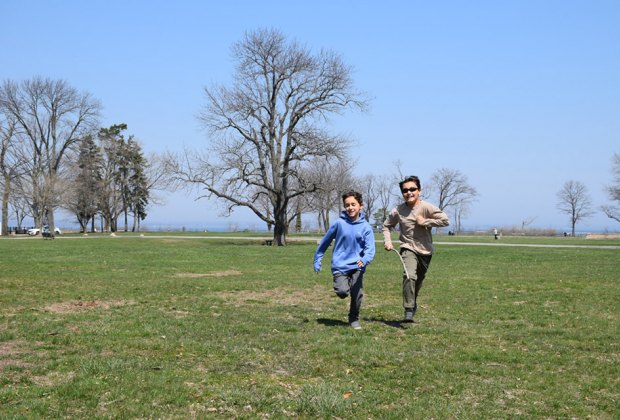 Enjoy a run along the breathtaking grounds of Sands Point Preserve. Photo by Jaime Sumersille
Spring Day Trips on Long Island
11. Sands Point Preserve
Hike the dinosaur trail, or explore the rest of the grounds at the Sands Point Preserve, which also houses a castle and is near the family-friendly village of Port Washington.
12. Old Westbury Gardens
Enjoy the fragrant blooms at Old Westbury Gardens when it reopens Thursday, April 1, just as the cherry blossoms begin to bloom.
RELATED: Spring Break in NYC: 50 Fun Things to Do With Kids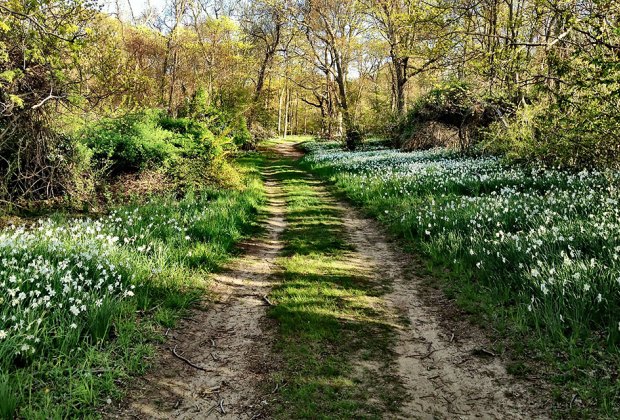 Adventurous hikers and cyclers will love exploring the park's natural trails.
13. Caumsett State Park
Pack a picnic lunch and head to Caumsett State Park, which sits on a peninsula that juts out into the Long Island Sound. Your family can enjoy miles of beautiful nature paths; it's one of our favorite state parks on Long Island.
14. Montauk
At the furthest end of Long Island, Montauk makes a relaxing day getaway. You can enjoy the sand and waves, explore the lighthouse, or take a hike through Montauk State Park. Enjoy some delicious seafood before heading back.
RELATED: 5 Metro-North Day Trips for Families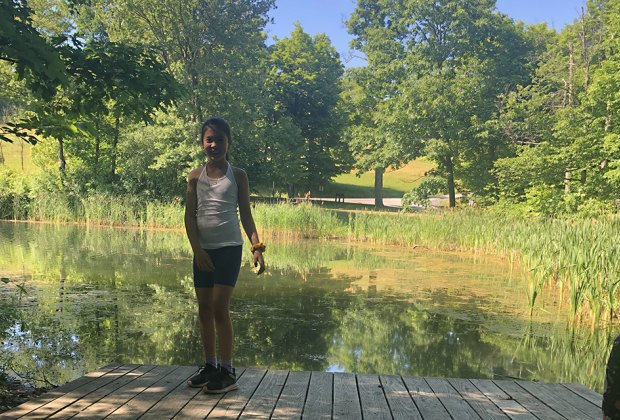 Olana's landscape includes a working and ornamental farm, meadows, outbuildings, a man-made lake, native woodlands, and more than 5 miles of carriage roads. Photo by Diana Kim
Spring Day Trips in New York State
15. Olana State Historic Site
Experience natural beauty, history, amazing art, design, and architecture at the the Olana State Historic Site. It's a great destination for the whole family, offering sights and activities for kids as well as their parents.
16. Bear Mountain State Park
Hit the road for Bear Mountain State Park. A go-to destination for my family every spring, this treasure trove offers beautiful hiking, a charming Trailside Museum, and even a sweet zoo.
17. Legoland New York
The wait is almost over. Legoland New York is set to open sometime in late spring. Families can enjoy more than 50 rides, attractions, and games, including a brand-new ride exclusive to this location–the Lego Factory Adventure.
RELATED: Outdoor Art Day Trips Near NYC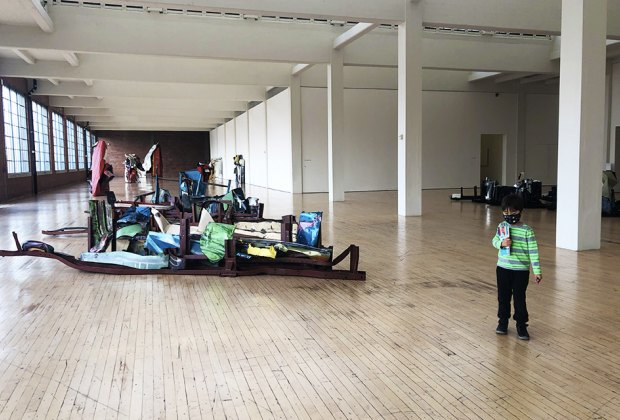 The warehouse-sized, loft-like space at Dia: Beacon offers plenty of room to take a break and engage with the art, so pack a sketchbook and some pencils for your visit. Photo by Diana Kim
18. Beacon
Head to Beacon to explore its charming, fun-packed Main Street, and visit Dia: Beacon, where you can view cutting edge, large-scale art installations.
19. Storm King
At Storm King Art Center, a stunning outdoor sculpture garden, kids can walk the grounds and hills without fear of bumping into the art. Pack a picnic to enjoy at the tables during after your excursion.
20. Walkway Over the Hudson
Walk, bike, scoot, or blade across the Walkway Over the Hudson in Poughkeepsie, which connects Dutchess and Ulster counties.

Kids can admire sculptures, like this piece from Isaac Witkin, at the Grounds for Sculpture. Photo by David Howarth for dmhphotographer
Spring Day Trips in New Jersey
21. Grounds For Sculpture
Visit New Jersey's whimsical 42-acre Grounds For Sculpture. Inquire about monthly activities, like its Artboxes, kids can complete at the garden or at home.
22. Palisades Interstate Park
Just on the other side of the George Washington Bridge, Palisades Interstate Park is a perfect place to head for a gorgeous guided hike. You'll find ample parking, stunning Hudson River views, and a snack bar.
23. Six Flags Great Adventure
Thrill seekers should get tickets now for Six Flags Great Adventure in Jackson. Return this summer to ride the record-breaking Jersey Devil Coaster.
RELATED: Here's When Amusement Parks Open for the Season in New Jersey and Pennsylvania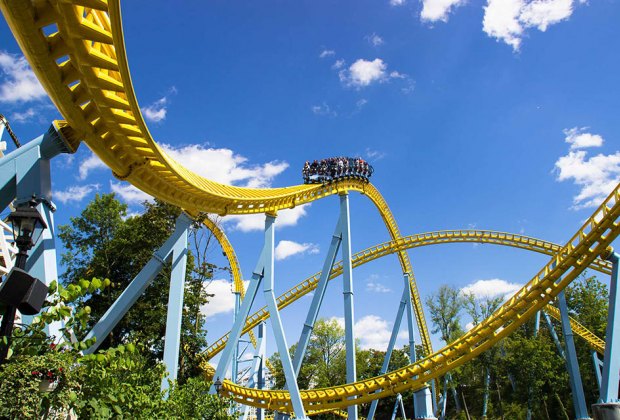 Catch a thrill at Hersheypark. Photo courtesy of the Park
Spring Day Trips in Pennsylvania
24. Hersheypark
For sweets and thrills, head over to Hersheypark, which marks its 115th season this year. Ride the Candymonium, the longest, tallest, and fastest coaster in the park and satisfy your sweet tooth at Chocolatetown.
25. Philadelphia
Take a day trip to Philly to explore its history and kid-friendly attractions.
A version of this article was first published in 2016; it has been updated.