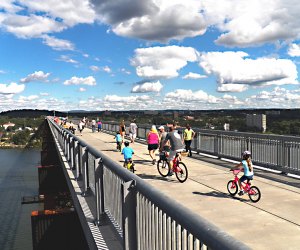 25 Kid-Friendly Spring Day Trip Ideas for NYC Families
By the time April rolls around, my family has reached its limits of winter-induced stir-craziness, and despite all that our fair city has to offer in spring, we collectively feel desperate to get away from NYC, even for the day.
Having this list of 25 spring-inspired day trips at our fingertips gives us something to look forward to, especially with spring break on the horizon. From hiking and farm fun to smelling the blooms to strolling amid sculpture gardens, there is something on this list for everyone.

Note: We have a low tolerance for driving, so for us, a day trip has to be within two hours of New York City. Find more ideas in our Day Trips Guide or our Family Travel Guide.
1. Hop a bus from Penn Station to Bear Mountain State Park. A go-to destination for my family every spring, this treasure trove offers beautiful hiking, the charming Trailside Museum, and even a sweet zoo.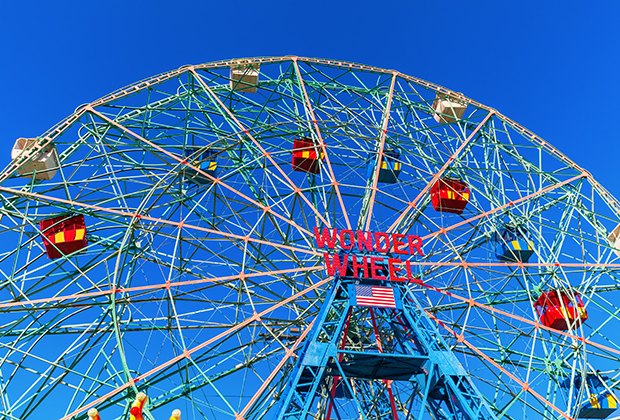 The view from the top of this Coney Island wheel is one of a kind. Photo via Bigstock.
2. Experience Coney Island's thrills at Luna Park and Deno's Wonder Wheel, stroll the boardwalk, and feast on a hot dog at Nathan's. Been there, done that? Have you tried the similarly retro-feeling Playland in Westchester? It opens for the season on Saturday, May 11.
3. Ride bikes along the Old Croton Aqueduct Trail from Van Cortlandt Park to Untermeyer Gardens in Yonkers.
4. Head to the Rockefeller State Park Preserve for a hike when the striking peonies are in bloom in late April or early May. Or try one of these other destination hikes in Westchester.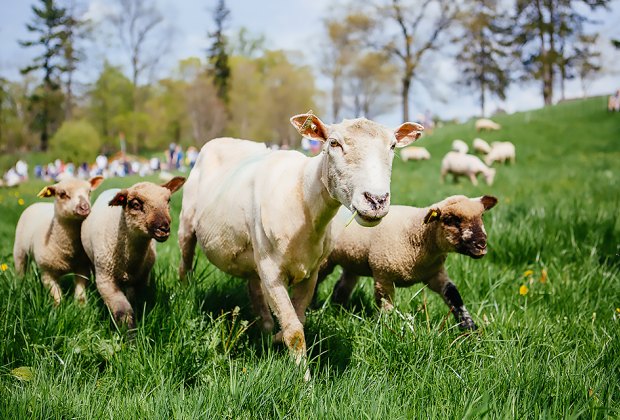 Newly shorn sheep run through the grass at the annual Sheep Shearing Festival at Stone Barns Center. Photo by Ethan Harrison for Stone Barns Center
5. If you are able to swing it, make a visit to Westchester with a stop at eco-favorite Stone Barns Center for Food & Agriculture for weekend activities.
6. Make the 1.5-hour drive to the super charming New Hope community in Pennsylvania. Check out Nakashima Woodworkers, Bowman's Hill Wildflower Preserve, or perhaps enjoy a stroll along the Delaware River. Note: save time for a stop at Nina's Waffle and Ice Cream.
7. Hop on a ferry to Governors Island starting Wednesday, May 1 and swoosh down Slide Hill or dare to zip line at Adventures at Governors Island, opening Saturday, May 4.
RELATED: Theme Parks & Water Parks Guide for NYC Families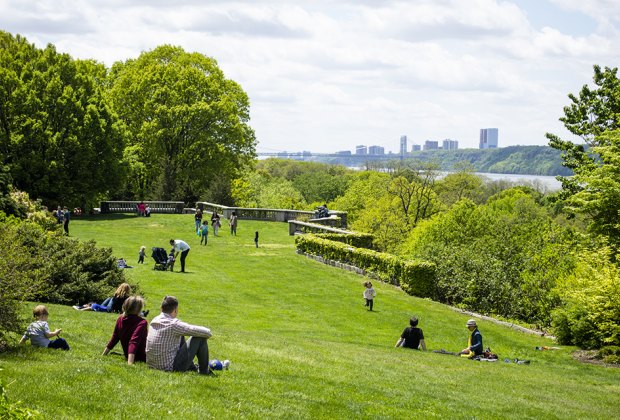 Explore the enchanted gardens at Wave Hill. Photo courtesy of Wave Hill
8. Join any number of terrific family programs at Riverdale's blooming Wave Hill, including Arbor Weekend. We're also excited about Earth Day art projects.
9. Hike the dinosaur trail, or explore the rest of the grounds, which also house a castle at Sands Point Preserve, near Port Washington, Long Island.
10. Head to Beacon, New York to visit one of the several new exhibits opening at Dia:Beacon in early May before hitting the super charming town and one of its many spring traditions like the excellent Beacon Flea Market and Hudson Valley Mac and Cheese Festival on Saturday, April 27 (tickets sell out!).

11. At Storm King Art Center, a stunning outdoor sculpture garden in the Hudson Valley, kids can walk the grounds and hills without fear of bumping into the art. Pack a picnic to enjoy at the tables for after your excursion.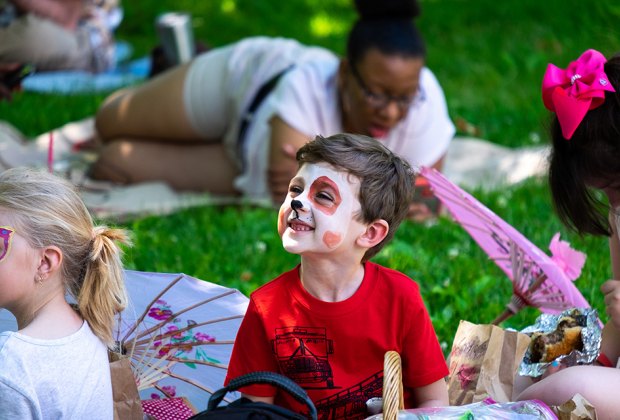 Check out Snug Harbor's Big Picnic on Gazebo Lawn. Photo by Lance Reha for Snug Harbor Cultural Center
12. Explore the Chinese Scholar's Garden at Staten Island's Snug Harbor Cultural Center. Afterward, hit the next-door children's museum.
13. Enjoy the fragrant Old Westbury Gardens on Long Island when it reopens Friday, April 19, and the cherry blossoms begin to bloom.

14. Pack a picnic lunch and head to Caumsett State Park on a peninsula that juts out into the Long Island Sound. Your family will enjoy miles of beautiful nature paths; it's one of our favorite parks on Long Island.
RELATED: Hudson Valley and Catskills with Kids: Top Sights, Towns, and Places to Stay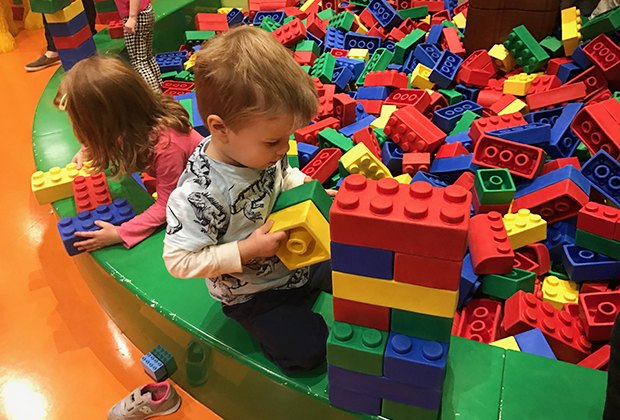 Tots can enjoy the oversize Duplo building pit at the Legoland Discovery Center. Photo by Rose Gordon Sala
15. Rainy day? Head to Westchester's Legoland Discovery Center to play and create in its 2,300-square-foot interactive play area, Ninjago City. It's a great spot to spend the morning before grabbing lunch at one of the restaurants within the open-air Ridge Hill mall complex. There's also an indoor trampoline park, Rockin Jump, just a couple of doors down if they have more energy to burn.
16. Walk, bike, scooter, or blade across the really neat Walkway Over the Hudson in Poughkeepsie, connecting Dutchess and Ulster counties. Then check out the cool children's activities in town, including the fun Mid-Hudson Children's Museum afterward.
17. Just on the other side of the George Washington Bridge, Palisades Interstate Park is where we will head for a gorgeous guided Mother's Day hike. You'll find ample parking, stunning Hudson River views, and a snack bar.
18. Ride the tram and explore Roosevelt Island—our favorite spot is the Southpoint Park and nearby lighthouse.

Kids look in awe at the sculpture by Isaac Witkin, Garden State, 1997 at the Grounds for Sculpture. Photo by David Howarth for dmhphotographer
19. Visit New Jersey's whimsical 42-acre Grounds For Sculpture. Our best experiences have been on their walk-in tours—call to confirm on the morning of your intended visit.
20. Pelham Bay Park is the largest park in NYC—three times the size of Central Park. To say it has something for everyone in your family is an understatement. Take a stroll along the Orchard Beach Promenade to behold the beauty of spring.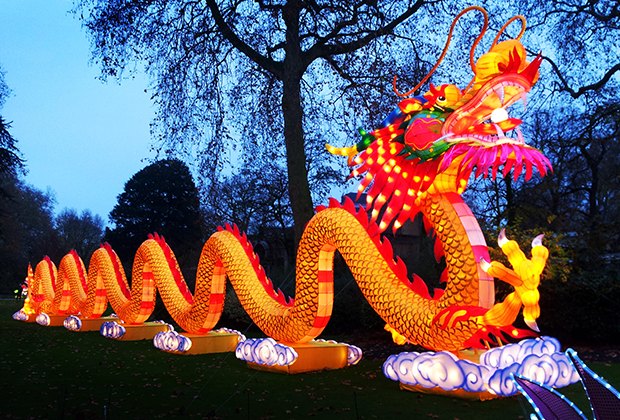 View the glowing lantern creations at the Chinese Lantern Festival. Photo by Sichuan Tianyu for of the festival
21. Take a day trip to Philly for the show-stopping Chinese Lantern Festival in Franklin Square, taking place nightly this year from Wednesday, May 1–Sunday, June 30.
22. Reaching Flushing Meadows Corona Park is a day trip for many in NYC, but well worth it: There's the New York Hall of Science with its STEM fun; outdoor mini golf and playground; but also the Queens Botanical Garden, which is hosting its annual Arbor Fest on Sunday, April 28; Fantasy Forest Park, a great mini amusement park; and of course the zoo and Queens Museum.
23. Ride the LIRR (and then a bus) to visit Long Island's Museum Row in Garden City, where you can see everything from planes and firetrucks to carousels.
24. Try one of the three living history museums in the NYC area.
25. Feed farm animals at these nearby petting zoos. By late May, you'll find strawberries for the picking at many of the farms.
A version of this article was first published in 2016; it has been updated.