12 Pocono Cabin Rentals with Big Perks for Families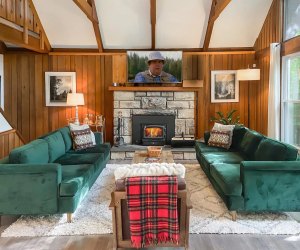 4/17/21
- By
Danielle Smith
Cabin fever may have taken on a whole new meaning over the past year, but a fever for cabins? We've caught it, and we're embracing it in the Poconos with these cabin rentals.
For the uninitiated, the Pocono Mountains is a 2400-square-mile, four-county region in northeastern Pennsylvania, frequented by families for exciting outdoor adventures, inclusive resorts, and charming small towns. You won't even miss the Shore with the 150 lakes and 170 miles of river running through the Poconos. If you prefer to stay on land, there are nine state parks and two national parks, with over 261 miles of hiking trails. Add to that an endless menu of activities for families in the Poconos, including ziplining, horseback riding, and paintball to name a few, and you've got yourself a vacation with something for everyone.
Ditching the hotel scene for a private cabin rental in PA is a great way to experience the Poconos while keeping some of the comforts of home and enjoying more spacious accommodations for families. With amenities like lakefront beaches, pools, spas, and games, you could retire to these mountain retreats after a long day of exploring, or never leave them at all. We've rounded up 12 of the best Pocono cabin rentals with a budget of $400 or less a night.
COVID-19 NOTE: Please continue to observe all protocols in place when traveling, including wearing masks and maintaining social distance. Restrictions may vary by location, so it's best to check ahead of any booking with local requirements and house rules.
This chic cedar-lined chalet that sleeps 10 inside Locust lake Village provides a beautiful escape for any family's mountain getaway. Toys and games abound inside, while outside there's a hot tub and fire pit for s'mores in the spacious wooded backyard. It's easy to see why previous guests describe a treehouse feel to this cabin rental. Access is provided to the community amenities of Locust Lake Village, or enjoy hiking, biking, and all things outdoors at the parks and preserves nearby.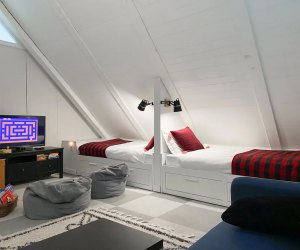 A kid-approved loft with four bunk beds and plenty of games in Monarch Cottage at Pocono Lake. Photo courtesy of Airbnb
This peaceful chalet with space for eight comes stocked with kids' toys, board games, and arcade classics like Atari and Pac-Man inside a specially-appointed kids loft, outfitted with four bunk beds. Situated inside Locust Lake Village, there are three lakes within this home's private community, including Pine Lake with its sandy beach only a short walk away. The community also offers tennis courts, playgrounds, and special events, with winter fun like skiing, sledding, and ice fishing in the colder months. The closest areas for outdoor fun are Hickory Run State Park, Austin T. Blakeslee Natural Area, and the Delaware Water Gap, and the Appalachian Trail, all within a 30-minute drive. Monarch Cottage gets high marks from reviewers for being beautifully decorated with a stylish, modern aesthetic.
3. Kamoose –– Pocono Pines
Three words best describe this Lake Naomi home: indoor heated pool! That's a perk rarely found in any private home, and the defining feature of this family-friendly Poconos cabin rental. Located in the gated neighborhood of Timber Trails, there are temporary memberships available to access some on-site amenities, but be sure to check the requirements before booking. Outside the community, find typical Pocono activities like hiking, horseback riding, and resorts nearby.
RELATED: 6 Great Weekend Getaways in Pennsylvania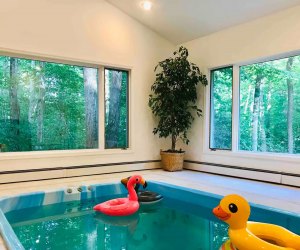 The indoor heated pool at Kamoose in Pocono Pines is too good a luxury to pass up. Photo courtesy of Airbnb
Skip the water parks for this adorably updated cottage with an outdoor pool and hot tub. It's a few minutes away from Stillwater Lake and Lake Naomi, and 15 minutes from Camelback Mountain. Board games are provided for indoor entertainment. Make use of the fire pit and wind down the day with sunset s'mores amongst the trees.
A short drive from the main drag of one of the East Coast's cutest mountain towns, this cozy Pocono cabin rental comes with an indoor hot tub, game room, and tons of woodsy charm. The home is in the community of Bear Creek Lakes, which has its own set of attractions but is also close to the Lehigh Gorge, Hickory State Run Park, and the Pocono Whitewater adventure center.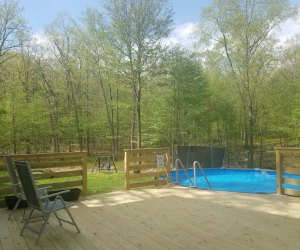 Slide from the deck directly into the pool at Acorn Cottage in East Stroudsburg. Photo courtesy of Airbnb
Swim in the pool, jump on the trampoline, swing in the hammock, or dip in the hot tub, there's plenty to choose from at this Pocono cabin rental with space for a dozen family and friends to rest and relax. Hike and fish nearby at the Delaware Water Gap, or visit Camelback resort a half hour away. The Shawnee ski resort is close in the winter.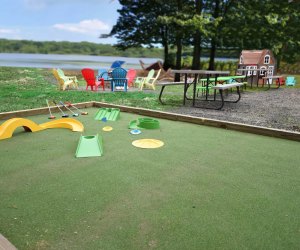 Kiddie golf and more right on the water at this Lakefront House in Pocono Summit. Photo courtesy of Airbnb
The owners really pulled out all the stops at this family retreat on the water. With an eight-person, neon-lit hot tub, game room, mini golf, fire pit, hammock, sandbox, and outdoor playhouse, the kids will never want to leave. Steps from a private dock, take the complimentary kayaks, canoes, and pedal boats for a day out on the lake. If anyone decides to leave for some reason, nearby attractions abound. The house is also located in a private community where a $5 pass grants access to beaches, basketball courts, and a playground.
A traditional chalet exterior contains a colorful and fun modern interior at this cabin that sleeps 12 and is big on family-friendly amenities. A basement game room rimmed with LED light strips has arcade games, a movie projector screen, and tables for pool or ping pong. Upstairs is a separate playroom for younger children. There's even a wall decorated with a cool backdrop and a basket of props, if you're into Instagramming your getaways. MiaNova sits inside a private community called The Hideout, with a bunch of community perks and activities. Keep an eye out for the wild turkeys here!

The entrance to the basement in Villa MiaNova has a decidedly intergalactic feel. Photo courtesy of Airbnb
A cute rancher in the Towamensing Trails community comes with all the amenities they have to offer, including a private beach on a 190-acre lake. The owner provides renters with eight wristbands for use. The home itself has a decent-sized pool, hot tub, and trampoline in the backyard. There's a pool table and foosball inside, with enough beds to sleep 12. It's close to the Jack Frost and Big Boulder resort area for the winter ski season.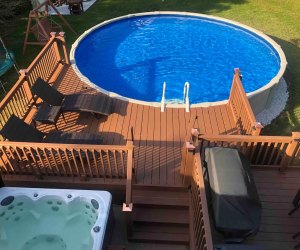 Enjoy a soak or a swim at the Modern Ranch Retreat in Albrightsville. Photo courtesy of Airbnb
Walk out the back door and you're a stone's throw from fishing, swimming, paddle boating, or kayaking on Summit Lake. If the water's a little chilly, come back to the deck to warm up in the hot tub, or roast s'mores in the bear-themed fire pit –this home really has it all. Inside you'll find an adorably decorated kids' room with bunk beds, and plenty of space for adults to relax and chill. Get outdoorsy at Hickory Run State Park or Tobyhanna State Park a short drive away, or check out the indoor water slides at Kalahari 10 minutes down the road.
Bushkill Falls is one of the major draws of the Poconos, and it's less than 3 miles from this home. The house is less than six miles from the Delaware Water Gap, where even more beautiful falls and great hiking await. Inside the Saw Creek Community, guests can enjoy amenities like pools, trails, and playgrounds. The property itself has ping-pong, pop-shot basketball, a fire pit, and enough room to sleep 13.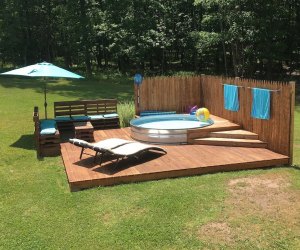 Just some of the backyard fun available at Cherry Lane Sanctuary in Henryville. Photo courtesy of Vrbo
Rustic charm in overdrive is on display at this property with amazing family-friendly appeal. Outside, there's a stock-tank pool, outdoor sauna, hot tub, mini golf, fire pit, volleyball net, basketball court, playset, playhouse, and meditation pyramid if for some crazy reason the kids get whiny (we know that never happens on vacation). Luckily this is a whine-free zone indoors too, where there's a game room with ping-pong, foosball, air hockey, a karaoke set, and board games galore. There are tons of lawn games, including numerous toss games and Yardzee. With over six acres, we can't see any reason to leave the grounds, but if you must, great hiking and state parks are 25-30 minutes away. Basically, this rental is a full-blown summer camp!