Easy Waterfall Hikes in the Poconos for Families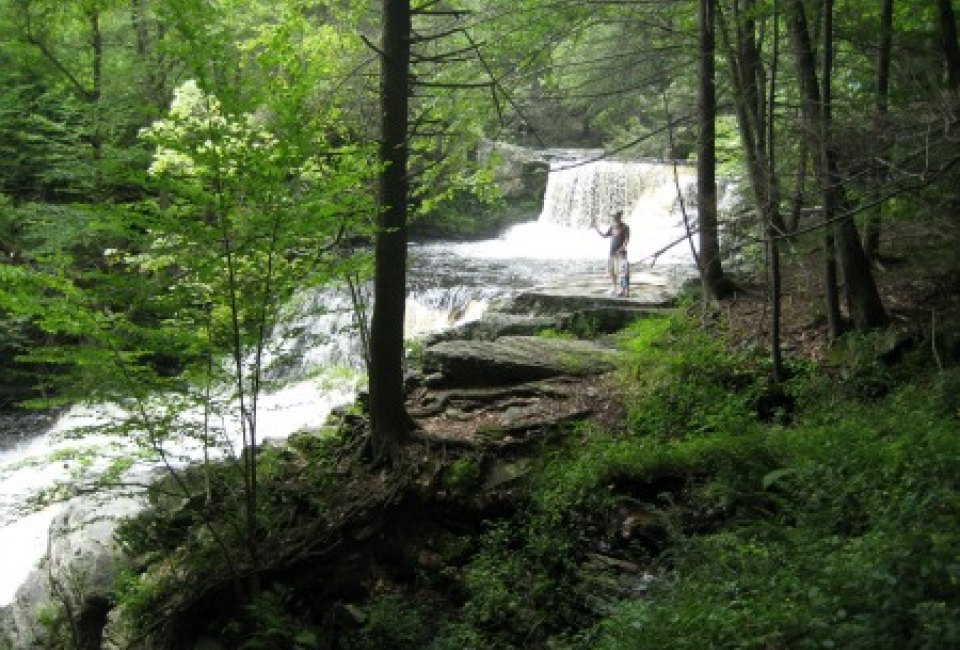 10/9/15
- By
Stephanie Ogozalek
Few things will excite a kid more on a hike than the sudden roar of rushing water. They'll race toward the falls, eager to toss in a stick to see where it'll go, mesmerized by the crashing water. But really, encountering a waterfall deep in the woods is enchanting at any age.
Families can find a trove of gorgeous waterfall hikes easy enough for children tucked into the northern end of the Pennsylvania's Delaware Water Gap—less than two hours by car from Midtown Manhattan.
These nature walks are doable in a day, however, you might want to turn this getaway into a weekend by visiting the many other family-friendly attractions in the Poconos.
While Bushkill Falls is a popular destination with eight waterfalls, my family always heads a bit further north to the George W. Childs Recreation Site or Dingmans Falls where we can see beautiful waterfalls without the crowds or pricey admission fee. Both parks feature easy and lovely trails that offer a great introduction to hiking for little ones. My son tackled these trips at the young age of 3.
The general area is about a 90-minute drive from Midtown Manhattan (and under three hours from Philadelphia for our Philly readers). The two sites are within five minutes of each other by car, so families can even hit both parks in the same day.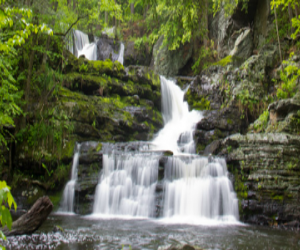 Factory Falls, one of the three waterfalls you'll find at the George W. Childs Recreation Site. (Photo courtesy of the National Parks Department.)
Upon arrival at the George W. Childs Recreation Site parking lot, a quick stroll brings you to the trailhead in a forest of hemlock trees. The nicely groomed route is shady and follows a creek bed, so it's a flat loop that ultimately brings you back to where you started. The 1.4-mile trail passes three incredible waterfalls: Factory Falls, Fulmer Falls and Deer Leap Falls. There are some wooden stairs and a bridge or two along the way, but nothing a young child (or less than athletic parent) can't handle. The park has several picnic tables so pack a picnic.
RELATED: 5 Easy Family Hikes in Hudson Valley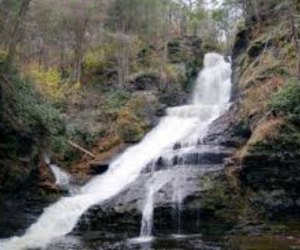 The stunning Dingmans Falls, one of the largest waterfalls in Pennsylvania. (Photo courtesy of Pikes County Tourism.)
You'll find two falls at the Dingmans Falls Visitors Center. The trail is easy for little feet but also great for strollers, because it's actually a raised wooden platform. The namesake waterfall is an impressive sight; it's the second-largest waterfall in all of Pennsylvania! Comparatively, Silverthread is rather small, just a slim stream of water that sometimes slows down to a trickle. Make sure to stop in the Visitor Center that offers animal hide and nature displays.
RELATED: 5 Fall Foliage Hikes in the Delaware Water Gap
Afterward, my family and I always stop at the Pocono Environmental Education Center, which is just a 10-minute drive from either park. Here you'll find more hiking trails of varying difficulty, including short, easy ones for families and a sensory awareness loop you do blindfolded. The EcoZone children's exploration area is another highlight, but be sure to check its schedule as it's only open to the public on select Saturday and Sunday afternoons.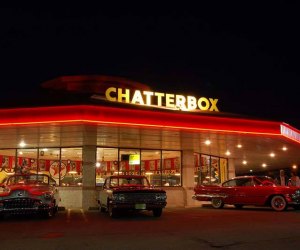 The Chatterbox Drive-In is as fun as it looks! (Photo courtesy of Chatterbox.)
We always end our trip with dinner at The Chatterbox Drive-In, which is just 30 minutes by car from the falls. Located on New Jersey's Route 15 (if you're headed back to NYC), this retro-themed joint blasts music from the '50s and '60s, has old records and movie posters on the walls and a cool vintage car displayed at its center. Park in one of the designated carhop spots and you can eat in your vehicle. We prefer to go inside to watch the electric train chug around the top of the dining room. The menu is full of kid-pleasers like giant burgers, fries and thick shakes. If you would rather dine closer to the falls, there are lots of family-friendly restaurants in that area.
For major nature lovers, turn your getaway into an overnight adventure by pitching a tent at the Dingmans Campground, a privately run campsite within the Delaware Water Gap National Recreation Area. You'll get Delaware River access, a general store, guided canoe trips and more than 100 tenting sites.
Heading out of town for a fun and scenic hike makes for a wonderful family adventure year-round, but it's particularly pleasant in the fall when the temps aren't too hot or cold and spring when water levels often surge.
Click Here to Sign Up!
i