5 Kid-Friendly Trails in the Delaware Water Gap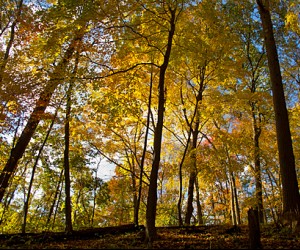 One of the biggest pleasures of fall is watching the leaves turn a variety of vibrant colors. While you can see gorgeous fall foliage all over the Northeast, from New York City to New Jersey and beyond, the Delaware Water Gap is one of the best spots around for hue-filled hikes for families.

Located on the border of New Jersey and Pennsylvania, the Delaware Water Gap is less than a two-hour drive from NYC so it's close enough to make a great autumn daycation. To find the best family-friendly hiking trails in the area, we turned to the experts: local parents Cheryl and William de Jong-Lambert, who regularly blog about their excursions at the Appalachian Mountain Club's Kids Outdoors New York City, a FREE online community for families featuring alfresco activities in the tri-state area. The trees should start changing any day now so keep these outings in mind for the upcoming school holidays like Columbus Day weekend.
The five hikes below are listed from easiest to most challenging.
Dunnfield Creek – Hardwick Township, NJ
Located within Worthington State Forest, the Dunnfield Creek Natural Area is a beautiful, forested ravine along the namesake creek, a designated wild trout stream that protects New Jersey's state fish. Its signature hike is in a thick forest of chestnut, oak and hemlock trees filled with all the colors of fall, mixed in with conifer green. The 1.5-mile trail is relatively flat, well-trod and easy to follow, and it ends at a gorgeous waterfall. It starts out on a link of the thrilling white-blazed Appalachian Trail and, after about a half mile, meets up with the green-blazed Dunnfield Hollow Trail. If it's warm enough, bring a picnic so you can sit and gaze at the falls and foliage for a while.

Van Campens Glen – Blairstown, NJ
Van Campens Glen offers a relatively challenging, 3-mile hike as well as a shorter, easier option for younger children. Both routes cut through a diverse and colorful forest, with a little history mixed in. The trailhead lies a quarter-mile from Millbrook Village, a recreation of a 19th-century rural community. From the village parking lot, follow the footpath leading between the hotel and the general store. This will take you past a few more buildings and three ponds before reaching the Watergate Recreation Site picnic area, where the trail begins. (For toddlers, the picnic area might be the perfect destination as the path becomes rough beyond this point.) Take the wooden bridge across the stream and follow the trail, which ultimately connects to a yellow-blazed path that's rocky, and requires a little hoisting and climbing in parts. If you make it through, the waterfall near the end is your reward.

Crater Lake and Hemlock Pond – Walpack Township, NJ
Families can enjoy two pond-side trails featuring phenomenal foliage. While this isn't a very difficult trail, it is 3.5-miles long, and has moderate uphill and downhill grades along with a section of potentially slippery rocks. From the Crater Lake parking area on Skyline Drive, head clockwise around the water, and swing north then northwest toward Hemlock Pond. Follow Hemlock Pond Trail in either direction; on the far side, you'll see a little trail that leads to an earthen dam and a rocky outcrop, which is a scenic spot for picnicking. Afterward, head back to the Crater Lake Trail and finish the first loop back to the parking lot. These directions will help you navigate a few important turns.

Coppermine Trail – Blairstown, NJ
Billed as moderately difficult, Coppermine Trail's 4.5-mile loop out to the Delaware River is not very steep so it's good for older kids and parents carrying youngsters in backpacks. There are a few stretches of exposed stone and roots to navigate, but nothing too challenging. Thick swaths of fern form a carpet beneath the brightly colored leaves that fall from the soaring trees. This walk begins near Appalachian Mountain Club's Mohican Outdoor Center, where you can stay overnight if you're up for a weekend getaway. Turn right on Camp Road and right again onto the Appalachian Trail. Cross a footbridge and maneuver your way along a rocky stretch to the red-blazed Coppermine Trail, which you follow for the rest of the journey. Eventually, the trail descends sharply to Old Mine Road; beyond that the Delaware River's banks are lined with colorful trees. This trail gets its name from the area's bygone era as a copper producer so along the way you'll pass a few sealed-off mine vents that are worth a quick look.

Rattlesnake Swamp Trail Loop – Blairstown, NJ
The west loop of Rattlesnake Swamp Trail is a challenging option, but at 3.3 miles, it's short enough for adventurous young hikers. It starts on the Appalachian Trail opposite the trailhead for the Coppermine Trail—just go left instead of right from Camp Road. The path is almost immediately steep and holds a steady incline most of the way. At points it feels like you are climbing high stairs. After hiking up over a series of ridges, you'll reach a stunning valley vista—a veritable kaleidoscope of fall colors. As you continue along, there will be many worthwhile gazing points. Take the orange-blazed Rattlesnake Trail connector back down the ridge to the Rattlesnake Swamp Trail, which leads past Catfish Pond and back to the Mohican Outdoor Center. There, you can rent a paddle and take a canoe or kayak out on the pond.

Find more seasonal activities in our Fall Fun Guide.

About the authors: Cheryl and William de Jong-Lambert live with their two children in New York City. Cheryl is a writer at NYU Langone Medical Center. William is an associate professor of history at Bronx Community College, City University of New York.
This post originally published in September 2013.
Photo via Flikr, courtesy of Jiashiang.