25 Fun-Filled Fall Day Trips from New Jersey for Families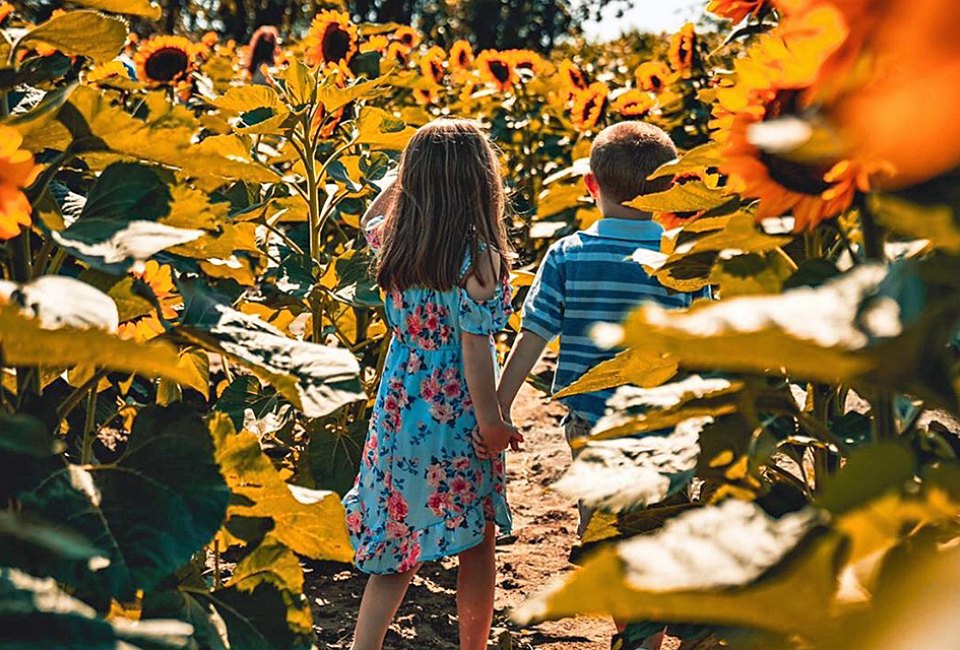 8/26/22
- By
Dore Duhaime
Autumn in New Jersey is a perfect time for a family day trip. We've got the lowdown on the best foliage tours, apple picking, and pick-your-own farms in the state—so grab a sweater and a mug of hot cider, and head out with the family on one of these fall day trips from New Jersey
Find all our picks for seasonal fun in our Fall Fun Guide and bookmark our Day Trips Guide for all-seasons destinations.
Subscribe to our newsletters to get stories like this delivered directly to your inbox.
1. See Gorgeous Fall Foliage
With 13 beautifully manicured gardens, the NJ Botanical Garden in Ringwood State Park is full of the sights and sounds of abundant wildlife. Stop in at the Carriage House Visitor Center for a checklist of birds and other local inhabitants to spot. Try making your own scavenger hunt to occupy younger children; think targets like a statue, a bench, crab apple trees, squirrels, or the planet Jupiter. On Sundays through October, take older children on FREE, guided tours, which meet at 2pm at the Carriage House Visitor Center. Admission to the park is FREE, and so is parking in non-summer months. But leave the picnic basket at home, as picnicking is prohibited.
For many families, autumn isn't complete without a fall day trip from New Jersey to an apple orchard and a stop at a pumpkin patch. For the full fall-fun experience, you should check out the corn mazes, hayrides, and harvest festivals that take place throughout the state.
3. Play a Round of FootGolf
In this soccer-golf combination, players kick No. 5 soccer balls through a golf course, hoping to land their balls in a hole with the fewest number of kicks. The Monmouth County Park System has a nine-hole course at Bel-Aire Golf Course and an 18-hole course at Pine Brook Golf Course, with discounts for players under 13.
RELATED: 100 Things To Do in New Jersey with Kids Before They Grow Up

Visit Asbury Park for an after-dark ghost tour with your big kids. Photo by Kaylynn Chiarello Ebner
4. Take a Ghost Tour
Ghost hunts are abundant in the Garden State. For a sooky fall day trip from New Jersey, try Princeton Ghost Tours, which guides visitors to sites where unexplained apparitions have appeared, and actually lets groups hunt down their own ghosts with provided EMF meters, dowsing rods, and night-vision tools. Jersey kids will get chills over Asbury Park's Ghosts and Legends Downtown Tour, the Ghosts of the Boardwalks tour, and the Ghost Tour of Ocean City, as groups visit ghastly sites and learn some local history along the way. Some tours are not for the faint of heart, so talk to the tour guides to discuss the age-appropriateness before booking.
5. Take a Pony Ride
Kids of all ages can experience the joy of saddling up and trotting down a trail at Echo Lake Stables, where pony rides are available daily.
6. Stroll Through a Small Town
Soak up the charm of New Jersey's quaint downtown areas during a fall day trip to Princeton, Somerville, Madison, or Hoboken when they are ablaze in fall colors. Grab a coffee, find a playground, poke around the mom-and-pop shops, and then find a local hotspot for a kid-friendly lunch.
7. Go Stargazing at a Community Planetarium
Spend an afternoon among the constellations and brush up on astronomy trivia at the Liberty Science Center, NJ State Museum, and Ocean County College.
8. Enjoy Fall and Halloween fun at Local Amusement Parks
NJ theme parks get into the spirit of the season with events like Diggerland's DiggerFest, Storybook Land's Trick-or-Treat weekends, and Six Flags Great Adventure's Fright Fest (go early for kid-friendly "thrills by day").
RELATED: Visiting Asbury Park Beach and Boardwalk with Kids: Top 30 Things To Do

See the animals and the Boo at the Zoo festivities during a fall day trip to the Cape May County Zoo. Photo by Lisa Warden
9. Celebrate Halloween at the Zoo
The Cape May County Zoo has announced details for its FREE Boo at the Zoo event, and the Bergen County Zoo and Cohanzick Zoo usually celebrate as well.
Fall is the prime season for fields full of golden-hued sunflowers to spring to life. If you missed the fun at Holland Ridge Farm's spring tulip bloom you can head to the Cream Ridge, New Jersey, farm for PYO sunflowers in September.
11. Eat Al Fresco
Take a road trip to a family-friendly brewery or kid-friendly spot with fun outdoor dining setups to enjoy a meal outdoors before you have to bundle up.
12. Attend a High School Football Game
Fall means football for many fans, so wrap the family in your town's high school colors and cheer on the local favorites. Don't forget blankets and snacks!
RELATED: Where To Go Apple Picking in New Jersey with Kids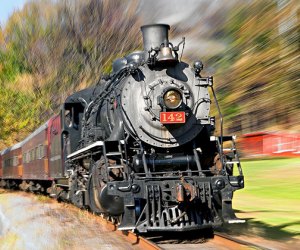 Up your pumpkin-picking game this year by taking a steam train to the pumpkin patch. Photo courtesy of Delaware River Railroad
If you visit the pumpkin patch every year, raise the bar this year by arriving in an old-fashioned steam engine. Every weekend in October, The Delaware River Railroad Excursions depart from Phillipsburg and take passengers on The Great Pumpkin Train to a pumpkin patch in front of the Carpentersville Lime Kilns.
Walk or bike the beautiful paved paths at Duke Farms during a fall day trip from New Jersey. With 18 miles of trails to explore, there's always something new to see.
15. Hunt the Jersey Devil
Teach the kids some local lore about the Jersey Devil, and then bring them to the Pine Barrens and try to spot the mythical creature. We love exploring the Woodford Cedar Run Wildlife Refuge, where kids can scope out the resident wildlife.
16. Enjoy One Last Taste of Summer
Nothing says summer like cool treats and boardwalk eats, and we've found 20 spots in South Jersey worth enjoying on a fall day trip from New Jersey.
17. Visit a Not-So-Local Playground
These 12 playgrounds are worth driving to so plan a fall day trip that includes plenty of time for romping.
RELATED: A Dozen Easy Fall Hikes in NJ for Families with Small Children

Gawk at the eye-popping jack-o-lanterns on display at The Great Jack O'Lantern Blaze. Photo courtesy of the Historic Hudson Valley
Have old-fashioned fun at Historic Cold Spring Village's Pumpkin Festival, or take a drive to Croton-on-Hudson, New York, for a truly over-the-top display at the Great Jack O'Lantern Blaze.
Family-friendly hiking and biking trails, campsites, and a working steam train offer great fall fun at this Monmouth County state park. Stroll through the historic village of Allaire and ride the vintage steam train. After exploring some of the 20 miles of trails, check out the bakery, chapel, carriage house, and blacksmith shop, and hear New Jersey history come alive through costumed docents. Stop by the general store for old-fashioned candy, books, souvenirs, and toys.
Wine tasting may not be the first thing that comes to mind when planning a family outing, but several Garden State wineries welcome kids (and pets!), too. Check out the scenic vistas, live music, and seasonal festivals at New Jersey's growing vineyard community. Our faves include Laurita, where food truck festivals and outdoor movies top the list of family-friendly events.
From open meadows and marshy wetlands to mountain crags and dense forests, New Jersey's network of state parks offers a variety of trails at all levels, from paved paths ideal for strollers and scooters to dirt trails for family hikes and hidden paths for more adventurous teens.
RELATED: Cream of the Crop: 15 Top Farms in New Jersey for Family Entertainment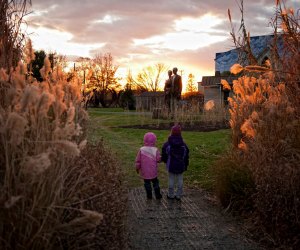 Roam around the beautiful Grounds for Sculpture and see the foliage. Photo by David Howarth for dmhphotography
Stroller walks at the Grounds for Sculpture are perfect for getting you and the baby some fresh air, and the site is also enchanting to explore with big kids. We've found 10 other outdoor art day trips to enjoy, too.
23. Head for the Poconos
We love this just-across-the-border Pennsylvania region, which overflows with family-friendly fun in the great outdoors. If you desire some creature comforts, why not extend your fall day trip from New Jersey by booking a night at Camelback Resort and taking advantage of its all-seasons entertainment and spectacular water park.
Hidden away in some of New Jersey's great parks are family-friendly trails that lead to beautiful, rushing waterfalls. Paterson Great Falls is a breathtaking sight, with 200 million gallons of water gushing over a 77-foot drop each day. But the best part may be its accessibility: 1.5 miles round-trip of easy walking. Another hidden gem is Hemlock Falls, a 25-foot waterfall in the South Mountain Reservation that is especially robust after a good rainfall. We've also found a handful of hikes near swimming holes and streams.
The air is crisp and the crowds are sparse down the Shore come autumn, but there is still plenty to do on a fall day trip from New Jersey, especially in quaint towns like Spring Lake and Cape May. Vibrant off-season activities include dining, community theater, and art galleries.
This post was published in 2016 and has been updated since.
Sign up for the Mommy Poppins Newsletter today!