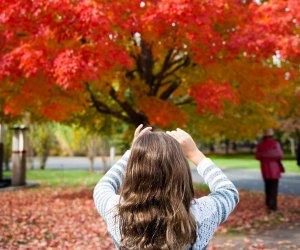 25 Fun-Filled Fall Day Trips for New Jersey Families
1. See gorgeous fall foliage at the New Jersey Botanical Garden in Ringwood State Park.
With 13 beautifully manicured gardens, the NJ Botanical Garden is full of the sights and sounds of abundant wildlife. Stop in at the Carriage House Visitor Center for a checklist of birds and other local inhabitants to spot. Try making your own scavenger hunt to occupy younger children; think targets like a statue, a bench, crab apple trees, squirrels, or the planet Jupiter. On Sundays through October, take older children on free, guided tours, which meet at 2pm at the Carriage House Visitor Center. And don't miss the Harvest Fest in mid-October. Admission to the park is free, and so is parking in non-summer months. But leave the picnic basket at home, as picnicking is prohibited.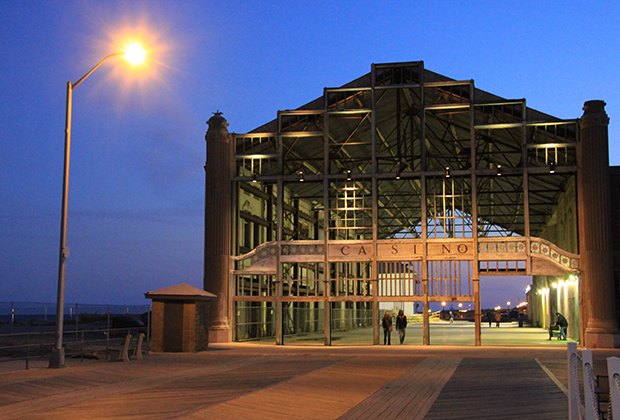 Hunt the ghosts of Asbury Park boardwalk. Photo by FriedmanPhotography via Flickr
2. Take a ghost tour.
Ghost hunts are abundant in the Garden State. Try Princeton Ghost Tours, which guides visitors to sites where unexplained apparitions have appeared, and actually lets groups hunt down their own ghosts with provided EMF meters, dowsing rods, and night-vision tools. Jersey kids 11 and older will get chills over Asbury Park's Ghosts and Legends Downtown Tour, the Ghosts of the Boardwalks tour, and the Ghost Tour of Ocean City, as groups visit ghastly sites and learn some local history along the way. Some tours are not for the faint of heart, so talk to the tour guides to discuss the age-appropriateness of theirs.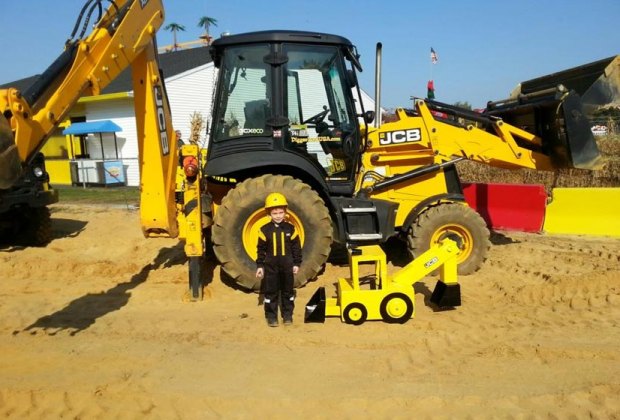 Take a day trip to Diggerland, which hosts Diggerfest every weekend through October 27. Photo courtesy of Diggerland
3. Enjoy fall and Halloween fun at an amusement park.
NJ theme parks get into the spirit of the season with events like Diggerland's DiggerFest, Storybook Land's October Fun days, and Six Flags Great Adventure's Fright Fest (go early for kid-friendly "thrills by day").
4. Pick your own.
For many families, autumn isn't complete without a trip to an apple orchard and a stop at a pumpkin patch. And for the full fall-fun experience, you should check out the corn mazes, hayrides, and harvest festivals that take place throughout the state.
5. Play a round or two of FootGolf.
In this soccer-golf combination sport, players kick #5 soccer balls through a golf course, hoping to land their balls in a hole with the fewest number of kicks. The Monmouth County Park System has a nine-hole course at Bel-Aire Golf Course and an 18-hole course at Pine Brook Golf Course, with discounts for players under 13.
RELATED: 50 Things We Can't Wait To Do with NJ Kids this Fall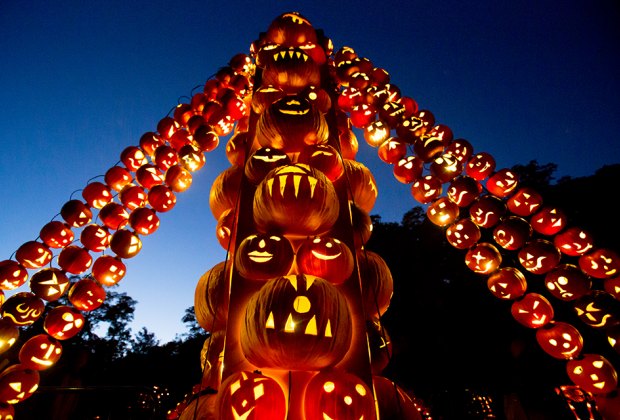 The wildly popular Great Jack O' Lantern Blaze returns for 46 nights, including Halloween. Photo by Tom Nycz
6. Head to one of NJ's cool pumpkin displays, festivals, and decorating events.
Spend Columbus Day at Delicious Orchards' fifth annual Pumpkin Fest, have old-fashioned fun at Historic Cold Spring Village's Pumpkin Festival, or take a drive to Croton-on-Hudson, NY, for a truly over-the-top display at the Great Jack O'Lantern Blaze.
7. Hit the horse trail or take a pony ride at Lord Stirling Stable.
Kids of all ages can experience the joy of saddling up and trotting down a trail. Parents or guardians of little ones can rent a small horse or pony for under $15 and lead their child around the pony ring. Or, try the "Pony Pals" program, which includes a pony story, ride, and activity, held on various days through December. The 30-minute program for toddlers is $5 and the 60-minute program for kids up to 7 is $10. Check website for details.
8. Stroll through a small town like Somerville, Madison, or Hoboken.
Soak up the charm of New Jersey's quaint downtowns when they are ablaze in fall colors. Grab a coffee, find a playground, poke around the mom-and-pop shops, and then find a local hotspot for a kid-friendly lunch.
9. Go stargazing at a community planetarium.
Spend an afternoon among the constellations and brush up on astronomy trivia at Liberty Science Center, NJ State Museum, the Newark Museum, Ocean County College, the County College of Morris, or Raritan Valley Community College.
RELATED: Where To Go Apple Picking in New Jersey with Kids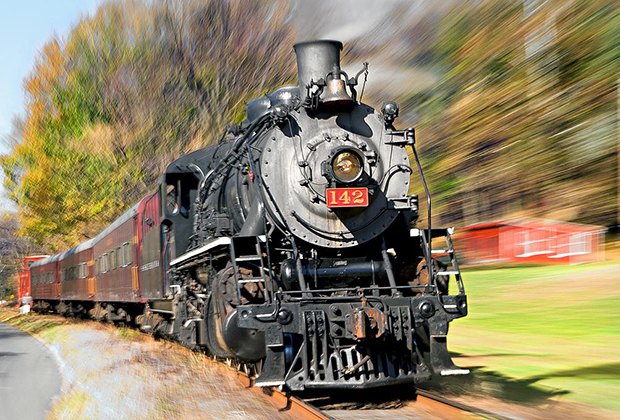 Up your pumpkin-picking game this year by taking a steam train to the pumpkin patch. Photo courtesy of Delaware River Railroad
10. Ride a pumpkin train.
If you visit the pumpkin patch every year, raise the bar this year by arriving in an old-fashioned steam engine. Every weekend in October, The Delaware River Railroad Excursions will depart from Phillipsburg and take passengers on The Great Pumpkin Train to a pumpkin patch in front of the Carpentersville Lime Kilns. Other rides include the Whippany Railway Museum's Halloween Express and the NJ Museum of Transportation's Haunted Express.
11. Attend a high school football game.
Fall means football for many fans, so wrap the family in your town's high school colors and cheer on the local favorites. Don't forget blankets and snacks!
12. Celebrate Halloween animal-style at ZooBoo.
Head over to the Bergen County Zoo for a special day of trick-or-treating, ghost stories, magic shows, and the Eerie Express train ride around the zoo in October. This is a popular ticketed event that often sells out, so get tickets early (they go on sale October 2)! If you're in the southern part of the state, check out Boo at the Zoo events at Cape May County Zoo and the Cohanzick Zoo (2019 info coming soon!).
13. Take a walk through the Haunted Woods of Old Bridge.
Goblins and ghouls are ready to jump out when you least expect it! Lights, displays, and spooky sounds set the stage for the live actors, local Boy Scouts and their families. The event is free in exchange for a food donation to be given to the Old Bridge Food Bank. Hours are Friday and Saturdays 7–10 p.m. and Sundays 7–9:30 p.m. Little ones can enjoy the displays without scary actors on weekends from 3:30–6 p.m.
14. Explore the wildlife and gardens at Duke Farms.
Fall Sundays are for Junior Naturalists to learn about seasonal changes to the animal habitats at this sprawling farm.
15. Go on a Jersey devil hunt.
Teach the kids some local lore about the Jersey devil, and then bring them to the Pine Barrens for a look. One kid-friendly destination is the Woodford Cedar Run Wildlife Refuge, where kids can scope out the resident wildlife.
16. Make apple cider.
Got an apple juice or cider lover at home? The Tenafly Nature Center is holding apple cider-making sessions every Sunday throughout October.
RELATED: Amazing Corn Mazes at Family-Friendly NJ Farms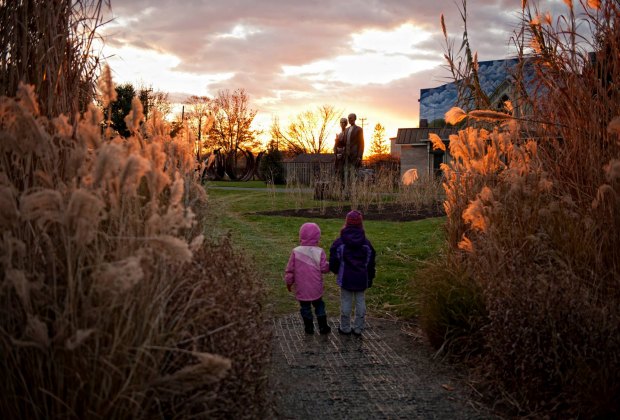 Roam around the beautiful Grounds for Sculpture and see the foliage. Photo by David Howarth for dmhphotography
17. Meander through New Jersey's own sculpture garden.
Monthly Tot Tours at the Grounds for Sculpture include a story and hands-on project. After a brisk stroll through the grounds, grab a bite at one of two cafes on site, or the top-rated restaurant, Rat's.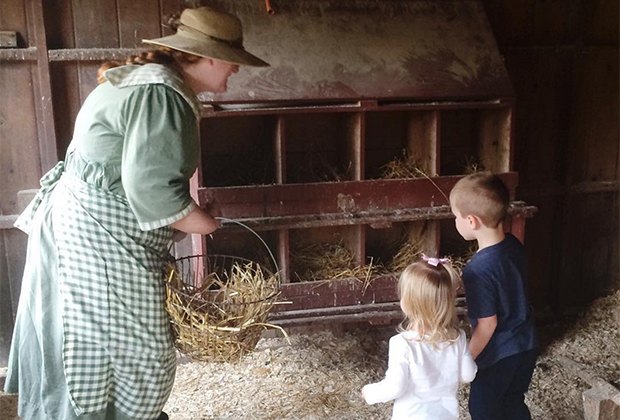 Learn about daily life in the 1920s at Fosterfields Living Historical Farm. Photo by Emily Wiley via Instagram
18. Decorate a pumpkin at Fosterfields Living Historical Farm.
The farm is an interesting destination on any given day, as visitors can experience daily life here exactly how it was in the 1920s.
19. Go on a photo scavenger hunt at Frelinghuysen Arboretum.
Nearly every weekend, for $10 per family, groups can search for targets, take photos of items, and receive a prize for completion. New themes and prizes are offered each month. If you prefer something a bit more free-form, rent a backpack for $5 filled with learning materials, games, and activities for the gardens at the Haggerty Education Reception Desk.
RELATED: Harvest Festivals, Hayrides, and Fall Fair Fun in New Jersey

Bid farewell to your jack-o'-lanterns at Echo Lake Park's Great Pumpkin Sail. Photo courtesy of the park
20. Bid farewell to your jack-o'-lantern at The Great Pumpkin Sail.
The day after Halloween, head over to Echo Lake Park and send off your jack-o'-lantern in style. Just bring your carved masterpiece (must weigh less than eight pounds); the organizers provide candles, pumpkin floats, hot chocolate, marshmallows, and entertainment around the campfire as the pumpkins illuminate Echo Lake. Tickets ($12-16 per six-person family) must be bought in advance and three sessions are available.
21. Step back in time at Allaire State Park's historic village.
Family-friendly hiking and biking trails, campsites, and a working steam train offer great fall fun at this Monmouth County state park. Stroll through the historic village of Allaire and ride the vintage steam train. After exploring some of the 20 miles of trails, check out the bakery, chapel, carriage house, and blacksmith shop, and hear New Jersey history come alive through costumed docents. Stop by the general store for old-fashioned candy, books, souvenirs, and toys.
22. Sip the afternoon away at a family-friendly vineyard.
Wine tasting may not be the first thing that comes to mind when planning a family outing, but several Garden State wineries welcome kids (and pets!), too. Check out the scenic vistas, live music, and seasonal festivals at New Jersey's growing vineyard community. Our faves include Laurita, where food truck festivals and outdoor movies top the list of family-friendly events, and Working Dog Winery, where kids and dogs are welcome.
23. Gaze at a cascading waterfall.
Hidden away in some of New Jersey's great parks are family-friendly trails that lead to beautiful, rushing waterfalls. Paterson Great Falls is a breathtaking sight, with two hundred million gallons of water gushing over a 77 foot drop each day. But the best part may be its accessibility: 1.5 miles round-trip of easy walking. Another hidden gem is Hemlock Falls, a 25-foot waterfall in South Mountain Reservation that is especially robust after a good rainfall.
24. Explore New Jersey's woodlands and green spaces at our favorite state parks and forests.
From open meadows and marshy wetlands to mountain crags and dense forests, New Jersey's network of state parks offers a variety of trails at all levels, from paved paths ideal for strollers and scooters to dirt trails for family hikes and hidden paths for more adventurous teens.
25. Visit a cute Jersey Shore beach town in the off-season.
The air is crisp and the crowds are sparse down the shore in autumn, but there is still plenty to do, especially in quaint towns like Spring Lake and Cape May. Vibrant off-season activities include dining, community theater, and art galleries.
This post was published in 2016 and has been updated since.